National Award-winning singer Hariharan says he always tries to bring a conversational style in his ghazal singing…reports Asian Lite News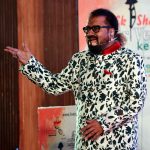 He has come up with a new ghazal "Afsaane", which he has composed and performed. It is produced by his son Akshay.
Asked about the distinct singing style he has lent to the genre, Hariharan told IANS: "Look, I believe that ghazal is conversational. It is basically a conversation between you and your lover in a poetic manner. So as a singer, I try to emphasise on each word and maintain a style in my singing where the listener would think that I am singing it for that person."
The song is penned by Ameeta Parasuram, who earlier said that Hariharan had reacted to the lyrics quite instinctively and composed the song.
"I think singing and composing songs has become my second nature, so the moment I heard the poetry, the tune came to me spontaneously. It is almost like the response came from my soul… Music is that to me," smiled the singer.
Beginning his career in 1990s, Hariharan has sung numbers in the southern industry and Bollywood. He has a strong hold on classical music, and also played an important role in the glorious Indi-pop music in India as one half of Colonial Cousins.
Some of his film songs include "Roja jaaneman", "Hai rama yeh kya hua", "Nahin saamne" and "Ay hairathe". He has worked closely with the iconic music director A.R. Rahman.
Hariharan, 63, hasn't been working in Bollywood projects that often.
Explaining why, he said: "I think the way the sound of music has changed, they do not need a singer like me anymore. The young composers are arranging music differently and they have their go-to singers. I look at the change this way."
What is the secret behind his evergreen voice?
"I still do my vocal practice everyday for an hour. This is an old habit and is a part of my lifestyle. But I do not practise for performing… That is not the intention. It is basically to keep my voice in shape, it is almost like the physical exercise to keep your body in shape."