Filmmaker Mahesh Bhatt says he doesn't want to called a 'master' because he feels that someone's outlook should not be confined to a limited world…reports Asian Lite News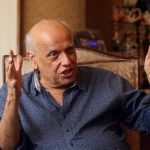 Known for films like "Saraansh", "Hum Hain Rahi Pyar Ke", "Zakhm" and "Arth", Bhatt has explored a range of movies and is known for creating films with bold plots.
In a master class with director Hansal Mehta on Tata Sky Acting Adda, Bhatt shared his unfiltered opinion on
filmmaking.
"I don't want to be in a position where someone calls me a master. Not out of some bogus humility, but because I don't want people to confine their outlook, their creative ideas to a limited world. Whatever I experienced was true to my life, it might not be of important to another person since there is no compass, no map to learn filmmaking.
"Every film is a separate project, a different river that you need to learn to navigate afresh. Even a director who has previously created a film of critical/commercial acclaim might not receive the same laurels for his next movie," he said in a statement.