Acclaimed actress-filmmaker Nandita Das was among the jury members of the 2018 edition of the Unesco-Madanjeet Singh Prize for the Promotion of Tolerance and Non-Violence…reports Asian Lite News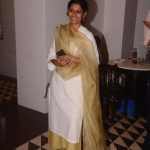 Nandita, who is in the midst of a gruelling schedule, working towards the India release of her much-awaited film "Manto" and its participation in international film festivals, found it rejuvenating to get this invite to participate in a meaningful initiative.
"Having been on many film juries, right from 2005 when I was on the main jury at the Cannes Film Festival, I have always enjoyed the deliberation process. One gets to know different perspectives that reflect different experiences and contexts," Nandita said in a statement.
In recognition of a lifelong devotion to communal harmony and peace, the Prize bears the name of its benefactor Madanjeet Singh, who was a Unesco Goodwill Ambassador, Indian artist, writer and diplomat.
It is awarded every two years, on the occasion of the International Day for Tolerance on November 16. The Prize is marked by a ceremony and the winner is presented with a sum of $100,000.
For Nandita, this was the second time that she was on a jury for a social impact initiative.
She finds such engagements "very inspiring".
"One gets to meet and read about people who are doing incredible work around the world. It's a good distraction between our own indulgences.
"Having been caught up with 'Manto', it was actually refreshing and brought back a certain sense of hope. Opportunities like this allow one to feel connected to a larger community of people, all of whom are seeking ways to make the world around them more liveable," she added.
Unesco Director-General Audrey Azoulay had appointed the jury, which also included Nadia Bernoussi, a celebrated academic and legal expert from Morocco, and Abdoulaye Konate, a prominent artist and cultural voice in Mali.
Celebrating its 22th anniversary and its eleventh edition this year, the prize rewards significant activities in the scientific, artistic, cultural or communications fields aimed at the promotion of a spirit of tolerance and non-violence, according to the official Unesco website.