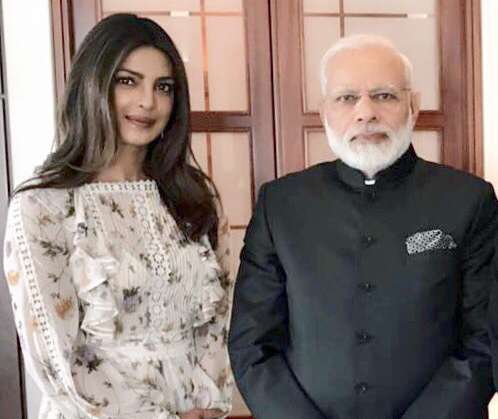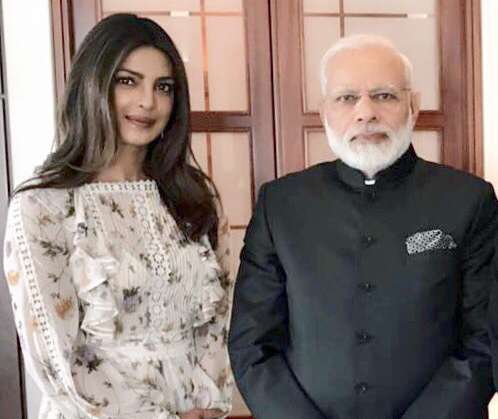 Actress Priyanka Chopra's mother Madhu Chopra hit back when asked to comment on the trolls against her daughter's choice of short dress when she met Prime Minister Narendra Modi in Berlin. She says the focus should instead be on the discussions the two icons had…..reports Asian Lite News
Priyanka was trolled on the social media for wearing a short dress for her meeting with Modi. Later, the actress shut down the trolls with a photograph featuring herself and her mother showing off their legs.
Asked about it at the Dadasaheb Phalke Academy Awards here on Thursday night here, Madhu said: "Why are you asking such stupid questions at such a good event? Ask me what she discussed with PM on that day. Priyanka Chopra had discussion with PM Narendra Modi about current issues."
Madhu was happy to receive the International Icon Award on behalf of Priyanka at the awards event.
The proud mother added: "She gave a fitting reply to her social media trollers (by uploading another picture on Instagram) and I don't want to degrade the value of her reaction by commenting on it."
"She didn't have any intension to be matter of subject of such unnecessary things. Today's youth is so confident that they shouldn't get affected by any kind of provocation."
Talking about receiving award, Madhu said: "I am very happy and proud that Priyanka has been given this award. They have introduced new category of International Icon awards and she is the first recipient of it."
---