Israel strikes Gaza Hamas sites after rocket attacks …. reports Asian Lite News
Israel has targeted a number of sites of militant group Hamas in the Gaza Strip in retaliation for earlier rocket strikes.
The Israeli military said it hit a weapons manufacturing site and an ammunition store early on Saturday while a Hamas military post was also pounded by the Israeli war jets with two missiles in northern Gaza on Friday evening, the BBC reported.
Ten Palestinians were hurt in the reprisal bombing, the Palestinian Health Ministry said.
The Israel shelling came after three rockets were fired from Gaza to Israel in the past day, with one hitting the southern city of Sderot.
Tensions between Israelis and Palestinians have increased since US President Donald Trump recognised Jerusalem as Israel's capital. Two Palestinians were killed and more than 300 others were wounded during Friday protests in Gaza and West Bank.
Mahmoud al-Masry, 30, was fatally shot during a "Days of Rage" protest in the Gaza town of Khan Younis, while 54-year-old Maher Atallah died at the hands of Israeli troops in the northern part of Gaza, the Palestinian Health Ministry said.
Another 340 Palestinians were wounded by rubber bullets or live rounds, said the Ministry, while nearly 750 required medical attention for teargas inhalation and blows, Efe news reported.
Though the largest number of wounded was in the West Bank, the most serious injuries occurred in Gaza, where 170 people were shot.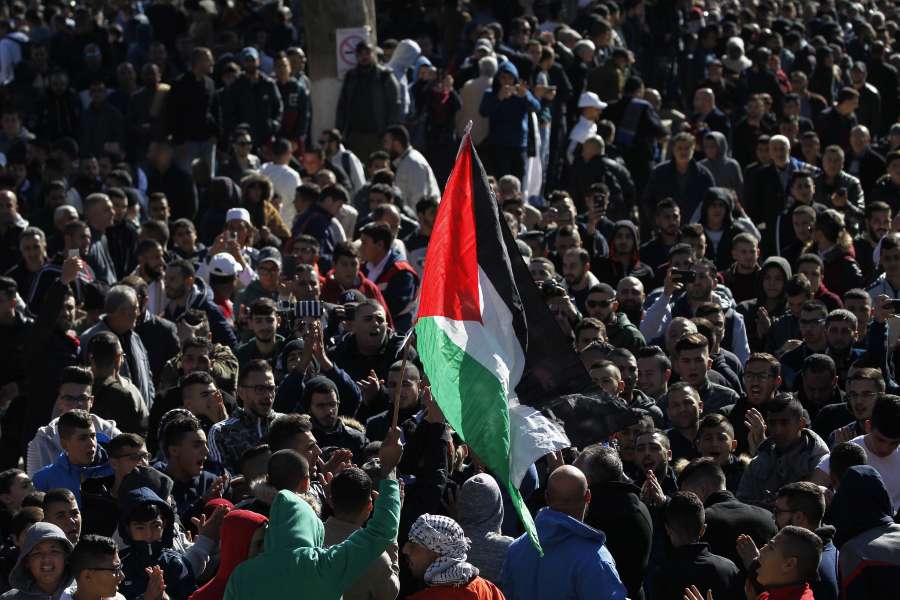 The Israeli Defence Force (IDF) said that 4,500 Palestinians took part in "violent demonstrations" in Gaza hurling burning tires and rocks at troops and police.
Twenty-eight protesters were arrested in the West Bank, the IDF said.
The US saw itself isolated at the Security Council session in New York as members of the UNSC criticised its Jerusalem stand and warned that it would raise tensions in the area.
The political conflict over Jerusalem could turn into an unrelenting religious conflict, France's Permanent Representative Francois Delattre said.
Citing several Council resolutions, he said that any unilateral changes to the city's status would be null and void.
US Permanent Representative Nikki Haley said the US "recognises the obvious, that Jerusalem is the capital of Israel".
She said the US continued to be "committed to achieving a lasting peace agreement", and accused the UN of bias, saying it "has outrageously been one of the world's foremost centres of hostility towards Israel".
"Israel will never be, and never should be, bullied into an agreement by the UN or by any collection of countries that have proven their disregard for Israel's security," Haley said.
Elsewhere, demonstrations against Trump's announcement have spread as thousands of pro-Palestinian protesters held rallies in Jordan, Egypt, Iraq, Turkey, Tunisia and Iran.
Demonstrations were also held in Malaysia, Bangladesh, Pakistan, Afghanistan and Indonesia, the world's largest Muslim-majority country.