Trump blasts ex-aide Bannon over remarks in new book, says he has "lost his mind" and had "no influence" within his government; Bannon says in his explosive book that the Trump Tower meeting with Russians was "treasonous"….reports Asian Lite News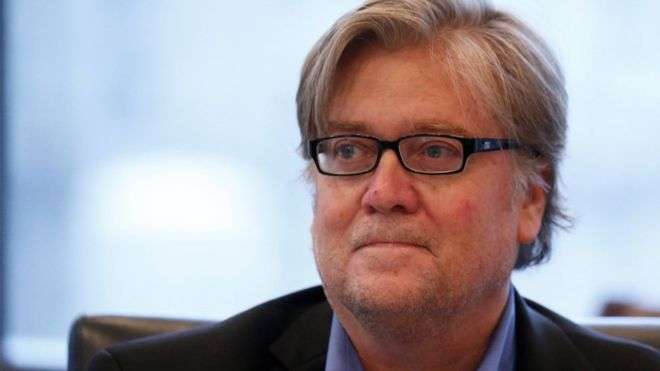 US President Donald Trump said former White House chief strategist Steve Bannon has "lost his mind" and had "no influence" within his government.
Trump's remarks came after Britain's The Guardian newspaper earlier on Wednesday revealed that Bannon, quoted from excerpts of a new book, described the 2016 meeting at Trump Tower between Trump's son and campaign aides and a Russian lawyer as "treasonous" and "unpatriotic."
"Steve Bannon has nothing to do with me or my presidency," cited Trump as saying, "When he was fired, he not only lost his job, he lost his mind."
"Steve was rarely in a one-on-one meeting with me and only pretends to have had influence to fool a few people with no access and no clue, whom he helped write phony books," the president said.
"Steve pretends to be at war with the media, which he calls the opposition party, yet he spent his time at the White House leaking false information to the media to make himself seem far more important than he was," he added.
"Steve does not represent my base — he's only in it for himself," Trump said in his statement.
Following Trump's statement, White House press secretary Sarah Huckabee Sanders fiercely slapped Wolff's book, which is said to draw on more than 200 interviews.
"This book is filled with false and misleading accounts from individuals who have no access or influence with the White House," Sanders was quoted as saying.
"Participating in a book that can only be described as trashy tabloid fiction exposes their sad, desperate attempts at relevancy."
Bannon was chief executive of the Trump campaign in its final three months during the 2016 US elections.
He became the White House chief strategist after Trump took office in January 2017 and left the White House in August before returning to his perch as chairman of Breitbart News.