US President Donald Trump visited Israel's national Holocaust memorial and said that the only way to prevent another genocide of its nature was to never be silent in the face of evil….reports Asian Lite News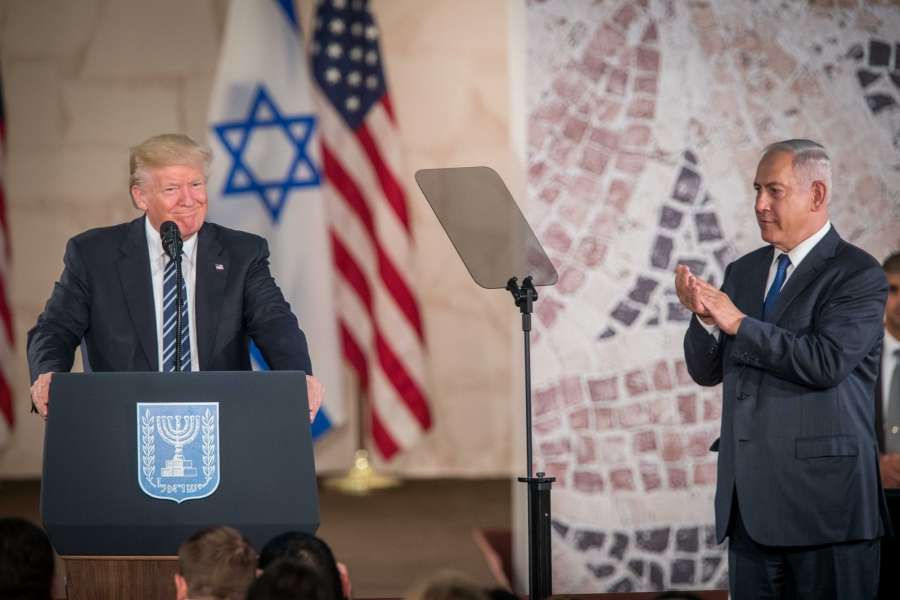 Donald Trump on Tuesday, laid a wreath of flowers in the Hall of Remembrance of Jerusalem's Yad Vashem Museum while accompanied by his wife, Melania, his daughter, Ivanka, and his son-in-law, Jared Kushner, Efe news reported.
"This place is a testament to the unbreakable spirit of the Jewish people," Trump said.
"Words can never describe the bottomless depths of that evil, or the scope of the anguish and destruction," he added, in reference to the systematic murder of six million Jews by the Nazis between 1933-45. "It was History's darkest hour."
"It was the most savage crime against God and his children, and it is our solemn duty to remember, to mourn, to grieve and to honour every single life that was so cruelly and viciously taken," Trump continued.
The President said that only when remembering the families "torn apart from everyone they loved, who suffered that terrible darkness and evil, who endured the unbearable horror of the Holocaust, only then can we prevent this agony from ever repeating".
Trump added that the State of Israel was a "strong and soaring monument to the solemn pledge we repeat and affirm 'Never again'".
He made these remarks in the presence of Israeli Prime Minister Benjamin Netanyahu and his wife, Sara.