It is a restaurant perhaps unlike any other in the world with its walls dotted with signatures of those who have scaled Mount Everest, the world's highest peak. Rum Doodle is about mountains, climbers, walkers and sumptuous food….writes Prashant Sood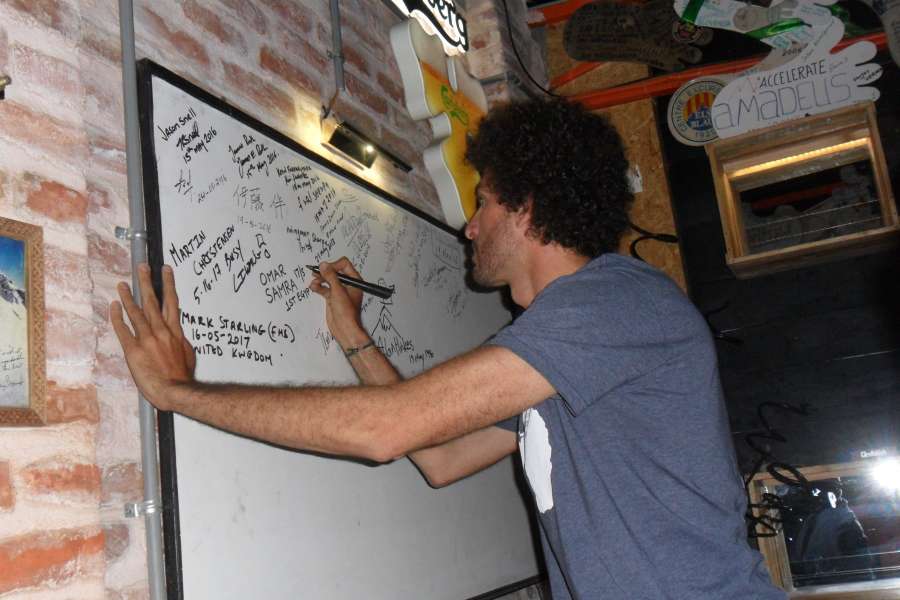 The restaurant reflects the majesty and adventure of the Himalayas — and the human spirit that explores them. Opened in Kathmandu's tourist district of Thamel in 1979, it is an expression of Nepal's enduring reputation as the mountaineering destination of the world.
Following the devastating earthquake of 2015, the restaurant shifted to the city's business town of Naxal and now has a more expansive exterior that provides decent space for parking, something unavailable in its earlier avatar.
As I stepped into its leisurely charm, I was drawn to the walls where hung huge frames with signatures of Everest summiteers. The idea of getting signatures of these adventurous individuals struck after Edmund Hillary visited the restaurant in the early 1980s. Now it is a virtual Hall of Fame, making it the single-largest such collection of Everest summiteers in the world.
The restaurant derives its name from W.E. Bowman's book "The Ascent of Rum Doodle", which is a parody of serious mountaineering books and narrates an expedition to scale the 40,000-and-a-half foot Mt Rum Doodle (higher than Mt Everest at 29,029 feet). The book was first published in 1957 and can be purchased at the restaurant.
The eatery offers an interesting mix of international cuisine and quite a few of the dishes and drinks draw their names from the book — Pong's Revenge, The Veggie, Rum Doodle Steak, 40,000-and-half Feet Blues, Ridley's Potion, Yogistani Delight and Rum Doodle Special.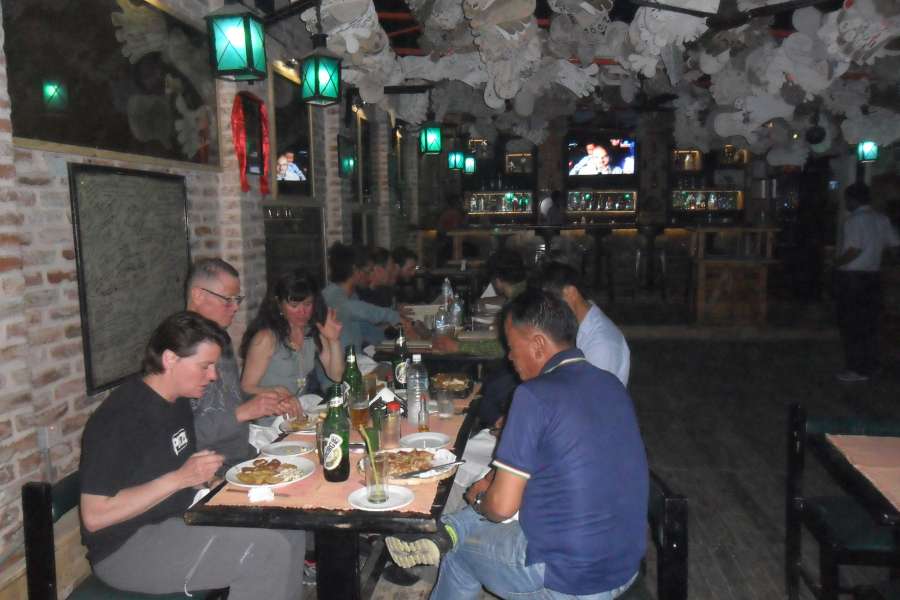 Going through the menu, I settled on a Mushroom Basket, a novelty I had not tried before. Minutes later came four piping hot mini baskets stuffed with delicately cooked chopped mushrooms. They melted in my mouth like hot chocolate.
Next, I tried Pong's Revenge, a signature, oversized burger that is served with salad and potato wedges. It is named after Pong, the disgruntled cook on the expedition to Mt Rum Doodle.
No sooner did the burger arrive, I realised I had got more than I could chew. It was big and apparently meant for a tired mountaineer who has just returned from his expedition — or for a well-built man with a hungry stomach.
There is an elaborate Indian menu, including chicken tandoori, chicken butter masala, paneer/mushroom butter masala, Bengal style prawn curry, palak paneer and vegetable curry.
Starters were aplenty — chicken basket, mushroom basket, corn chips with salsa, chicken meatballs, golden fried prawns, crispy fried chicken strips, apart from potato wedges and french fries. The Nepali starters included jeera aloo, pork chilli, sausage chilli and mushroom chilli.
There were sandwiches, pizzas, pastas, momos, salads and deserts as well.
As it was still early when I visited the restaurant and had a full day to go, I decided against trying anything too hard and opted for green tea.
The bar had a range of specialties including Yogistani Delight made of rum, pineapple, juice, sprite, soda; Kathmandu Royal comprising whisky, rum, orange and pineapple juice with cream on top; and Pong's Revenge that is made of tequila, vodka, rum brandy and pineapple juice.
The hot specialties included Hot Buttered Rum made of rum, masala, butter, lemon, sugar and Hot Rum Punch made of spice infused rum, honey, orange squashed lemon.
Beers, international cocktails, luxury whisky (21 years), scotch (12 years) apart from the different brands of rum, vodka, brandy and gin are also on the menu.
The non-alcoholic cocktails included Virgin Mary, Cinderalla and Summer Breeze.
The restaurant has found a unique way of fostering its bond with the Everest summiteers. They are given an Everest Summiteers Club Card that entitles them to a lifetime of free meals.
The restaurant also finds a way to make journeys memorable for groups that do not want to ascend the Everest. Mountaineers, trekkers, cyclists and rafters can sign or write brief messages on "Yeti foot" — a white cardboard shaped like the foot of the mystical Himalayan animal.
These have been collected over the years and adorn the restaurant's ceiling, with each of them telling a story.
The restaurant has also been visited by dignatories including former US President Jimmy Carter and former Japanese Prime Minister Ryutaro Hashimoto. Its clientele now also includes a growing number of locals.
A meal for two at the restaurant costs around Nepali Rs 1,400 ($14) without liquor.