A book on Neerja Bhanot, India's youngest recipient of the Ashok Chakra, India's highest peacetime gallantry award, titled  'Neerja Bhanot. The Smile of Courage' written by her brother, Aneesh Bhanot, was released… reports Asian Lite News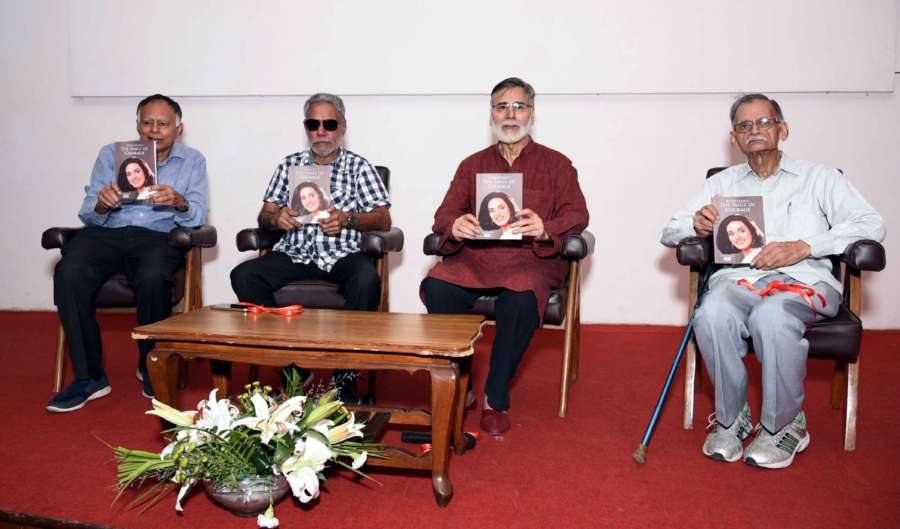 A book on Neerja Bhanot, India's youngest recipient of the Ashok Chakra, India's highest peacetime gallantry award, titled  'Neerja Bhanot. The Smile of Courage' written by her brother, Aneesh Bhanot, was released at a function at the Auditorium of the Government Museum & Art Gallery, Chandigarh, by the Chief Guest, Akhil Bhanot, who is the eldest brother of Neerja and Aneesh Bhanot. Also present on the occasion were Guests of Honour, Baljeet Parmar and V P Prabhakar. The foreword to the book has been written by Mr. Vivek Atray, Author and Motivational Speaker and a former IAS officer.
The 108 page paperback book has 10 Chapters and details a number of incidents in Neerja's life  that bring her out as a person and her true self right from her childhood days to the incident of the hijack where she gave up her own life to save hundreds of others. It may be recalled that 22 year old Neerja Bhanot was a Pan Am air-hostess who showed the world the courage, commitment and compassion an Indian woman has. She sacrificed her life, while saving hundreds of others, when a Pan Am plane was hijacked on the tarmac at Karachi airport  in September 1986.
At Karachi Airport on September 5, 1986 four heavily armed terrorists attacked the plane and commandeered it on the tarmac. The pilot, co-pilot and flight engineer ran away from the plane after Neerja alerted them. Taking on the responsibility of the passengers as the senior-most crew member after them and regardless of the danger to her own life, Neerja stood up to the heavily armed hijackers for 16 hours. She was especially instrumental in saving the lives of over 40 American passengers as she hid their passports from the hijackers who basically wanted to kill Americans.  In the final moments of the hijack, the hijackers herded all the 378 passengers and crew into one section of the aircraft and started hurling hand grenades and firing indiscriminately at them. Even in all that mayhem, Neerja had the courage to quickly open one of the exits and though she could have been the first to jump out and run to safety, she did not do that and instead started helping the passengers escape. When the hijackers were about to shoot three children, she covered them with her body, got badly wounded herself and succumbed to her injuries.
Giving the reasons for writing this book, Aneesh Bhanot says, "Basically, a lot of people were asking me on social media as to what sort of person was Neerja? How was she in her younger days and in her personal life? How did she become a model? Did her marriage really go bad? What happened to the hijackers? What message did Neerja leave for us? How can any person become like Neerja? How is the funding of the Neerja Bhanot Awards done? I have tried to answer these questions in this book.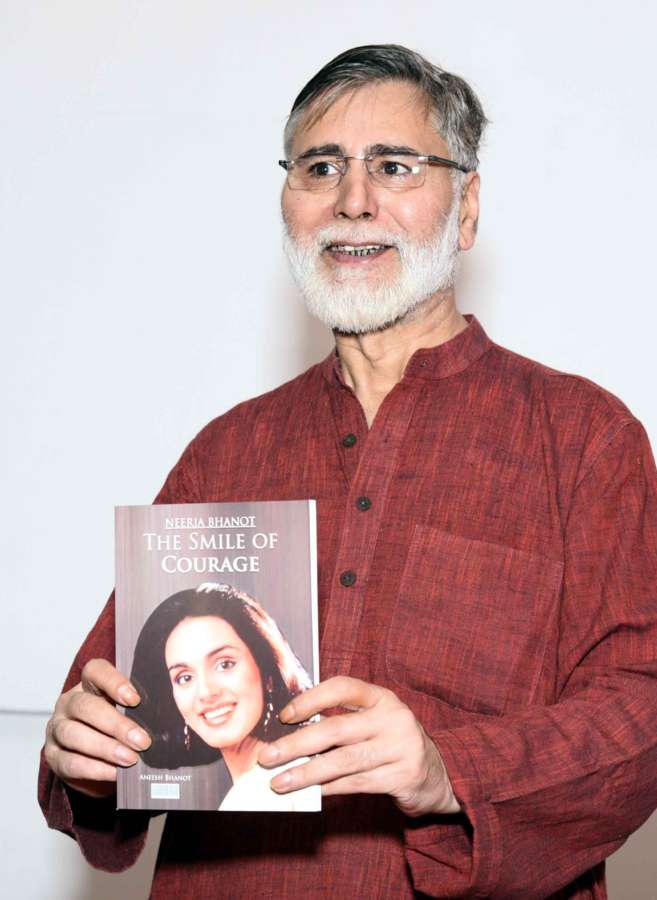 Giving further details, Aneesh Bhanot said, "The book is all about Neerja – her Chandigarh days, moving to Mumbai, how she got into modelling, her marriage and what happened, her joining Pan Am, the hijack etc. I have added images of letters and notes written in her own hand as well as 32 pages of photographs of her."
Mr. Vivek Atray, in the Foreword, says, "This book on the magnificent and larger than life persona of Neerja Bhanot is bound to generate even more interest into the life of one of India's greatest real life heroines. Neerja is not only still a source of strength and inspiration to the youth of today, especially young women, but is also a national icon in the truest sense. Aneesh has brought her imposing personality closer to each Indian.  He mentions details of Neerja's almost crippling accident at the age of 12 and her fondness for Rajesh Khanna, which we had heard of, but knew little about. There are vivid descriptions of little details like sleeping on the terrace as children and squabbling over trivialities as all siblings do. As we read the book, we feel as if we are an integral part of the Bhanot family and its remarkable history ourselves."
The paperback print edition of the 108 page book is priced at Rs. 249. It is available on the website spurringsuccess.com, on Amazon.in, on Amazon Kindle and on a mobile App 'True Inspiring Stories' through which it can be downloaded on any Android or iOS phone and other device anywhere in the world.
---