#Diplokids Christina and Lincoln, based in New Delhi, celebrate Rakshabandhan with a unique video sharing their happiness to celebrate the Indian festival of #Rakshabandhan.
Raksha Bandhan celebrates the special bond between brother and sister. On this day, sisters tie a talisman or amulet around the wrists of their brothers and receive a gift in return. Rakhi symbolises love, affection and mutual trust.
"Let's celebrate by throwing back to our all-time favorite #Rakhi video featuring #Diplokids Christina and Lincoln. Happy #Rakshabandhan to all! Maintain #socialdistancing and stay safe," the US embassy tweeted to mark the occasion.
aking to Twitter, PM Modi acknowledged Raksha Bandhan greetings from spiritual and humanitarian leader Mata Amritanandamayi and said that blessing from her and India's 'Nari Shakti' (women power) gives him strength.
"Respected Mata Amritanandamayi Ji, I am most humbled by your special Raksha Bandhan greetings. It is my honour and privilege to work for our great nation. Blessings from you, and from India's Nari Shakti, give me great strength. They are also vital for India's growth and progress," the Prime Minister tweeted.
Amma's #RakshaBandhan message to the Prime Minister @narendramodi ji@PMOIndia pic.twitter.com/czOOrVwOBl

— Mata Amritanandamayi (@Amritanandamayi) August 3, 2020
The tweet came in a reply to a video message, wherein Mata Amritanandamayi hoped that the prime minister gets more courage to deal with the challenges and take measures to protect the nation.
In another tweet, Prime Minister Modi thanked veteran singer and legend Lata Mangeshkar for her wishes on the special occasion. In a special video message, the singer rued that she could not send the Rakhi this year due to the current situation.
लता दीदी, रक्षा बंधन के इस शुभ अवसर पर आपका यह भावपूर्ण संदेश असीम प्रेरणा और ऊर्जा देने वाला है। करोड़ों माताओं-बहनों के आशीर्वाद से हमारा देश नित नई ऊंचाइयों को छुएगा, नई-नई सफलताएं प्राप्त करेगा। आप स्वस्थ रहें और दीर्घायु हों, ईश्वर से मेरी यही प्रार्थना है। @mangeshkarlata https://t.co/pDHg0y3fDT

— Narendra Modi (@narendramodi) August 3, 2020
"You have worked so hard for the country; the citizens will not forget that. If possible, on this day of Rakhi, promise us that you will take this country to greater heights," she said in the video, which also had a slide-show of her photos with PM Modi.
In response to the video, the Prime Minister said, "Lata Didi, your emotional message on this auspicious occasion of Raksha Bandhan is full of inspiration and energy. With the blessings of crores of mothers and sisters, our country will touch new heights and achieve new successes. May you be healthy and live long, this is my prayer to God."
Taimur and Inaaya
Bollywood actress Kareena Kapoor Khan and sister-in-law Soha Ali Khan on Monday shared some Raksha Bandhan spirit on social media, with a picture of their children, Taimur and Inaaya, on social media.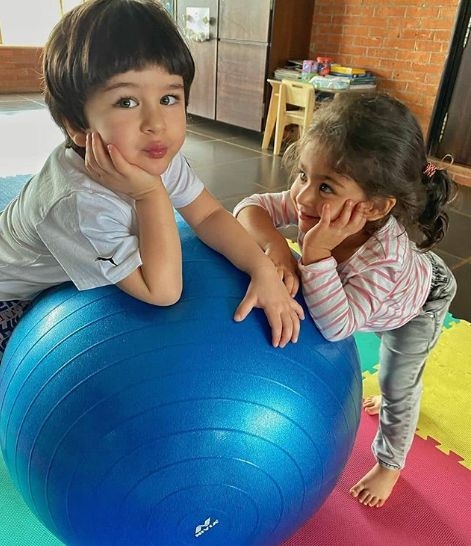 Soha took to Instagram and posted a picture of the toddler cousins. In the image, Taimur is seen pouting at the camera while Inaaya looks at her brother.
"On the ball and in my corner. #happyrakshabandhan#timandinni," Soha captioned the image.
Kareena shared the picture with a caption that gives a patronising nod to her much-flaunted slant at pouting.
"Inni wondering how Tim got that pout," she wrote.
Kareena is married to Soha's brother, actor Saif Ali Khan, while Soha is married to actor Kunal Kemmu.
Kareena welcomed Taimur in 2016. Soha gave birth to Inaaya a year later.
Akshay Kumar's New Film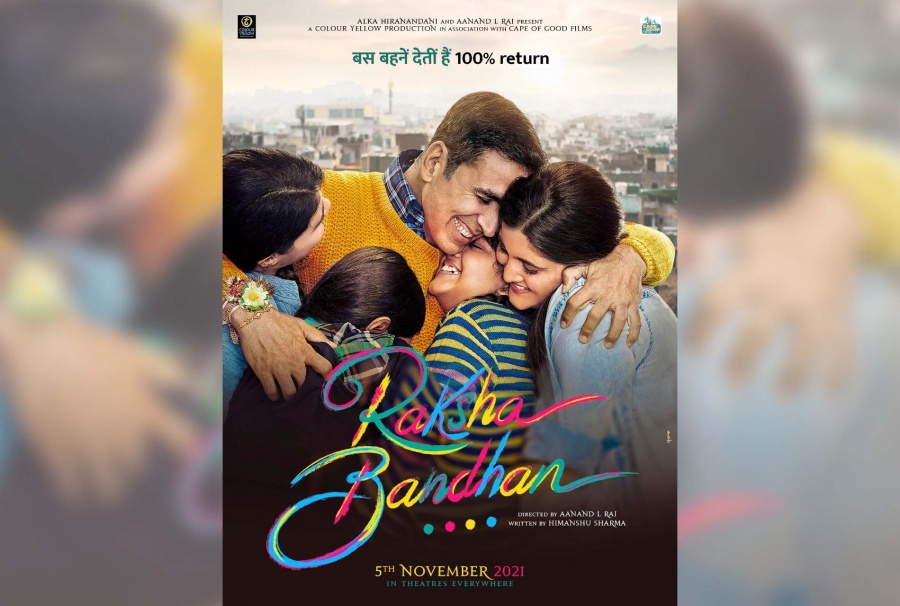 Akshay Kumar announced his new film on the occasion of Raksha Bandhan on Monday, and the title of the film celebrates the festival.
The film is titled "Raksha Bandhan" and, sharing the first poster on Instagram, Akshay said he is dedicating the project to his sister, Alka Hiranandani.
" Hardly ever in life does one come across a story that touches your heart so deeply and so instantly…it's the quickest I've signed a film in my career. Dedicating this film, #RakshaBandhan to my dear sister, Alka and to the most special bond in the world…that of a brother and sister," Akshay wrote.
Filmmaker Aanand L Rai will direct the film, and co-present it with Alka Hiranandani. Himanshu Sharma has scripted "Raksha Bandhan".
"It makes me happiest that my sister Alka is presenting and producing this film along with Aanand L Rai. Can't thank him enough for bringing me one of the most special films of my life," Akshay added.
According to director Rai, the film is a "special tale which celebrates relationships in the most beautiful way".
Expected to go on the floors next year, "Raksha Bandhan" is scheduled to hit the big screens ?on November 5, 2021.
Akshay is currently also working with Rai in the director's next release, "Atrangi Re". The film co-stars Sara Ali Khan and Dhanush.
READ MORE: Asian Lite Daily Digital Newspaper from London
READ MORE: Nike new advert fuels hope