The Institute of Human Virology in Baltimore honoured Chief Minister Pinarayi Vijayan and Health Minister K K Shylaja for the government's efforts in fighting the Nipah virus efficiently… reports Asian Lite News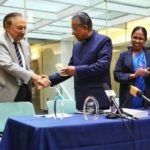 Renowned bio-medical scientist and co-founder of the institute Dr. Robert C Gallo presented awards to the Chief Minister and the Health Minister. This award is so far the biggest recognition that the state has ever received in the health sector.
on May 17   Mohammed Salih, a 28-year-old architect from Kerala's Perambra town, was rushed by his family to Kozhikode's Baby Memorial Hospital. Salih was vomiting, had a high fever, and was in a mentally agitated state. The doctor on call, critical care physician A.S. Anoop Kuma at first  doubted it as a case of encephalitis but later through his investigation discovered that the members of the family was effected by the deadly Nipah virus. From there on wards,how Kerala Health Sector dealt the scare deserve appreciation.
Accepting the reception Vijayan said this honour was a recognition to the public health system of Kerala. The fact that Kerala was able to ascertain Nipah infection in the second patient itself is an achievement.Ministers held discussions with Dr Gallo, senior fellows and scientists of the institute and probed the possibility of collaboration in setting up Virology Institute in Kerala.
Dr Gallo offered all support and technological assistance for Kerala's initiative.
Dr MV Pillai, Dr Sharngadharan and Dr Shyamsunder of IHV also participated in the discussion.
Chief Minister briefed the course of fight against Nipah virus scare. When the first patient was identified with Nipah, all those who came in contact with him were brought under strict monitoring. Special guidelines were issued and a coordinated effort by all government machinery was ensured. Special training was given to the medical and paramedical staff. A collective and cautious effort helped reduce the number of casualties, he said.
In addition to the Health Minister, Dr. Robert Gallo and Dr. Syamsundar Kottilil, Director Clinical Virology, IHV, spoke on the occasion.Both CM and Dr Gallo shared various possibilities that IHV can  collaborate with state health sector.