Jaisal K P a young fisherman of Kerala made himself a step by bending in the pool of water, his  nose just above the water level to help women enter rescue boats… reports Asian Lite News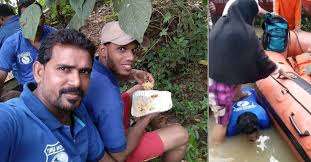 Jaisal a young fisherman from Tanur is now a living symbol of humanity for every Keralite. His phone is continuously receiving calls and messages just to show their love for him. Jaisal was one among the volunteers who was actively carrying on the rescue operations in flooded regions of Malappuram. While helping  few women to get in to the rescue boat ,  he made himself a step by bending in the pool of water, his  nose just above the water level.
Video of this selfless act was shared and a made viral by the social media. Now Jaisal is one of the lifesaving angels  everyone in and around Kerala admire. Jaisal hailing from a very poor family with his two kids and wife consider the number of lives he saved as the biggest award ever recieved.  Being a part of the trauma care member he saved many lives before this.
He lives in a small hut in the coastal area of Thanur and does fishing for livelihood. The hut is made on a land that was bought with the help of his relatives.A good football player and a great humanist Jaisal will always be remembered by Kerala.
At a crucial point were rescuing became harder for every force it is Kerala's common fishermen like Jaisal , who took up the mission to save hundreds without any training other than years of experience with water rides. They not only risked their lives but also their livelihoods by providing their fishing boats for rescue operation. Now they are called as Kerala's private rescue force.
The government offered a present of rupees 3000. But by saying that we don't need money to save our people's life, they contributed the amount to the Chief Ministers Relief Fund.
---