Manipur Chief Minister N. Biren Singh has welcomed talks between leaders of former militant groups with New Delhi's interlocutor. He also said feelers had been sent out to insurgents still fighting the state….writes Iboyaima Laithangbam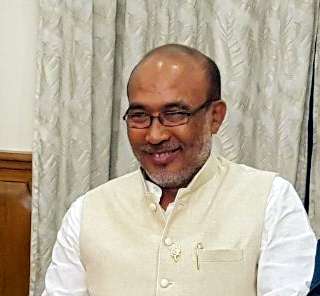 Debendra Sharma, a former director of the Intelligence Bureau, has started talks to settle issues, including the demand for a homeland and rehabilitation, with those who have come overground in the state, Biren Singh said.
"We have also raised some issues. We have insisted on a time-frame for talks since the inordinate delay has caused resentment among the signatories to the Suspension of Operations," the Chief Minister said.
He said the promised stipend of the past two years for the former insurgents had been cleared while extending the Suspension of Operations for one more year.
Biren Singh said it was important to move the designated camps for former militants 20 km away from the national highways. "This will help reduce allegations of heists and extortions (put on them)."
A total of 24 outfits, mostly belonging to the Kuki tribe, have come overground. There have been reports of violence within the camps housing them, causing even deaths.
At certain places, civilians have protested against these camps.
Biren Singh, who took charge of troubled Manipur in March, said he was in close touch with the central government to invite all the insurgent groups to the negotiating table.
He said feelers had been sent to some of the groups.
The Bharatiya Janata Party leader claimed there had been an improvement in the law and order situation in the northeastern state.
At the same time, he admitted that there was resentment over ministry formation.
The BJP, which secured 21 seats behind the Congress in March, joined hands with splinter groups to form a coalition ministry.
Biren Singh said: "There is resentment on the allocation of ministerial berths and this will be addressed in the next reshuffle."
All four MLAs of the National People's Party have become ministers.
Health Minister L. Jayentakumar and six Parliamentary Secretaries had resigned. Later, they withdrew the resignations.
Biren Singh said the Modi government had given over Rs 25,000 crore to Manipur in the last three months. This includes Rs 1,160 crore to improve national highways.
"Since funds are no problem, there are good developmental works all around. We are all for a balanced development in the valley and the hills. It will go a long way in bringing about an emotional integration."
The Chief Minister denied shielding senior officials charged with corruption.
"If there is evidence, we punish one and all. Senior engineers and police officers have been suspended and are facing inquiries.
"It is the directive of the Prime Minister to have a corruption-free administration. We are closely monitoring all recruitment to check scams."
He said the anti-corruption cell in his office had helped check corruption.
The Chief Minister also came out against mob violence, after insurgents killed some alleged rapists.
"This has to stop," he said. "The accused are facing trial and we should wait for the outcome. People should avoid mob crime before the guilt of the accused is established."
Recalling his Laos visit, Biren Singh said: "We have many things to learn from the people of Laos in keeping the city clean and controlling pollution of all sorts."