Mexican President Andres Manuel Lopez Obrador said he plans to ask the US to promote a campaign against drug use among young people, insisting that demand from Americans enriches the cartels in the Aztec nation…reports Asian Lite News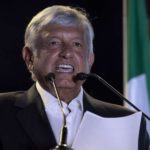 "We are going to respectfully ask the government of the US to pay attention to the young people" in their country, the president said during his daily morning press conference.
The leader of the leftist Morena party said that his administration was already working on a national campaign to discourage Mexican youth from consuming narcotics or getting involved in drug trafficking.
Yet combating the scourge requires not only raising awareness about the dangers of drug use, but also an effort to create attractive possibilities for young people, Lopez Obrador said.
"Let young people in the US have alternatives and opportunities. Let them not be marginalised or discriminated against. And at the same time may there be a campaign in the US for the orientation of youth, which does not exist," he said.
Appetite for illegal drugs in neighbouring countries benefits Mexican cartels, according to the president.
"Consumption grows in the US and trafficking grows," he said.
Lopez Obrador said that his government's anti-drugs campaign will be "broad and creative" and will aim to raise awareness among all Mexicans about the dangers of drug use.
It is necessary, he said, "to create awareness among young people to keep them from falling into the vice of drugs. Above all, the drugs that are fatal and destroy."
Conversely, the president said that he had not ruled out a review of existing legal prohibitions on certain drugs that are not "so addictive" or dangerous.
In response to a reporter's question, Lopez Obrador said he was open to the idea of legalizing cannabis at some point during his six-year term.
He stressed, however, that his primary focus will be strategies to steer young people away from "anti-social behaviours."
Since the beginning of this century, Mexican presidents have advanced an approach based on "shared responsibility" in discussions with the US on the illegal drug trade.
Besides urging the US to take steps to reduce demand, Mexican leaders have pointed out that the well-armed cartels get many of their guns from north of the border.