Sharing a public platform with Nitish Kumar for the first time after the coming together of JD-U and BJP over two months ago, Prime Minister Narendra Modi said he and the Bihar Chief Minister would take the state to new heights of development even as he announced that infrastructure projects of Rs 53,000 crore were underway or completed in the state….reports Asian Lite News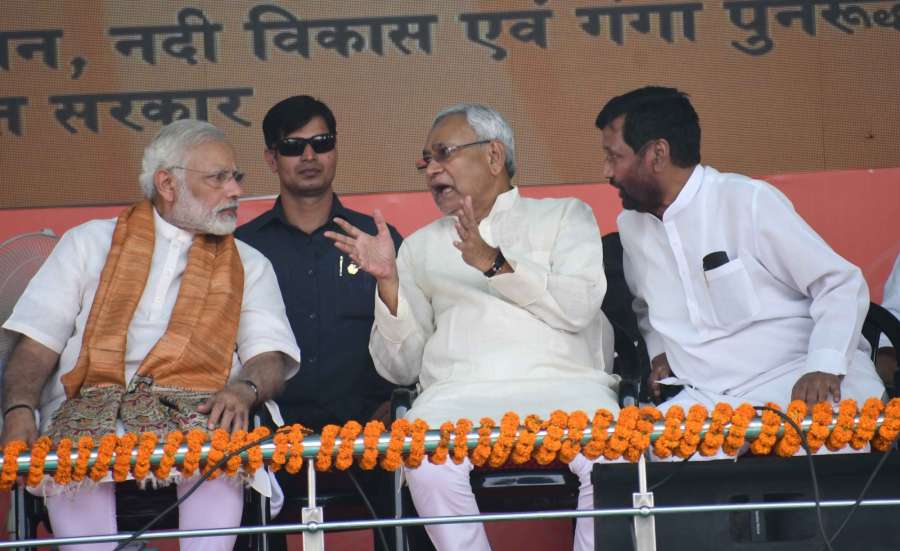 Addressing a rally at Mokama, Modi heaped praise on Nitish Kumar and said the central and state governments were working tirelessly to fulfil the dreams of people of Bihar.
Modi referred to Kumar's demands for development of Mokama and said he respected sentiments of the Chief Minister. "I assure you that the central government will walk with you shoulder to shoulder to fulfil dreams of people of Bihar and take this journey of development to new heights," he said.
Modi laid the foundation stone for four sewerage projects under the Namami Gange programme and four national highway projects and said the state was getting gifts worth Rs 3,700 coinciding with festivals of Diwali and Chhath.
Modi, who arrived in Patna on a day-long visit, earlier addressed centenary celebrations of Patna University and said the government will provide autonomy and Rs 10,000 crore to top 10 public and 10 private universities to make them world-class.
Kumar, who also spoke at the varsity function, said people of the state were keen that Patna University is made a central university. Modi, however, responded by saying that he was going beyond the demand and was keen that the Patna varsity competes successfully in the challenge for 10 public universities and becomes a global-level institution.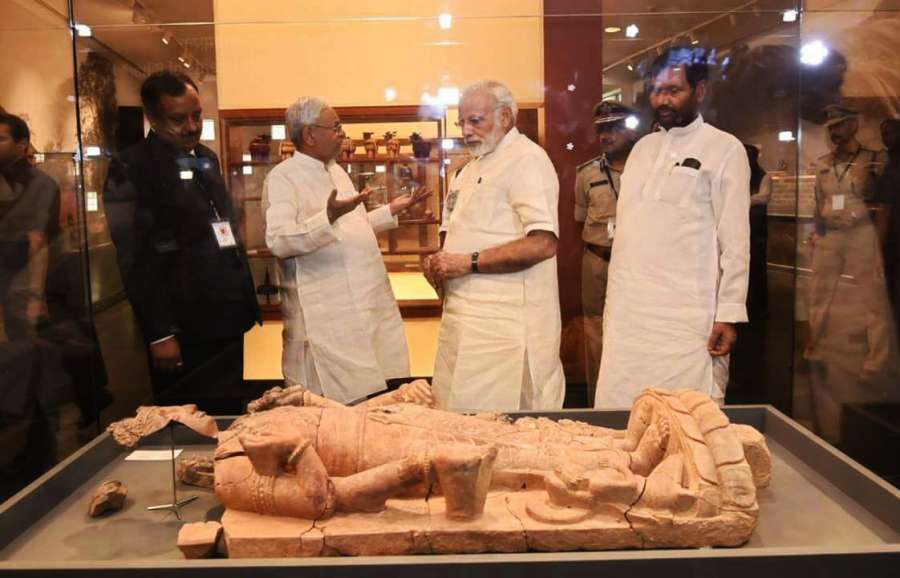 In his speech at Mokama, Modi said he was grateful from his heart to Kumar and his team for their strong support to central schemes. "If there are difficulties, he strives to remove them. The state and central government are working shoulder to shoulder and doing everything possible to fulfil the dreams of Bihar and the results are visible," Modi said.
Referring to the long list of road projects mentioned by Surface Transport Minister Nitin Gadkari in his speech, Modi said, "So many projects to change the fate of Bihar can be implemented in such a short time, we have shown this."
Nitish Kumar had joined again with the BJP in July after falling out with the party ahead of the 2014 Lok Sabha polls over its projection of Modi as the prime ministerial candidate. The fallout happened after the JD-U and BJP had been together in the NDA for almost 17 years.
Without taking names, Modi said there had been people with "demented mindset" who even talked against the need of roads as there were no vehicles to run on them. He said roads bring prosperity and development.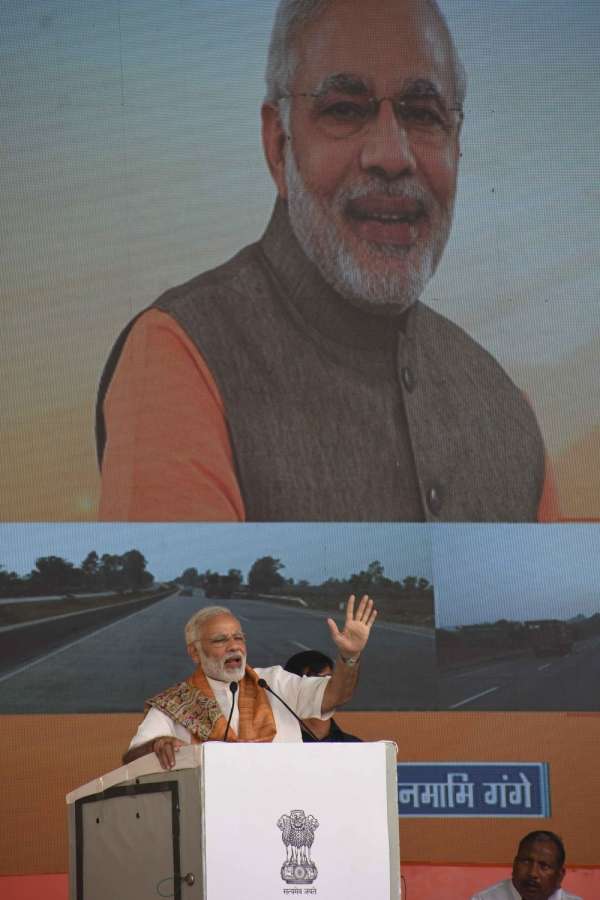 Referring to Ganga, Modi said: "If there was no Ganga, I do not know what condition our land would have been in. We did not make adequate efforts (to clean it). Saving Ganga is saving our future generations. We have to make Ganga clean that will also help in improving its flow. Hence the government is spending crores of rupees in its cleanliness."
He said cleanliness of Ganga will also lead to awareness about the need to preserve other rivers.
Modi said probably so much work in infrastructure has not been done in Bihar in such a short period of time after Independence. "Works related to road projects Nitinji was telling me… of Rs 53,000 crore have either been started or approved. What impact it will have, you can imagine," he said.
Modi said he was delighted to come to a land closely associated with Hindi poet Ramdhari Singh Dinkar.
Earlier, in the function at Patna University which was also attended by Nitish Kumar, Modi said it was a "blot" that Indian universities do not figure among the top 500 of the world.
He said the government has come with scheme to make 10 private and 10 public universities world-class by providing them autonomy from the constraints of government rules and freedom to grow.
"They will be given Rs 10,000 crore in the next five years," Modi said, adding that there will be rigorous selection process.
He also urged universities to move from conventional teaching to innovative learning and said there was need for students to "un-learn, de-learn and re-learn".
Modi appreciated the efforts Nitish Kumar towards development of the state and said the progress of eastern India is the Centre's topmost priority.
He said when the country celebrates the 75th anniversary of Independence day in 2022, he wants to see Bihar standing among the list of prosperous states.
Modi also visited Patna Museum during his visit to the state.