Raking up the reported remarks of Congress chief Rahul Gandhi that Congress is a party for Muslims, Prime Minister Narendra Modi on Saturday said he was not "surprised" by that but asked whether it would support Muslim women on issues like triple talaq… reports Asian Lite News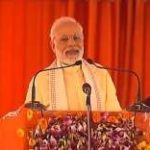 Addressing a public rally after laying the foundation stone of the Purvanchal Expressway here, Modi said: "For the last two days I am hearing, that a naamdar leader (Rahul Gandhi) recently said that Congress is a party of Muslims. I'm not surprised."
"Even Former Prime Minister Manmohan Singh once said that Muslims have the first right over nation's natural resources."
"But I want to ask the naamdar of Congress, please tell that is the party only for Muslim men? Because they don't stand with Muslim women on issues of triple talaq and Nikah halala," he said.
The Prime Minister's attack on Gandhi and the Congress on the issue of Muslims came a day after Defence Minister Nirmala Sitharaman accused the Congress of dividing the country on communal lines and playing a dangerous game before 2019 general elections.
Citing a report in an Urdu daily which claimed that Gandhi told a meeting of Muslim intellectuals earlier this week that Congress is a party for Muslims, she had demanded an apology from Congress President.
The Prime Minister also accused the opposition parties of not allowing Parliament to function. "They don't allow the Parliament to function. They stall the proceedings," he alleged.
Modi also said that Purvanchal Expressway will take Uttar Pradesh to greater heights. "More than Rs 23,000 crore will be spent on project. All cities, towns between Lucknow and Ghazipur, that fall on this route will witness a change," he said.
The Prime Minister also said that the Bharatiya Janata Party (BJP) government under Chief Minister Yogi Adityanath has changed perception about Uttar Pradesh.
"Yogi Adityanath government has been able to control crime rate, corruption in Uttar Pradesh. He has contributed immensely in the state's development," Modi said.
He also said that the work on beside highways, waterways and airways is also being carried out.