Six persons, including a political worker, were killed and several injured on Wednesday in sporadic incidents of violence as millions of voters queued up outside polling stations across Pakistan to elect a new government… reports Asian Lite News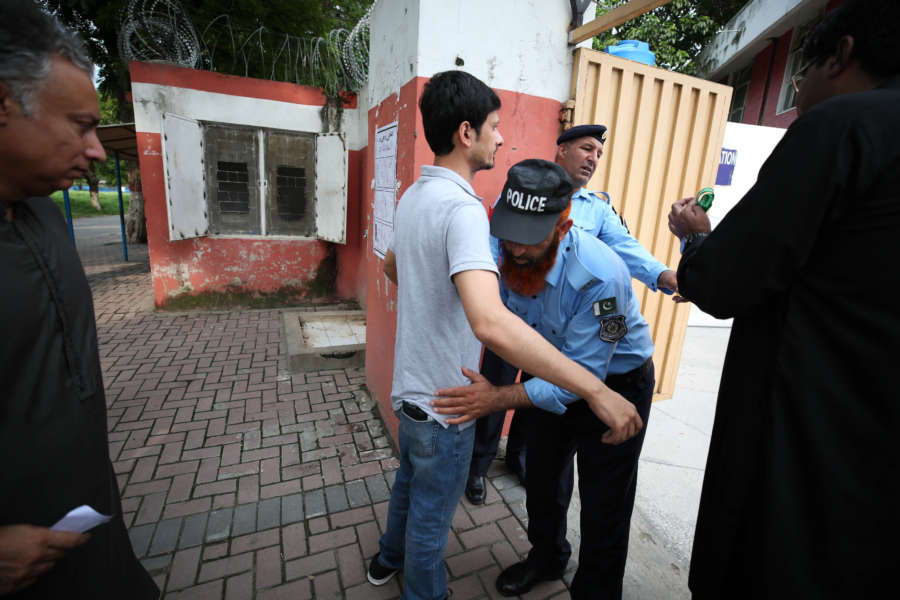 While polling stations officially opened for voting at 8 a.m., enthusiastic citizens queued up outside their respective stations as early as 7 a.m, Dawn News website said. Polling stations will remain open for voting till 6 p.m. and counting is being done simultaneously.
Results are expected to trickle in immediately after the polling ends with the final outcome likely by Thursday morning or afternoon, according to election officials.
The website reported that five people were killed and 12 injured in a blast that took place in Quetta. Polling was underway at a school nearby, when a police van was targeted in the attack, it said.
A Pakistan Tehreek-e-Insaf (PTI) worker was killed and two others injured as party activists clashed with Awami National Party (ANP) workers outside a polling station in Nawan Kali in Khyber-Pakhtunkhwa's Swabi.
The workers of the two parties clashed in Mardan as well. Several people have been injured in the firing incident. Following the clash, police took control of the affected area, the Dawn reported.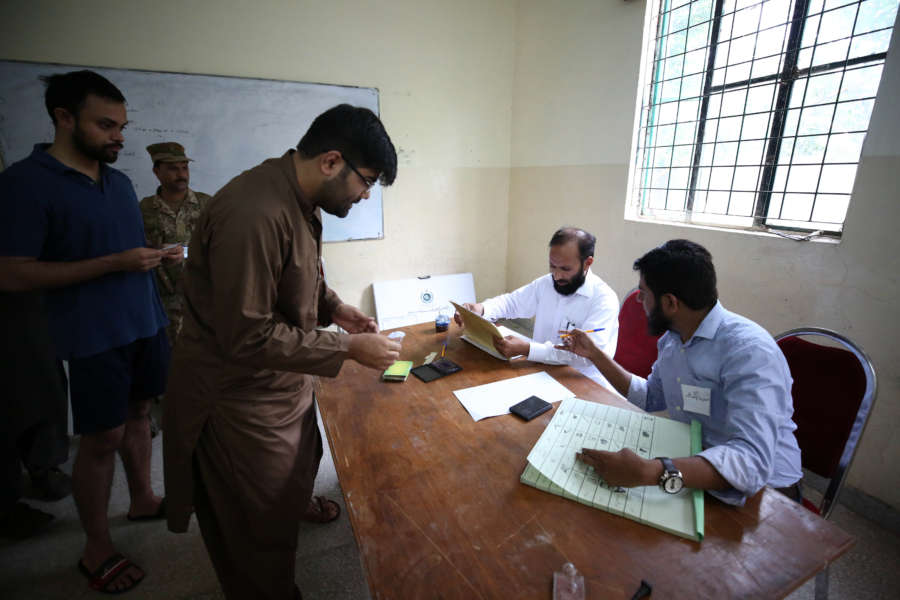 Two people were also injured in a firing incident in Dera Murad Jamali in Balochistan.
In a separate incident, four people were injured in a blast outside a political camp in Larkana, in Sindh province, the home of the Bhutto family, reported Express Tribune.
Independent candidate Jibran Nasir said that Tehreek-i-Labbaik Pakistan supporters attacked a facilitation camp he had set up in Chandio Village in Karachi.
As many as 12,570 candidates are contesting for a total of 849 seats of national and provincial assemblies in the general election. Nearly 106 million people are eligible to vote.
The battle is set to come down to three parties: Shahbaz Sharif's Pakistan Muslim League-Nawaz (PML-N), Bilawal Bhutto-Zardari's Pakistan Peoples Party (PPP) and Imran Khan's PTI.
In an effort to increase voter participation the Election Commission of Pakistan has declared a public holiday on Wednesday.
Prominent people who cast their votes include former Prime Minister Shahid Khaqan Abbasi, Mustafa Kamal and chief of the Pak Sarzameen Party.
Over four lakh security personnel have been deployed at polling stations across the country to maintain law and order and take action against harassment, after the nation witnessed one of the bloodiest campaigning on July 13.
According to a poll official, 5,878 polling stations have been declared "highly sensitive" — official euphemism to mean they are prone to violence — in Sindh; 5,487 in Punjab and Islamabad; 3,874 in Khyber Pakhtunkhwa and FATA and 1,768 in Balochistan.
According to the reports, women voters were being denied the right to vote in PK-65 constituency of Nowshehra in Khyber Pakhtunkhwa Province.
Geo TV said a suspicious person was detained when he tried to enter Karachi's Lyari Bihar Colony polling station in NA-246, claiming to be a police officer.
"The suspicious person has been taken to Chakewara Police Station," a police officer said, adding that the polling process was halted for about 20 minutes.
The elections are being held as emotions run over a graft case that led to the imprisonment of ousted Prime Minister Nawaz Sharif and his daughter Maryam.
Sharif's PML-N has condemned the legal cases facing its members, and reported pressures to leave the party along with harassment to prevent it from returning to power after its absolute majority in 2013.
These elections are the second in Pakistan's history in which a government was able to complete its term to make way for another government after being ruled by military dictators for half of the 71 years of its existence since its founding in 1947.