The Financial Action Task Force (FATF) on Friday said Pakistan has not done enough to curb finances of terror groups, which means it continues to remain in 'the grey list', making it difficult for the country to get international loans…reports Asian Lite News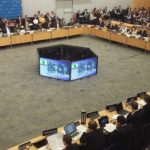 It also condemned the Pulwama terror attack that killed 40 CRPF men last week.
In a statement, the multilateral body on terror financing said Pakistan did not have proper understanding of the terror financing risks posed by Da'esh (ISIS), AL-Qaida, JuD (Jamat-ud-Dawa), FIF (Falah-e-Insaniat Foundation), LeT (Lashkar-e-Taiba), JeM (Jaish-e-Mohammed), HQN (Haqqani Network) and persons affiliated with the Taliban.
"Given the limited progress on action plan items due in January 2019, the FATF urges Pakistan to swiftly complete its action plan, particularly those with timelines of May 2019," it said.
Pakistan on Thursday re-imposed a ban on the JuD and its charity arm, FIF.
The Paris-based FATF said it notes "with grave concern and condemns the violent terrorist attack" in Pulwama last week.
"While all these attacks kill, maim, and inspire fear, they cannot occur without money and the means to move funds between terrorist supporters. This vulnerability makes identifying terrorists' financial flows and depriving them of funds a crucial tool in disrupting terrorist attacks before they even occur," it said.