President Ram Nath Kovind inaugurated the Saibaba Samadhi Mahotsav, heralding the start of the centenary celebrations of the revered 20th century saint Sai Baba of Shirdi….reports Asian Lite News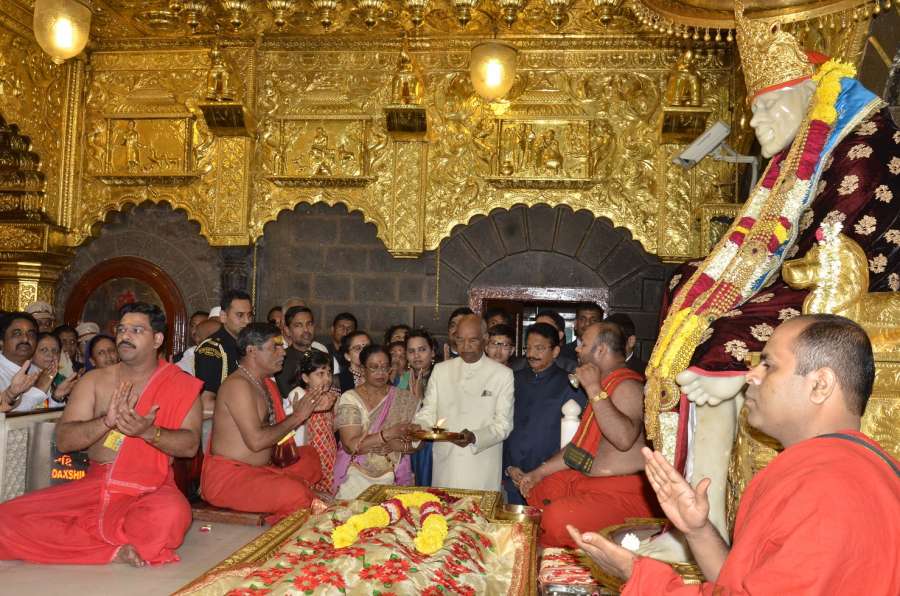 Shortly after noon, the President hoisted a celebration flag atop a 51-feet tall special post erected in the Lendi Bagh area of the massive temple complex amidst chanting of hymns and prayers, said Shri Saibaba Sansthan Trust Chairman Suresh Haware.
"I consider myself fortunate to have the honour of launching Shri Saibaba's Samadhi centenary celebrations. Saibaba's message of 'Shraddha and Saburi' and 'Sabka Malik Ek' is a boon for all devotees and entire humanity," said Kovind.
He also lauded the trust's efforts to make the temple as a key centre for the welfare of humanity with various social-cultural-educational-charitable activities.
The President also took a 'darshan' of the Samadhi Temple accompanied by Governor C. V. Rao, Chief Minister Devendra Fadnavis, Leader of Opposition Radhakrishna Vikhe-Patil and other leaders and officials and was shown around the temple complex and its various activities.
The inauguration was preceded by a ceremonial 'shobha yatra' of the flag which was taken out at dawn in a procession which started from Shirdi village to the temple complex with thousands of devotees and villagers joining.
Haware said that during the entire centenary year, over 4.5 crore devotees from India and all over the world are expected to visit Shirdi for which the trust has made massive arrangements.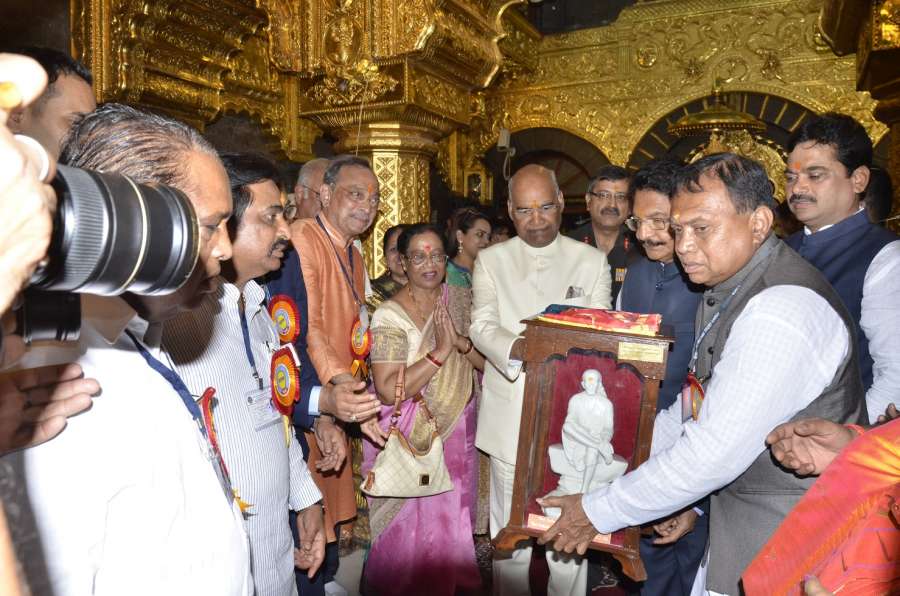 After the flag-hoisting, the President witnessed a ceremony to distribute spectacles to people who took part in a huge free ophthalmology camp at the temple as part of the celebrations.
A wandering saint, Sai Baba, whose date and place of birth and religion at birth are not known, took ;samadhi' on October 15, 1918 in Shirdi, where he earlier preached for several decades, advocating equality of all religions and condemning all social discriminations based on caste, creed or religion.
Earlier, Shirdi came on the country's air-map when President Kovind inaugurated the swank new Shirdi Airport and flagged off an inaugural Shirdi-Mumbai AllianceAir flight.
Developed by Maharashtra Airport Development Corporation at a cost of Rs 350 crore, the SSST has contributed Rs 50 crore to the project which is expected to be a boon to pilgrims arriving here and boost tourism in Ahmednagar and adjoining Nashik district.
Permitted initially for daytime operations by the DGCA, the new airport will slash the travel time between Mumbai and Shirdi, around 240 km apart, from six hours to barely 45 minutes.
Regular operations are expected to commence later this week with at least six return flights to be operated by various airlines from Mumbai, New Delhi and Hyderabad, with more added later on.
The airport has a 2,500 metres, a 3,000 square metre terminal building with a capacity to handle 300 passengers daily which would be gradually augmented.