Advertisements


External Affairs Minister Sushma Swaraj met her Bhutanese counterpart Damcho Dorji and discuss in length about the current standoff between India and China in the Dokhlam sector in Sikkim on the sidelines of the 15th Ministerial Meeting of the Bay of Bengal Initiative for Multi-Sectoral Technical and Economic Cooperation (Bimstec)in Kathmandu….reports Asian Lite News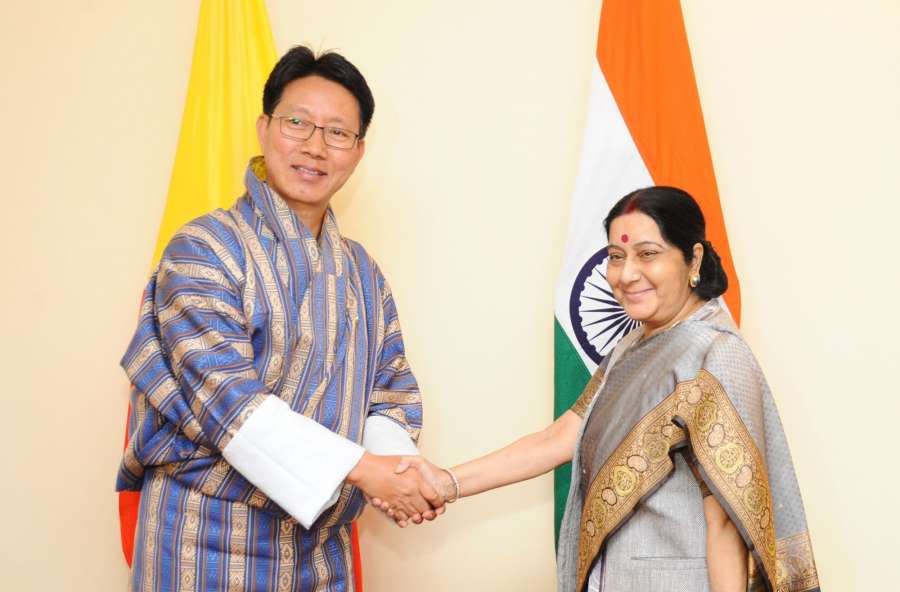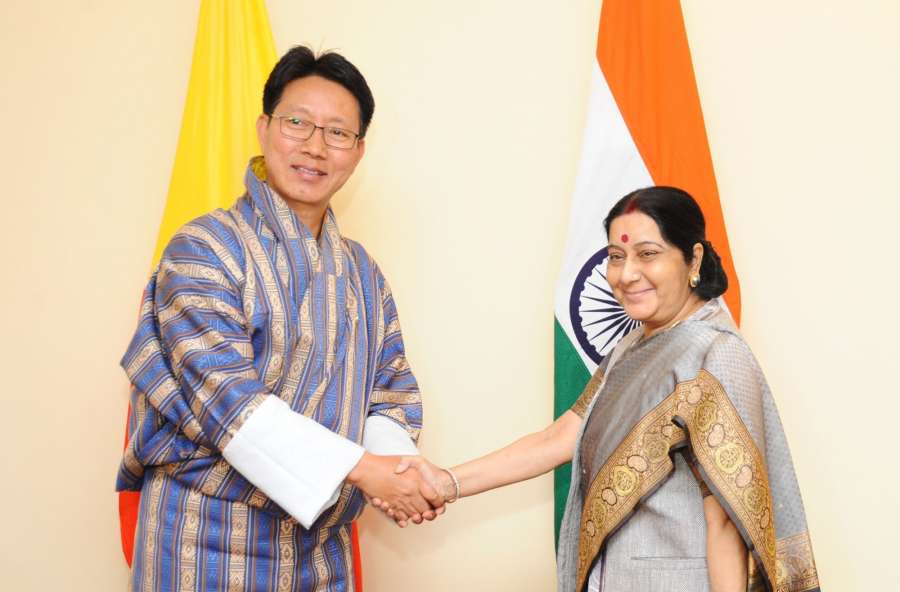 The Doklam standoff between India and China was very much on the table when Indian External Affairs Minister Sushma Swaraj met her Bhutanese counterpart Damcho Dorji here in Kathmandu, with the latter expressing hope that the situation is resolved peacefully.
The two ministers met on the margins of the Bimstec Ministerial Meeting.
Their meeting focused mainly on the standoff between Indian and Chinese troops in Doklam in the Sikkim sector since mid-June, that has led to sharp escalation in diplomatic tensions between Beijing and New Delhi. Doklam lies in the trijunction between India, China and Bhutan.
The face off began after Indian troops stopped People's Liberation Army soldiers from constructing a road in the area, which Beijing claims is part of its territory but Thimphu has strongly contested it.
Sushma Swaraj and Damcho Dorji stated their respective positions as well as reiterating the stances on the face off, according to diplomatic sources.
"We hope the current standoff in Doklam will be sorted out peacefully," said Dorji after the meeting, and added that "both sides should be satisfied with the outcome".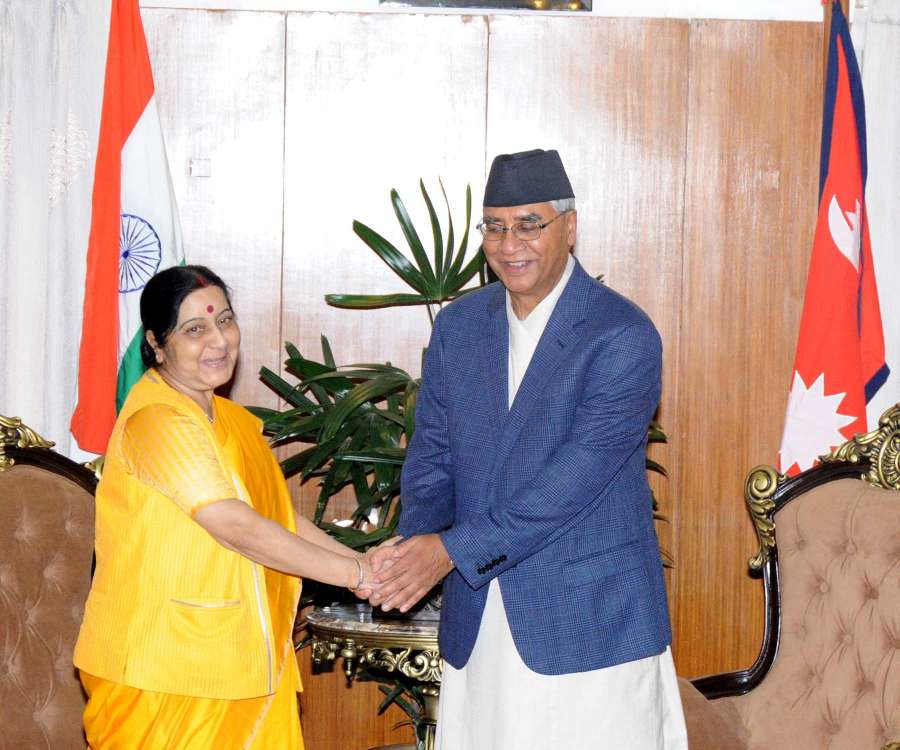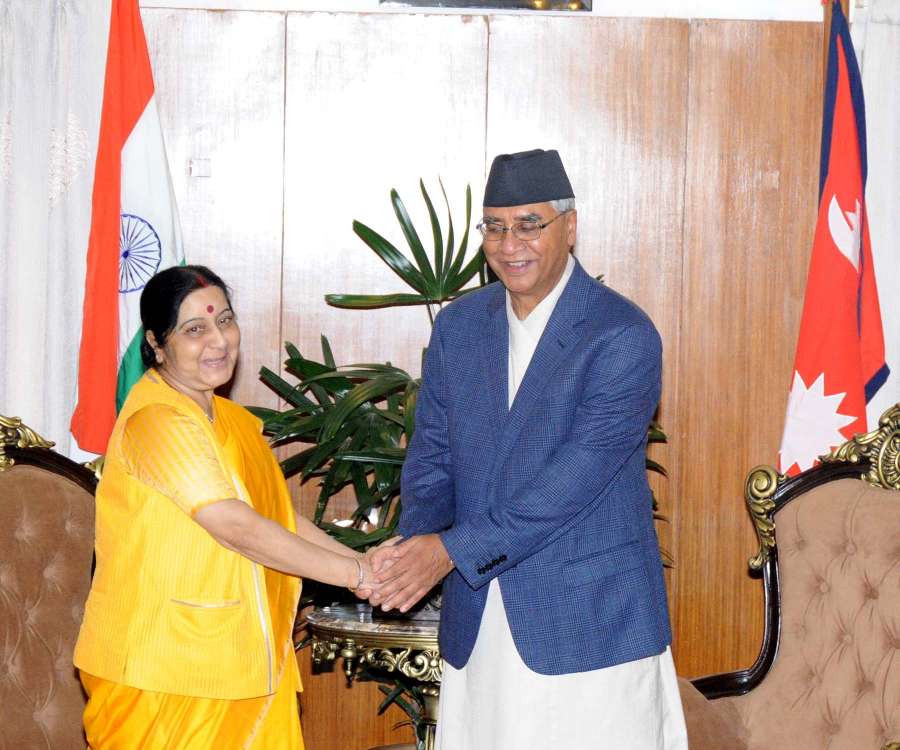 The meeting comes as the Government of Bhutan on Thursday refuted Chinese Foreign Ministry claims that Thimphu had told Beijing that the trilateral junction in Doklam is not Bhutanese territory. Top Chinese diplomat Wang Wenli had claimed that Bhutan had conveyed to Beijing through diplomatic channels that the area of the standoff is not its territory.
Indian officials in Kathmandu were unwilling to disclose much about the Sushma Swaraj-Dorji meeting.
Sudhakar Dalela, Joint Secretary (North) in the Ministry of External Affairs Ministry, said at a media briefing later that both leaders "discussed Bimstec-related matters and cooperation in the context of the Bimstec Ministerial Meeting as also a range of bilateral issues that we have between India and Bhutan".
"You are all aware that we have a very unique and special partnership with Bhutan.
"Our canvas of cooperation is very wide-ranging and both the leaders had an opportunity to discuss a range of issues," he said.
Sushma Swaraj also met Sri Lankan State Foreign Minister Vasantha Senanayake.
Earlier, in her address at the 15th Ministerial Meeting of the Bay of Bengal Initiative for Multi-Sectoral Technical and Economic Cooperation (Bimstec) here, she said that the Bimstec regional bloc was a "natural choice" to fulfill New Delhi's key foreign policy priorities of Neighbourhood First and Act East and that the grouping is collectively working on strategies to counter the scourge of terrorism and violent extremism.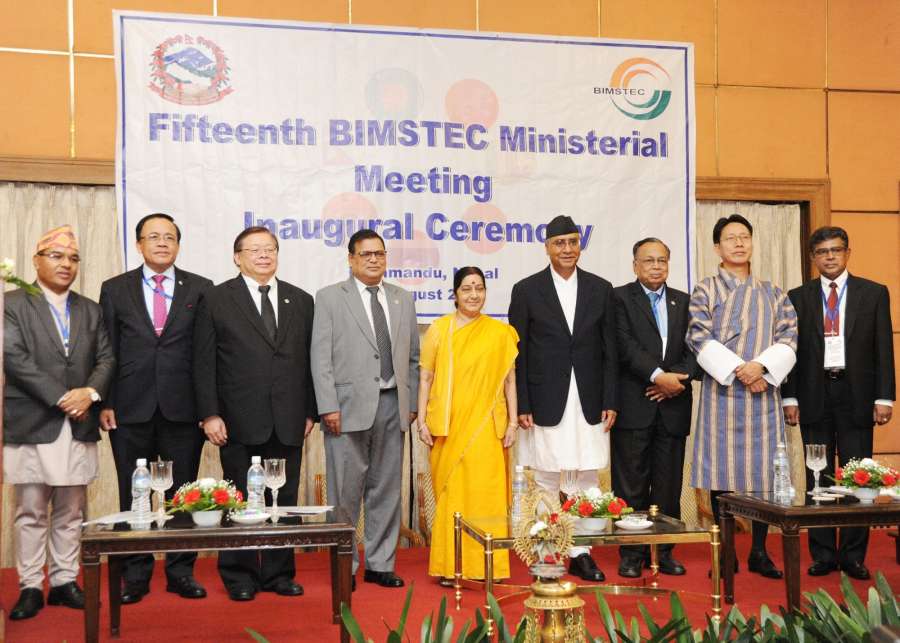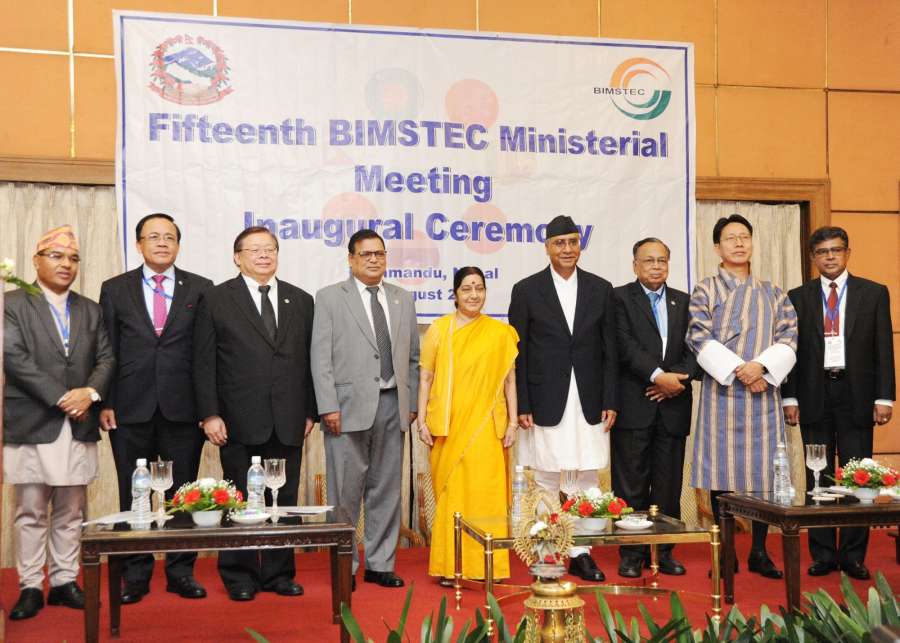 "Peace and security are essential for development to take place," she added.
Bimstec comprises seven countries lying in the littoral and adjacent areas of the Bay of Bengal – Bangladesh, Bhutan, India, Myanmar, Nepal, Sri Lanka and Thailand.
With the South Asian Association for Regional Cooperation (Saarc) virtually rendered ineffective as a bloc, largely due to non-cooperation on the part of Pakistan in a number of areas, India has been giving more importance to Bimstec.
The bloc brings together 1.5 billion people or 21 per cent of the world's population.
India is the lead country for cooperation in four priority areas: counter-terrorism and transnational crime, transport and communication, tourism and environment, and disaster management.
India's emphasis on Bimstec is also seen as a counter to China's growing engagement among its regional neighbours, as part of encirclement of India.
Sushma Swaraj said that enhanced connectivity was vital to achieving Bimstec's common goals of growth, employment and prosperity. "To achieve smoother cross-border flows of trade and people, we need to put in place the enabling soft infrastructure such as the Framework Agreement on Transit, Trans-shipment and Movement of Vehicular Traffic and the Agreement on Coastal Shipping, at the earliest."
She also spoke on promotion of intra-Bimstec tourist circuits, joint marketing strategies, and Bimstec specific tourism products, notably the Buddhist circuit, and for cooperation in disaster management.
"To build regional capacities, India is hosting the first Bimstec Disaster Management Exercise in October 2017," she said.
On the cross-border exchange of power between India, Nepal, Bhutan and Bangladesh, she said: "The Bimstec MoU on Grid Interconnection, which has been finalised, would further facilitate regional energy trade."
Pointing out that Bimstec has a combined GDP of over $2.85 trillion, Sushma Swaraj called for the bloc's deeper economic integration. "Along with the work on Bimstec FTA (Free Trade Agreement), the Bimstec Trade Facilitation Agreement and the Bimstec Agreement on Mutual Assistance on Customs Matters would fasten trade, and must be concluded at the earliest."