Indian External Affairs Minister Sushma Swaraj has promised to sincerely remove "irritants" between Bangladesh and India….reports Asian Lite News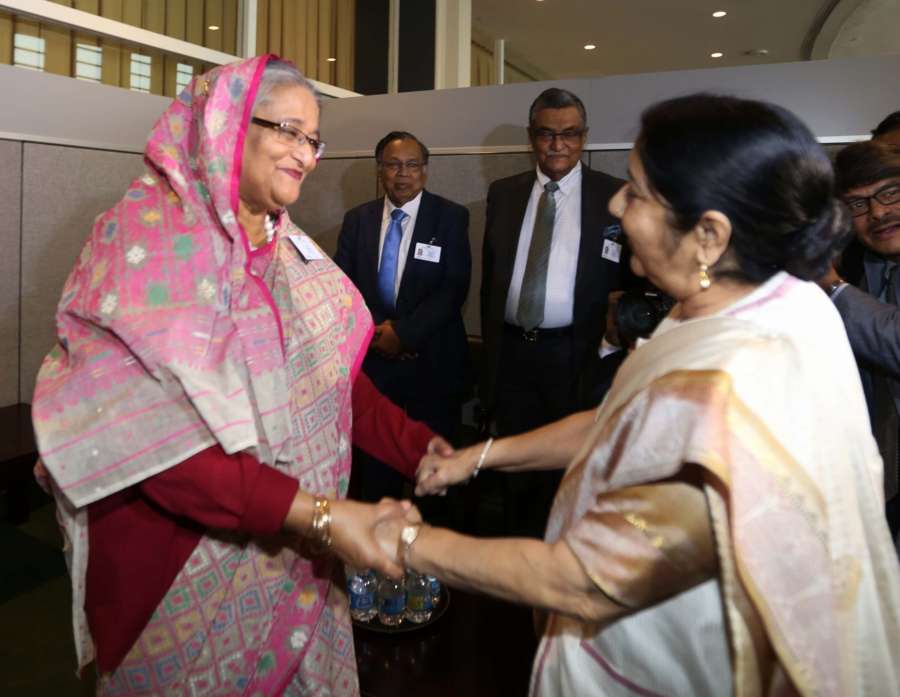 Sushma Swaraj said relations between the neighbours are now outstanding, and that both countries are working to resolve these irritants in the spirit of "friendly relations and with right intention", bdnews24 reported.
She did not specify the nature of the issues, but the water sharing of common rivers, particularly the Teesta, has long been pending between the neighbours.
"I can assure you we [both countries] will solve all irritants with sincerity [Imandari ke saath]," she said, speaking in Hindi at India's new chancery complex in Baridhara before leaving Dhaka.
She said Bangladesh comes first among all of India's neighbours as part of the neighbourhood policy adopted by her government. She also referred to the peaceful resolution of the land boundary as well as maritime boundary issues.
Sushma Swaraj came to Dhaka to attend the fourth joint commission meeting with her Bangladeshi counterpart A.H. Mahmood Ali.
She inaugurated 15 India-funded development projects during her visit to Bangladesh.
She also formally inaugurated the chancery complex.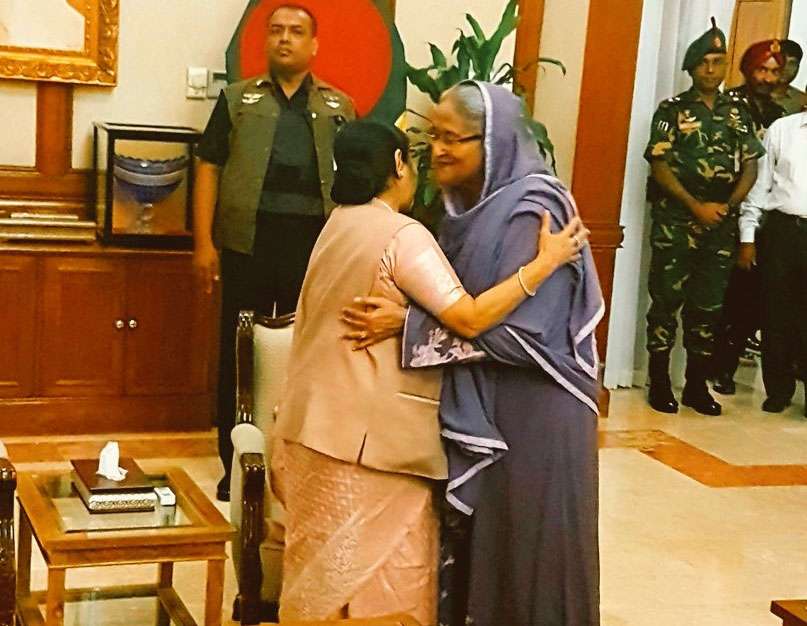 Foreign Minister Mahmood Ali, Health Minister Mohammed Nasim, Environment and Forests Minister Anwar Hossain Manju, Prime Minister's Political Affairs Adviser H.T. Imam, Indian Foreign Secretary S. Jaishankar, Bangladesh Foreign Secretary Md Shahidul Haque and Indian High Commissioner in Dhaka Harsh Vardhan Shringla were present on the occasion.
Sushma left Dhaka around 1.30 p.m. and was seen off by Bangladesh Foreign Secretary Shahidul Haque.
The projects in Bangladesh are funded by India at a cost of Tk 71.64 crore, the Daily Star reported.
According to bdnews24.com, the projects cover sectors such as education, healthcare, IT, water supply and social welfare.
Eleven water treatment plants are being built in southern Bhandaria Upazila in Pirojpur that will provide desalinated potable drinking water to 150,000 citizens. Some 36 community clinics will also be built.
Those projects also include reconstruction of the Ramna Kali Temple which was destroyed by the invading Pakistani forces in 1971.
The project includes construction of the main temple, a five-storey guesthouse, a deep tube-well in the temple premises and the construction of the main entry gate of the temple.