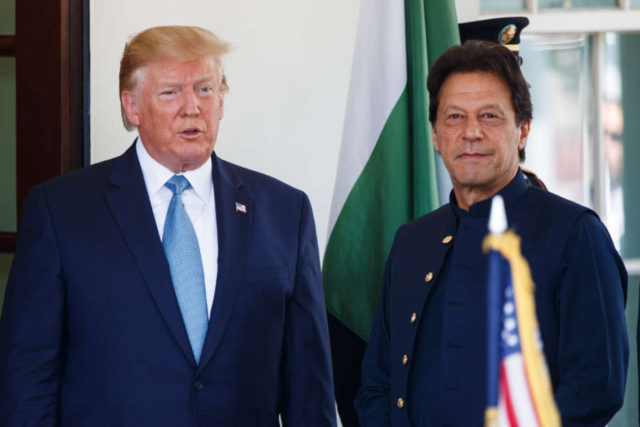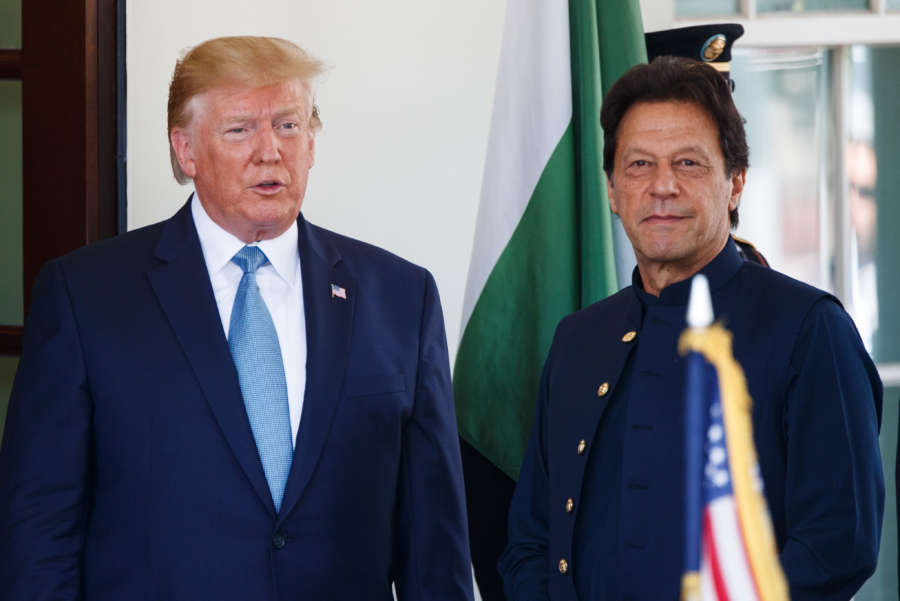 The uncertainty over the f-16 fleet is making Pakistan nervous. Trump and his team are not listening to the Pakistan's plea to provide the technical assistance. The US is aware that any military cooperation between Pakistan and US, more specifically with regards to F-16, is likely to upset Washington's regional ally India. Hence, specific provisions have been inserted in the notification to pacify Delhi and its lobby in Congress…..A special report by Dr Sakariya Kareem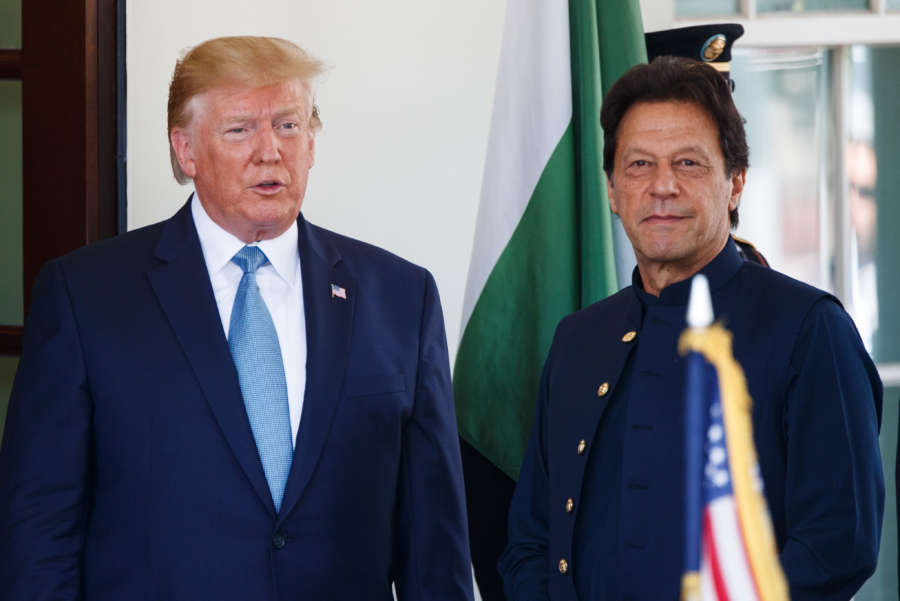 Back home after his recent visit to the United States, Pakistan Prime Minister Imran Khan was over the moon, flaunting V-for-Victory sign to his domestic audience. Dawn newspaper carried a super-praise article titled "He came, he saw, he conquered," Spin doctors who were calling America names only the other day, conjured up "great recovery" in Pak-US ties, as if Khan had conquered America.
But uncertainties have set in within days. Khan and his military mentors are betraying nervousness. On top of their anxieties are the Kashmir dispute with India and the American sale of F-16 combat aircraft. It is being realized that the US did not give a hyper-treatment to the Khan visit. For one, there was no joint statement at the end of the Trump-Khan talks.
The visit itself, it is now being widely acknowledged, was not prompted so much by President Donald Trump's anxiety to engage with Pakistan on the Afghanistan withdrawal. It was the result of Pakistan's entreaties to Saudi Crown Prince Mohammed bin Salman to intercede with his friend, Jared Kushner, Trump's son-in-law and a key aide.
With all this goodwill and good atmospherics, Pakistan is still not certain of the extent to which the International Monetary Fund (IMF) will take the cue from Khan's meeting with Trump and others in the US to speed up the much-needed to salvage a sagging Pakistani economy.
The other 'scare' is the FATF, which is an American baby. The warning issued recently asking Pakistan to comply on enacting laws to curb money laundering and funding of terror groups has also come as a wake-up call. There is nothing hunky dory and Pakistan, already on the grey list, could be placed on the black list and severe economic sanctions could follow.  Islamabad can only pray that the US that needs Pakistan to extricate itself from Afghanistan, would not want the FATF to be too harsh.
Pakistan is realising painfully that for the 'gains' made in Washington to materialise, it would have to work hard to persuade a reluctant Afghan Taliban, a section of it confident of winning militarily and dos not want any reconciliation. The much-despised "do more" that the US subjected Pakistan to before have only been replaced by more stringent "do more — do fast."
There is no time to lose as Mr Trump wants an agreement by September end and pulling out of a part of the 14,000 troops by the year-end. There is an acute sense of urgency.
As for the Kashmir issue, at their joint conference in Washington, to Khan's glee and ear-to-ear smile, Trump shocked everyone by offering to 'mediate' or 'arbitrate' between India and Pakistan. This has turned out to be a lollipop to Khan in exchange for his agreeing to facilitate US troops' withdrawal from Afghanistan. Neither side, least of all Pakistan, expected India to reject the 'offer' outright and also denying firmly that Prime Minister Narendra Modi had made any such request at all at any stage.  Khan may have hoped that coming from Trump, so explicitly and in public, India would cower down and agree. He was mistaken.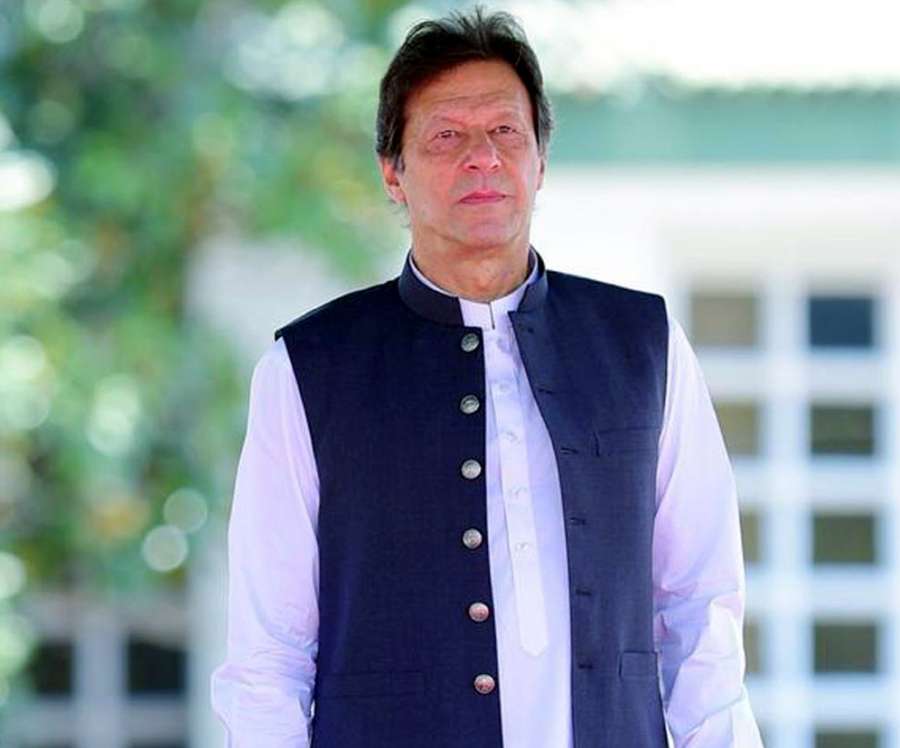 In a desperate attempt, a reporter, probably someone from Pakistan, again asked Trump and the latter repeated the offer/desire to mediate, but this time he said he would be "happy to do" provided 'they' want it. This 'they' is an obvious reference to India that again declined. Trump's exact words were: "If I can, if they wanted me to, I would certainly intervene."
For good measure, External Affairs Minister Dr S. Jaishankar told his US counterpart, Mike Pompeo in Bangkok that India will discuss the issue "if required", directly with Pakistan.
As for the F-16 aircraft, the impression that there was possibility of new aircraft being sold has been belied. The US has agreed to release USD 125 million, but that is subject to Congressional approval.
Secondly, the US State Department has notified the Congress its intention to continue with "technical and logistic support" for Pakistan's F-16 programme. The painful conclusion for Islamabad is that the amount, if and when released, would be used for maintenance of the existing F-16 squadrons of the Pakistan Air Force. Sixty American contractors will be assigned to Pakistan for this task and the money will be deducted from the proposed USD 125 million.
The Pakistani government, according to a statement issued by US Defence Security Cooperation Agency, had requested continuation of technical and logistical support services and assistance in "oversight of operations in support of the Pakistan Peace Drive advanced F-16 program." Islamabad has so far not said anything officially about the project or its request for the services.
The US is aware that any military cooperation between Pakistan and US, more specifically with regards to F-16, is likely to upset Washington's regional ally India. Hence, specific provisions have been inserted in the notification to pacify Delhi and its lobby in Congress.
Writing in The Friday Times, Syeda Maimoona says that these special provisions, seen by defence experts as "significant," include 24/7 end-use monitoring and assurance that the support arrangement would not alter the basic military balance in the region.
The monitoring clause is being seen as important because of the general perception that there is an understanding between Pakistan and US that the advanced F-16s in PAF inventory would only be used for counter-terrorism operations and not against India. It was this perception that was hyped by India amidst post-Pulwama stand-off, during which PAF was said to have deployed F-16 jets.
The impression that many are getting from the assertion about 24/7 monitoring is that US will be able to keep an eye on how Pakistan uses its F-16s. The assumption is that the so-called understanding on not using F-16s against India would be effectively implemented.
The notification of the deal, furthermore, contains declarations aimed at satisfying domestic US legislation concerns that the deal would further US national security and foreign policy interests and not affect US defence readiness.
Despite the limitations of the deal and its conditions, it is significant that it marks the resumption of US security aid for Pakistan that was completely ended in January 2018 after President Trump's New Year tweet accusing Islamabad of "lies and deceit" in the fight against terrorism. The window for security cooperation, therefore, stands opened even though the geopolitical situation would determine how long it remains open.
Though there is lot of scepticism about the sustainability of this bonhomie, still Pakistan will see an incentive for continuing better ties by delivering on US expectations with regards to Afghanistan, she says.
.
---