Pakistan lacks a coherent strategy to defend its stand on various issues. The team lack proper guidance and leadership to do their homework. An ace journalist turned diplomat was struggling to defend her country with a wrong photograph in an international arena…writes Dr Sakariya Kareem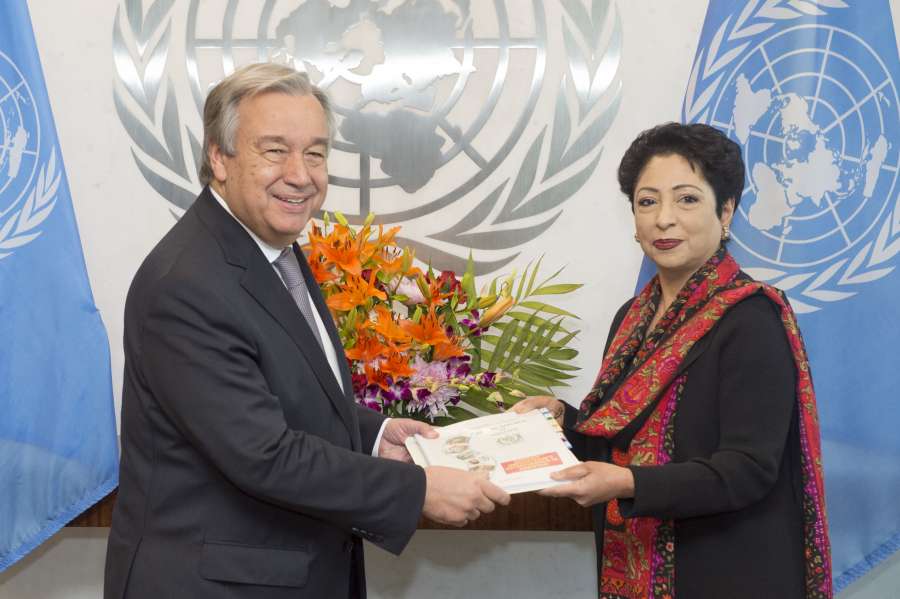 Pakistan's Permanent Representative at the United Nations Maleeha Lodhi's diatribes against democracy in India in the course of her speech in the UN General Assembly sounded like a mechanical recitation of a script prepared by the terminators of democracy in her own country.  That she spoke from this script without her mind in it was betrayed when she flourished a picture of a bruised Palestine girl and lying to the august audience that she was a Kashmiri girl who was wounded by Indian security forces.
This hilarious event is not the only example of Pakistan representatives boldness in trying to belie well-known facts before the UN General Assembly.  Indian democracy is acknowledged in the world, even in the enlightened circles in Pakistan as the largest and flourishing.  Ms. Lodhi called it "largest hypocrisy".  Pakistan is well-known within and outside as a cradle of terrorism.  Lodhi calls India mother of terrorism against India.  Afghanistan and Iran and even stealthy attacks in the Chinese province of Xinjiang.  China does not make its protests public.  But in her speech she blamed India of sponsoring terrorism in her country.
Lodhi said: "UN Security Council resolutions on Kashmir do not lapse with time".  This was Pakistan's Pat argument to accuse India in world forums of defying these resolutions.  She forgot that in 2003 then President-cum-Army Chief Gen Pervez Musharraf rejected these resolutions in favour of his own Kashmir formula.  In 1966 then foreign Minister Zulfikar Ali Bhutto told his Indian counterpart Swaran Singh that his country would not insist on these resolutions if India gave some parts of Kashmir to it.  In 1963 Pakistan and China committed stark violation of these resolution, by signing a so-called boundary agreement in respect of Pakistan occupied Kashmir territory in Gilgit-Baltistan.  Is Pakistan honouring these resolutions by giving Gilgit-Baltistan to China for China Pakistan Economic Corridor illegally?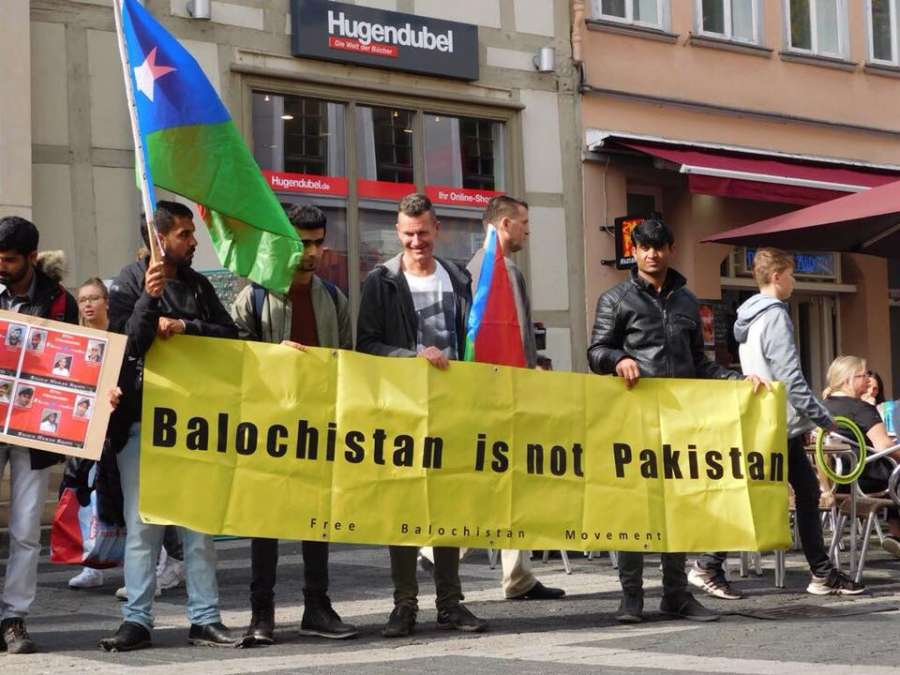 Two days before Lodhi's speech her country's Prime Miniter Shahid Khaqan Abbasi spoke.  He denied with a straight face that there were Taliban (Haqqani network) safe havens in Pakistan.  This is a fact which event its all-weather friend China has acknowledged in the BRICS (Brazil, Russia, India, China and South Africa) declaration on Septembe 4 Pakistan is possessive about this network that all the American dollars and warning in the past 17 years could not wear it away from it.  He said havens for terrorists were located in Afghanistan and not in Pakistan.
This is half tenth.  There is no denying the fact terrorists of Tehrik-e-Taliban, Pakistan (TTP), who helped the Nawaz Muslim League and Imran Khan's Pakistan Tehrik-e-Insaf of (PTI) in the 2013 general elections by preventing election meetings of the Pakistan People's Party (PPP), the Awami National Party (ANP) and the Mullah Quami Movement (MQM) and by threatening their voters, had ran away to the bordering mountains of Afghanistan in the wake of Pak army's crackdown mid-June 2014.  But there are no reports of the Afghan government hosting the TTP. Abbasi's half truth is that the TTP fled to Afghan's mountains bordering Pakistan only about three years ago wherever as the Haqqani network has been committing terror in Afghanistan for about 16 years from the Pakistani soil.
The Afghan government says it does not know where the TTP terrorists are hiding.  But in Pakistan former Foreign Affairs Adviser to the Prime minister admitted there was no secrecy about the whereabouts of the Afghan Taliban.  They go to Afghanistan for terrorist activities and run back to Pakistan.  They were not the target of the Army operation Zarb-e-Azb launched in June 2014 hoodwinking the world with the claim that it was against all terrorists.
The US patted Pakistan pretending belief that the Haqqani network was among the targeted groups. Prime Minister Abbasi's statement to the UN General Assembly on September 20, that there were no safe havens for the Taliban in Pakistan and that the country was itself a victim of cross-border terrorism, was …………. by his Foreign Minister Khawaja Asif at the Asiatic Society Forum in New York a week later. He made it very clear that the Haqqani network and Hafiz Saeed's Lashkar-e-Tayyaba (LeT) were very much in the country.  They were a liability but Pakistan did not have enough where with al to get rid of them.  He said will take time to get rid of them.  Asif insisted that these terrorists were in Pakistan not because of its choice but because of the choice of the United States whose darlings they were about two decades ago.  By claiming there was no safe havens for the Taliban, Prime Minister Abbasi damaged not only his own but the credibility of his country too.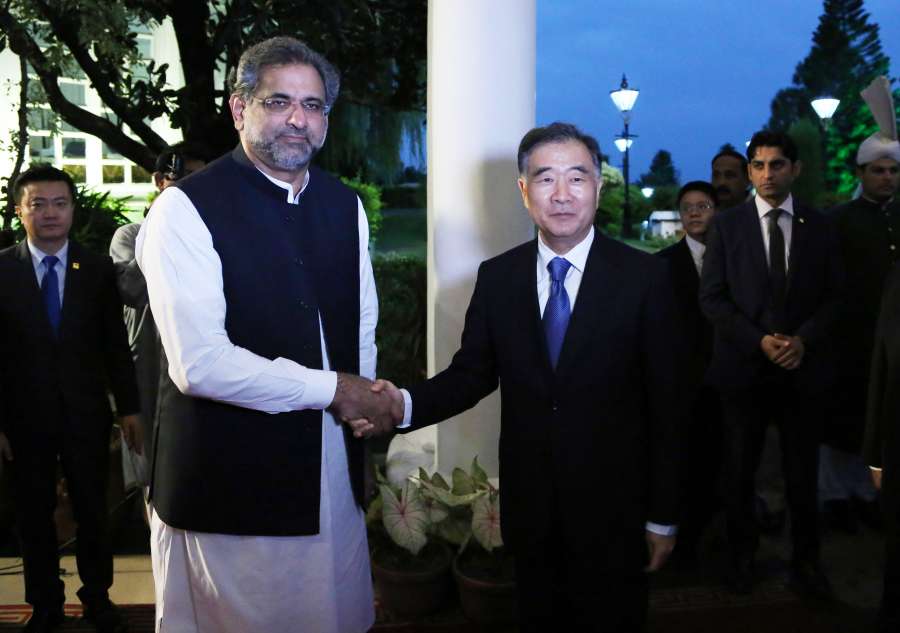 Abbasi also spokes at council on Foreign Relations in New York.  He criticised US President Donald Trump's suggestion that India play bigger role in Afghanistan.  He claimed the conflicts in Afghanistan an Kashmir are linked.  This is in continuation of Pakistan's strange logic why India should not have anything to do with Afghanistan.  During the Afghan war of the 1980s Gen Ziaul Haq apposed India's offer for making peace.  He said it was jihad in which a non-Muslim India had no role. One wonders how non-Muslim America, China and even Israel were accepted as leaders of this jihad.
After the US bombed out the Taliban administration in Afghanistan in 2001, then President and Army Chief of Pakistan Gen Pervez Musharraf, while agreeing to join US-led war on global terrorism, tried to put a condition that India should not have anything to do with Afghanistan because there was no common border between the two as if the US had a common border with Pakistan and Afghanistan.  Linking the conflicts in Kashmir and Afghanistan sounds a illogical as Gen Zia and Gen Musharraf's arguments to keep India away from Afghanistan.
It is well-known that no Pakistani Prime Minister is given any linking about the country's nuclear programme.  Therefore, no Pakistan Prime Minister can claim from his first hand knowledge how safe are the country's nuclear assets.  But Prime Minister have been made to make this claim.  So stop-gap Prime Minister Abbasi also made this claim.  He said: "……….there is no question of it (nuclear assets) being not in secure hands.  Time has proved and it's a very secure environment in which our strategic weapons in which our strategic weapons are controlled and held." Abbasi was forgetting that custodian themselves sell the country's nuclear secrets in black.  He may remember father of Pakistan's nuclear bomb A Q Khan's TV confession in 2003 that he sold nuclear secrets to Iran, Libya and North Korea.  Then he had forgotten to mention Syria.
Then President Musharraf said only one individual (a civilian at that) had committed this is because of his agreed for money.  Khan was put under house arrest without  a trial after years of his release he disclosed this black marketing for some years with generals on board.
Untruths in the UN General Assembly not withstand, what is alarming in the speeches Abbasi and Lodhi is that Pakistan is not ready for peace with India and Afghanistan.