They refused to supply its troops to Islamic Force crated by Saudi Arabia. The Middle East tilt towards India is prompting Pakistan to shift its stance. But it will be a tough task for Pakistan to defend sending retired General Raheel Sharif as Islamic Force chief….writes Zainul Gafoor
Pakistan has been having a hard time explaining to its public and to the world why and how it lobbied for and then officially approved of the appointment its former army chief, General (rtd.) Raheel Sharif, as chief of the 39-nation Islamic coalition force.
The urgency lies in appeasing Saudi Arabia that is talking to India on a variety of issues and its King may visit India. As it is, India enjoys advantageous arrangement over Saudi Arabian oil supplies. A diversification of Indian-Saudi relationship, like that of India and the UAE, would be 'harmful' to Pakistan's perceived interests in the region.  The other is cooling Saudi anger at Pakistan not joining the force. Saudis had mooted and created the force. Pakistan did not join it and showed as its fig leaf a resolution of the National Assembly that, perhaps rightly, barred Islamabad from joining a military alliance that is aimed at destroying Yemen. But the Saudis were angry and the UAE let it be known how the Arab world feels about Pakistan's 'betrayal' of the Islamic and Arab cause.
Fact of the matter is that it is a Sunni force aimed at Shias and Pakistan has a large Shia population and would not want to annoy Shia majority neighbour, Iran.  The Raheel Sharif factor came in later. The appointment seems to have been part of the deal Prime Minister Nawaz Sharif struck with the military establishment a section of which was pressurizing for an extension to Raheel as the army chief. Under pressure ever since Raheel took the initiative to combat militancy, and becoming hugely popular in the process, Nawaz wanted to get rid of him.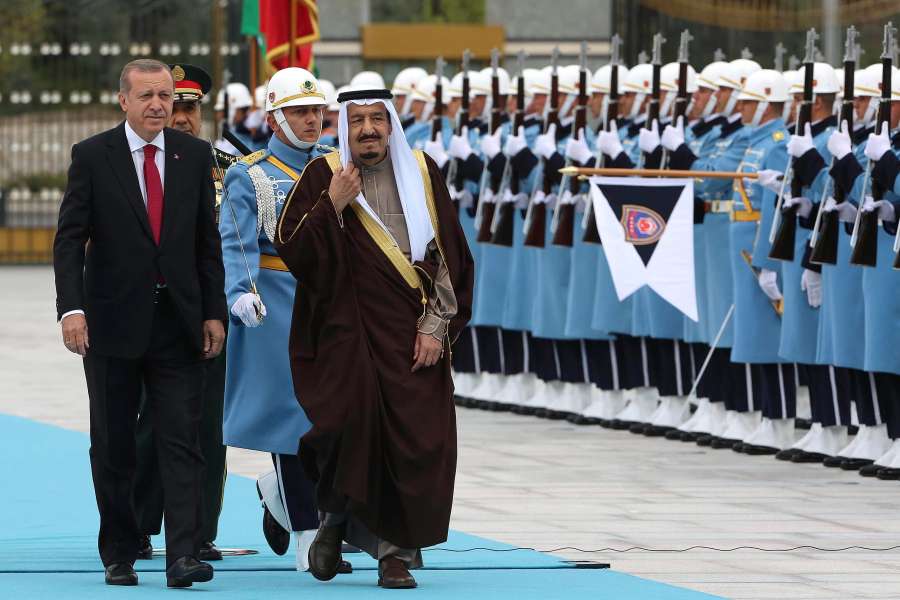 With the headship of the Islamic military force, Nawaz has got rid of Raheel, appeased the Saudis and also reinforced his country's slipping leadership of the Muslim Ummah,  Pakistani analysts say.  But it is not easy at home. Nawaz's foot-in-the-mouth Defence Minister Khawaja Asif has said the decision to 'appoint' Raheel Sharif as head of the coalition of Muslim countries was "an administrative decision".
Asif made two other claims: Raheel's 'appointment' was "not linked to the conflict in Yemen." And that Pakistan would "stay neutral" in Saudi conflict with Yemen where the Shia Hothis are holding out against incessant Saudi bombing.  Then came a third claim when the defence minister spoke on Geo's Aaj Shahzaib Khanzada Kay Sath.  He reiterated that the force is "purely against terrorism" and said, "The decision was taken after much deliberation and I will stand by it in the parliament".
"They (Saudi Arabia) first wrote a letter to our government regarding the matter some six weeks ago, after which the government discussed the matter internally and sent a written agreement to the proposal after a week," said Asif while explaining the timeline of the development.
Would Pakistan also contribute to the funds for the force? Asif remained cryptic when asked what other nations will be contributing to the coalition and said the details of the coalition will only be revealed after a meeting was held in May.  However, the multiple motives of the Nawaz Government and Nawaz's own being perennially beholden to the Saudi royalty are too well known to be ignored.  Pakistan Tehreek-i- Insaf's (PTI) Ali Muhammad Khan, speaking on Geo's Capital Talk , said the government needs to discuss the appointment.  "I want to hear it from the horse's mouth," Khan said while on the show, adding that it is 'strange' that Raheel Sharif has remained silent on the topic since it first came to light.  "It is time that we know what this alliance is and on what basis was it formed," Khan said.
PML-N's Talal Chaudhary stated that no decision would be taken without the parliament's consent. "It will be up to the parliament to provide the former COAS a no-objection certificate (NOC) on the matter," said Chaudhary.  Then, what happens to the lofty parliamaentary resolution?  "As for the Parliamentary Resolution of 2015, it stated that Pakistan would play a neutral role in the Yemen conflict to ensure an early resolution, the government will stick to that stance and the alliance will be a force to fight against the militant Islamic State organisation and other terror outfits," Chaudhary elaborated.
The headquarters of the military alliance would be based in Riyadh.  Saudis had sought to hustle into submission, not just Pakistan, but also Bangladesh and some other Muslim nations into joining the force, apparently without prior consultations.
Bangladesh maintained a discreet silence. Pakistan had initially found itself in the crosshairs of Middle Eastern politics as Saudi Arabia named it as part of its newly formed military alliance of Muslim countries meant to combat terrorism, without first getting its consent.  However, after initial ambiguity, the government had confirmed its participation in the alliance, but had said that the scope of its participation would be defined after Riyadh shared the details of the coalition it was assembling.  The coalition was envisaged to serve as a platform for security cooperation, including provision of training, equipment and troops, and involvement of religious scholars for dealing with extremism.
The Saudi government had surprised many countries by announcing that it had forged a coalition for coordinating and supporting military operations against terrorism in Iraq, Syria, Libya, Egypt and Afghanistan.  Iran, Saudi Arabia's archrival for influence in the Arab world, was absent from the states named as participants, as proxy conflicts between the two regional powers rage from Syria to Yemen.  That it was, and remains, a Sunni force was clear to Iran and everyone else.  Raheel Sharif leading Saudi alliance "will bring unity to Muslim world," Pakistan's National Security Advisor, Lt. Gen. Nasser Janjua, has said.  Nawaz still has problems getting parliamentary consent as opposition parties want to corner him, for political reasons – not that they have anything against Saudi Arabia or the force it has created.
Imran Khan-led PTI has opposed the government's move to issue  a NOC for Raheel to head Saudi-led military alliance.  Nawaz also has problem within the government.
Federal Minister for States and Frontier Regions (Safron) Lt Gen (retd) Abdul Qadir Baloch has said if Raheel Sharif accepts the appointment as head of a 39-nation military alliance of Muslim states "he will become controversial." But 'controversy' is a small price to pay for Nawaz to keep Saudis happy and hold back the Indian 'influence' in the Middle East.