US Secretary of State Rex Tillerson said the US is in "direct contact" with the North Korean government over its missile and nuclear tests….reports Asian Lite News
He said Washington was "probing" the possibility of talks with Pyongyang, "so stay tuned", the New York Times reported.
"We have lines of communications to Pyongyang," he said during a trip to China. "We're not in a dark situation. We have a couple, three channels open to Pyongyang," he added, speaking at the residence of the US ambassador to Beijing after a meeting with China's top leadership.
US President Donald Trump had threatened to annihilate North Korea, saying its leader Kim Jong-un was on a "suicide mission", which led Kim to release a statement vowing to "tame the mentally deranged US dotard with fire".
The war of words came against a backdrop of repeated missile tests and Pyongyang's claim that on September 3, it successfully tested a hydrogen bomb.
The tests were internationally condemned with the UN bringing in sanctions against North Korea.
Tillerson is in China meeting President Xi Jinping and other officials, hoping to encourage them to implement the sanctions.
China this week told North Korean businesses operating in its territory to close down.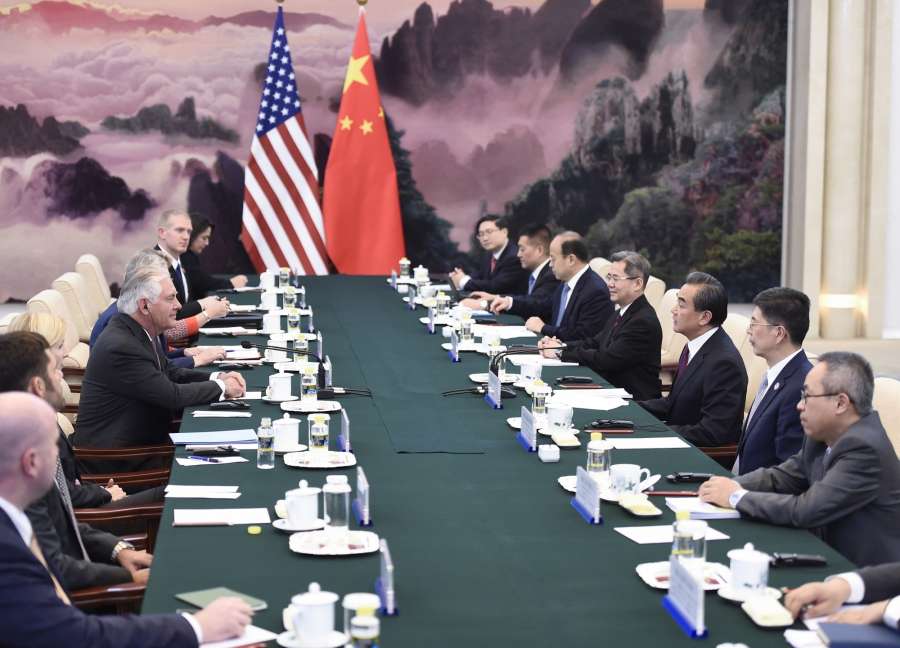 Tillerson comments marked the first sign that the Trump administration has been trying its own version of what the Obama administration did with Iran: using a series of backchannel, largely secret communications that, after years of negotiation, resulted in a nuclear accord, the New York Times reported.
Tillerson was quick to distinguish the very different circumstances of North Korea and Iran, saying: "Pyongyang has nuclear weapons, Tehran just a programme that could have led to them."
He added: "We are not going to put together a nuclear deal in North Korea that is as flimsy as the one in Iran."
Tillerson said the most important thing was to lower the temperature of the threats being exchanged in recent days between Kim and Trump.
"The whole situation is a bit overheated right now," he said. "If North Korea would stop firing its missiles, that would calm things down a lot."
When asked whether that caution applied as well to Trump, Tillerson said: "I think everyone would like for it to calm down," he said.
Earlier in the day, Xi told Tillerson that he wanted to ensure the success of a planned visit to China by Trump in November, according to a summary of their meeting issued by the Chinese Foreign Affairs Ministry.
"China attaches great importance to President Trump's visit, and I look forward to working with him to outline and advance our bilateral relations in the years to come," Xi said.
Tillerson also met China's top diplomats to discuss efforts to curb North Korea's nuclear ambitions. He held talks with State Councillor Yang Jiechi and Foreign Minister Wang Yi at the Great Hall of the People at Tiananmen Square.