Kerala Chief Minister Pinarayi Vijayan will attend the two-day Loka Kerala Sabha conference at Etisalat Academy in Dubai on Friday and Saturday and address attend a public meeting on Friday. He will also inaugurate the Come on Kerala Business Conclave at Sharjah Expo Centre on Thursday evening….reports Hafeez Mohammed for Asian Lite International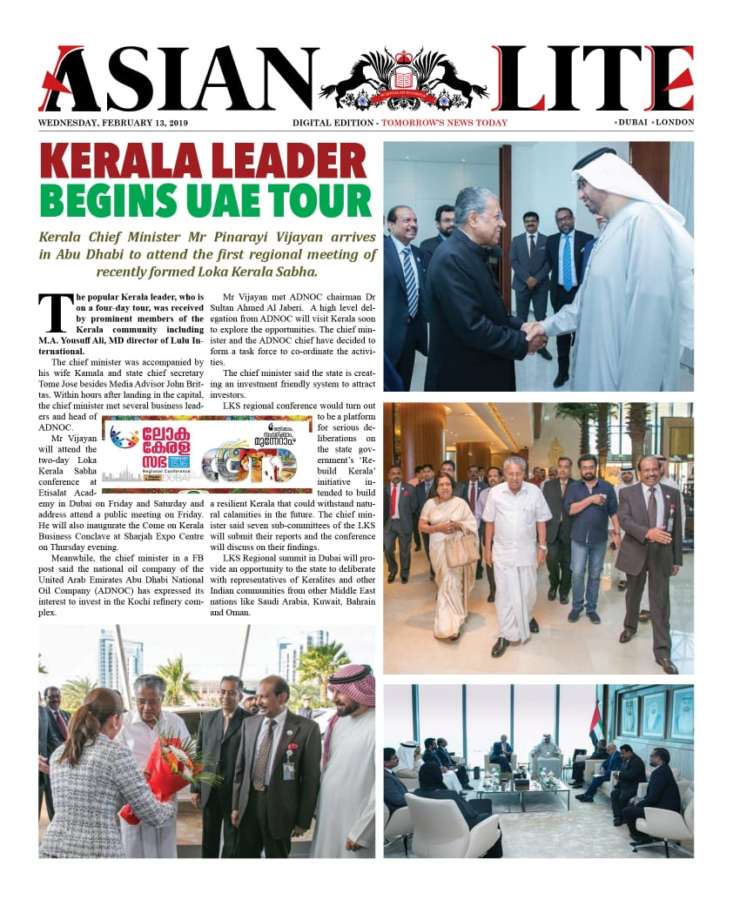 Kerala Chief Minister Mr Pinarayi Vijayan arrives in Abu Dhabi to attend the first regional meeting of recently formed Loka Kerala Sabha. The popular Kerala leader, who is on a four-day tour, was received by prominent members of the Kerala community including M.A. Yousuff Ali, MD director of Lulu International
The chief minister was accompanied by his wife Kamala and state chief secretary Tome Jose besides Media Advisor John Brittas.
Within hours after landing in the capital, the chief minister met several business leaders and head of ADNOC. He also met Sheikh Mansour Bin Zyed Al Nahyan,  deputy prime minister of the United Arab Emirates, minister of presidential affairs, at his palace in the evening.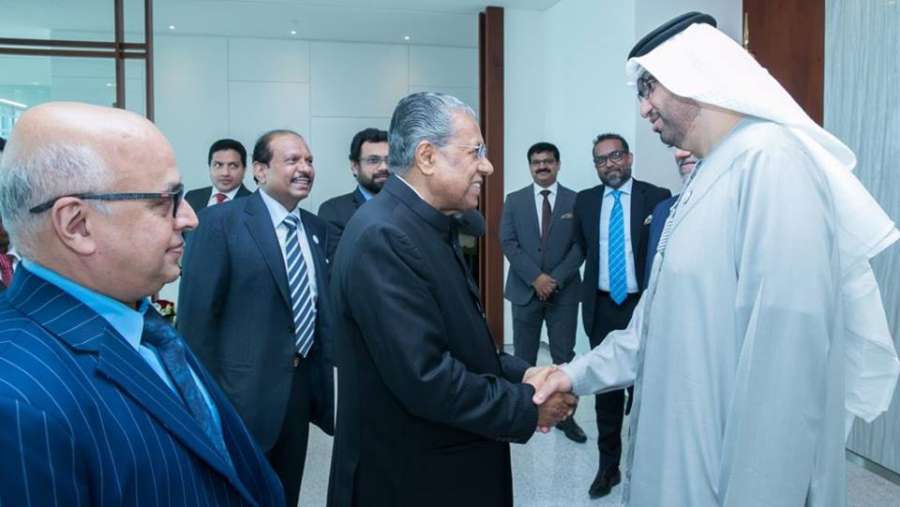 Mr Vijayan will attend the two-day Loka Kerala Sabha conference at Etisalat Academy in Dubai on Friday and Saturday and address attend a public meeting on Friday. He will also inaugurate the Come on Kerala Business Conclave at Sharjah Expo Centre on Thursday evening.
Meanwhile, the chief minister in a FB post said the national oil company of the United Arab Emirates Abu Dhabi National Oil Company (ADNOC) has expressed its interest to invest in the Kochi refinery complex.
Mr Vijayan met ADNOC chairman Dr Sultan Ahmed Al Jaberi.  A high level delegation from ADNOC will visit Kerala soon to explore the opportunities. The chief minister and the ADNOC chief have decided to form a task force to co-ordinate the activities.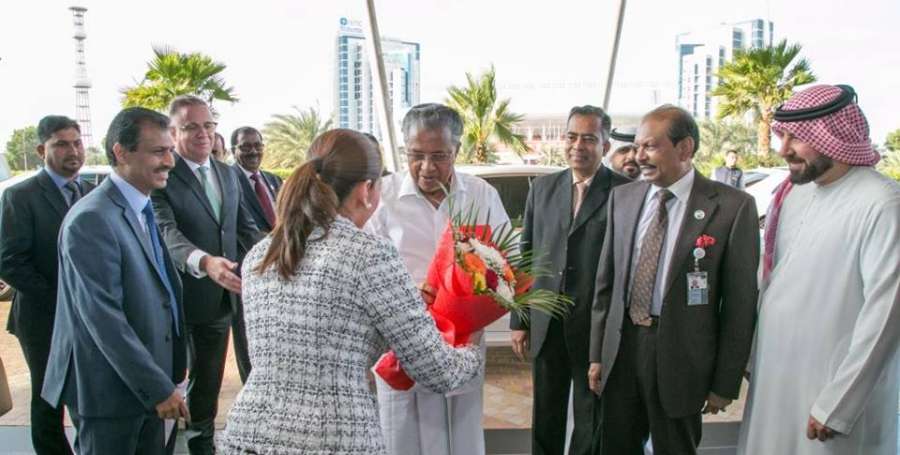 The chief minister said the state is creating an investment friendly system to attract investors.
LKS regional conference would turn out to be a platform for serious deliberations on the state government's 'Rebuild Kerala' initiative intended to build a resilient Kerala that could withstand natural calamities in the future. The chief minister said seven sub-committees of the LKS will submit their reports and the conference will discuss on their findings.
LKS Regional summit in Dubai will provide an opportunity to the state to deliberate with representatives of Keralites and other Indian communities from other Middle East nations like Saudi Arabia, Kuwait, Bahrain and Oman.