Vice President M. Venkaiah Naidu said that he will meet the opposition's expectations but added that though they have the say the government will have their way as they have the people's mandate….reports Asian Lite News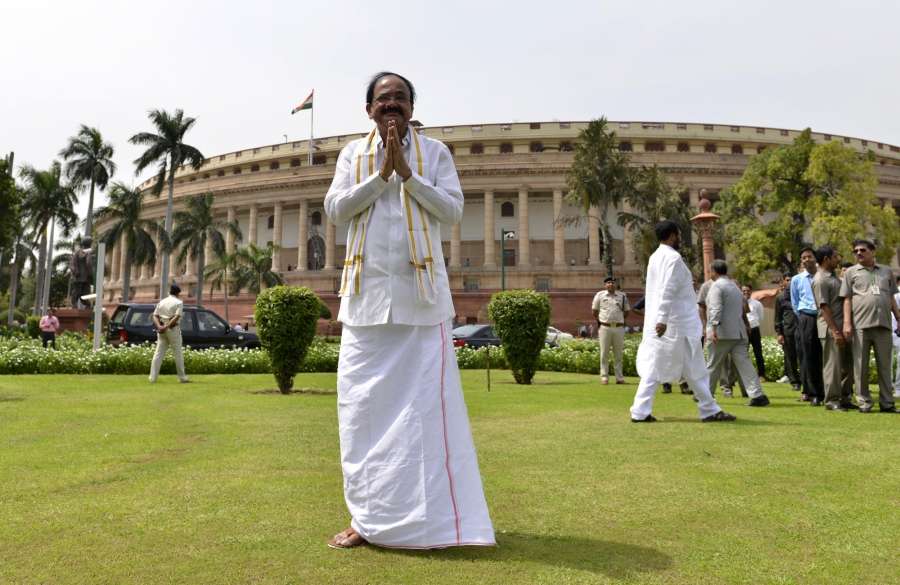 Newly sworn-in Vice President M. Venkaiah Naidu told the opposition on Friday that he will ensure as the Rajya Sabha Chairman that they have a say when legislations are debated but the government will finally have its way as it has the mandate.
The assurance came after opposition leaders, while welcoming the new Chairman with loud thumping of desks, reminded the long-time Bharatiya Janata Party leader of the Chair's neutrality.
"If the ruling party has power, opposition must at least have its say. But at the end of the day, democracy says that opposition must have its say and the government must have its way because it is as per the mandate of the people," Naidu, 68, said in his first speech as the Rajya Sabha Chairman.
The former BJP President said he was "an all-party man" now and his role was "above politics".
"I will meet your expectations. Everyone among you will get an opportunity but everyone must follow the rules and regulations (of Parliament)," Naidu said in response to welcome speeches.
He said politicians must not look at each other as enemies but as "rivals".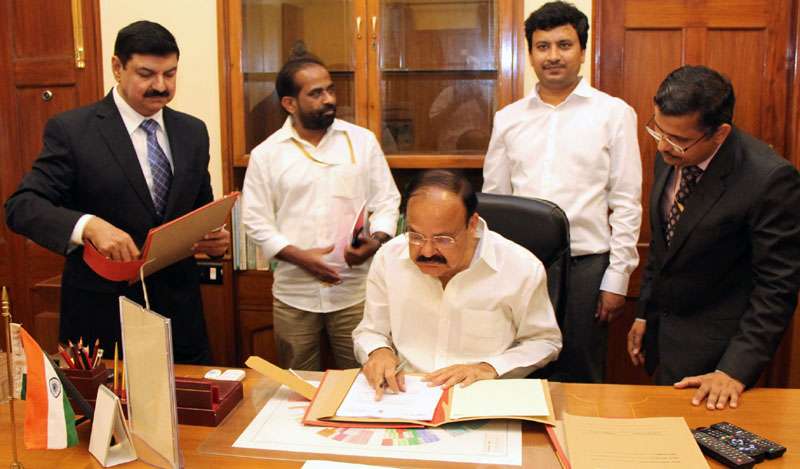 "Democracy is not about numbers but to understand and appreciate each others' point of view. We must debate, discuss, decide and deliver."
Welcoming Naidu, Prime Minister Narendra Modi recalled how the Vice President began with a humble background as a farmer's son.
"Venkaiahji has risen from the grassroots. He will lead Indian polity to greater heights," Modi said.
Finance Minister Arun Jaitley, also the Leader of the House, said Naidu's close to 20 years of experience as a Rajya Sabha member would help in its effective functioning.
"Since you have been a long member, you obviously know the tradition, the culture and the functional style of this House."
Leader of Opposition Ghulam Nabi Azad observed that the Chair symbolized justice and neutrality.
"On the Chair that you are sitting today, it has the scales of justice carved on it, which reminds us that the Chair is impartial. While doing justice, you must neither have a religion nor any party affiliation," Azad said.
He said it has been a tradition of the Upper House that no bill was passed amid din, till the House is in order, and hoped that the traditions would be respected.
Marxist leader Sitaram Yechury too observed that as Chairman, Naidu was seated in the shades of two symbols — the Ashok Chakra that says Satyamev Jayate (truth prevails) and the scales of justice.
Trinamool Congress leader Derek O'Brien said that since Naidu loved to talk in rhymes and has popularized acronyms, he would like to greet him in his favoured style.
O'Brien recited 10 couplets and gave an acronym of his surname: NAIDU stands for Now All India's Dearest Umpire.
Ram Gopal Yadav of the Samajwadi Party also spoke about the practice of not passing any bill amid ruckus. He, however, added that those creating din must realise if they were right or not.
Naidu expressed concerns over disruptions in Parliament and reminded members that "the people of our country desire that the Parliament should be the voice of sanity echoing their concerns and finding solutions to their problems as the best way forward.
"We need to seriously introspect over this palpable discontent with the people… We need to set an example for state legislatures by making suitable amendments to the way we speak and act here."
Naidu earlier took oath as India's 13th Vice President, succeeding Hamid Ansari, who finished his decade-long two terms as Vice President and Rajya Sabha Chairman on Thursday.