Indore has emerged as India's cleanest city, while Uttar Pradesh's Gonda stood at the bottom of sanitation rankings which assessed cities largely on improvement in processing of municipal solid waste and ending open defecation….reports Asian Lite News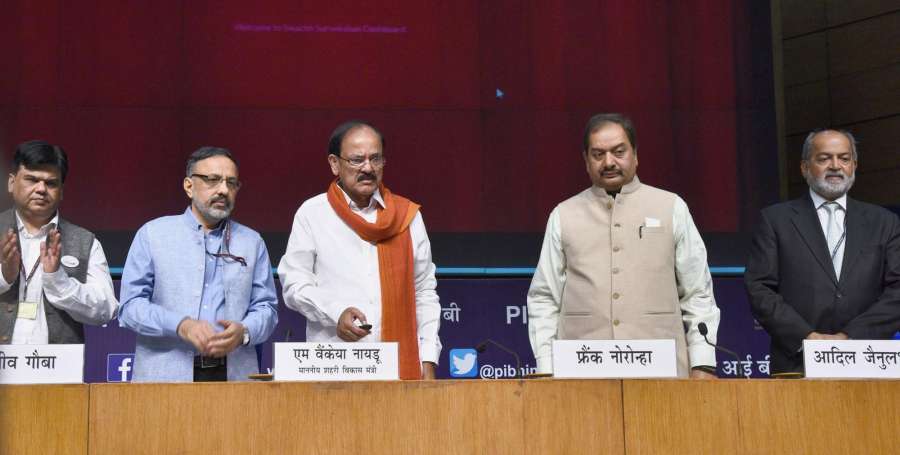 Releasing the Swachh Survekshan-2017 conducted in 434 cities and towns, Urban Development Minister M. Venakaiah Naidu said that making India clean by 2019 was a serious mission with the "ultimate goal of making a new India."
Naidu also noted that India had improved its position by 12 places in the global Travel and Tourism Competitive Index.
According to him, Indore and Bhopal (Madhya Pradesh), Visakhapatnam (Andhra Pradesh), Surat (Gujarat), Mysuru (Karnataka), Tiruchirapally (Tamil Nadu), New Delhi Municipal Council area, Navi Mumbai, Vadodara (Gujarat) and Chandigarh are the top 10 clean cities, in the same order.
The bottom 10 towns are Gonda, ranked 434th, followed by Bhusawal (Maharashtra), Bagaha (Bihar), Hardoi (Uttar Pradesh), Katihar (Bihar), Bahraich (Uttar Pradesh), Muktsar (Punjab), Abohar (Punjab), and Shahjahanpur and Khurja (Uttar Pradesh).
Naidu termed Madhya Pradesh, Gujarat, Jharkhand and Chhattisgarh, followed by Andhra Pradesh and Telangana, as the "movers and shakers" for having "significantly improved" their rankings from that of the survey conducted in 2014.
He said all the cities surveyed in Madhya Pradesh and Jharkhand had substantially improved their rankings over that of 2014 and 2016. Gujarat did so in respect of all cities except Rajkot.
Naidu said 14 states and union territories were represented in the top 50, with Gujarat haivng 12 cities and towns, Madhya Pradesh 11, Andhra Pradesh eight and one each from Chandigarh, Chhattisgarh, Delhi, Jharkhand, Karnataka, Sikkim and Uttar Pradesh.
At the bottom of index, Uttar Pradesh alone accounted for 25 of 50 dirtiest cities, followed by Rajasthan and Punjab with five each, Maharashtra two and one each from Haryana, Karnataka and Lashadweep.
Varanasi, the parliamentary constituency of Prime Minister Narendra Modi, improved its ranking from 418 in 2014 to 32 this year to become "the fastest big city mover in the north zone." It is the only city in Uttar Pradesh to finish in top 50.
Faridabad in Haryana improved its rank from 379 in 2014 to 88 this year and was termed the "Fastest Mover" among cities with a population of above one million each.
Referring to Mysuru in Karnataka, which topped the ranking in 2016 and 2014 and ranked fifth this year, Naidu said cleanliness had not declined in the city but other cities had fared better.
"This spirit of competition is sought to be promoted through such surveys to help cities know where they stand in absolute terms and in relation to other cities as well," Naidu said. He also conferred awards on the occasion.
The survey also noted some concerns. It said that in Uttar Pradesh, 50 of 62 cities and towns surveyed are ranked 305 and below, while 41 are among the bottom 100 cities.
Bihar's 19 of 27 cities or towns surveyed in 2017 are ranked beyond 300, with best rank in the state being 147 for Biharsharif. Fifteen of these 27 cities are among the bottom 100.
Rajasthan's 18 of 29 cities or towns surveyed in 2017 are ranked beyond 300 and 13 are among the bottom 100.
In Kerala, of the nine cities surveyed, best rank of 254 was for Kozhikode and four were among the bottom 100.
The survey said that in Punjab, of the 16 cities survyed, best rank of 121 went to Mohali and seven of the cities were among the bottom 100.
Naidu also expressed concern over the cleanliness status of cities and towns of Uttar Pradesh and Bihar and said he would be visiting the two states.
He stressed that the rankings were not announced to point finger at anyone. "Our objective is to show that where they stand in cleanliness and what do they need to learn from others."
The survey entailed giving 45 per cent of total 2,000 marks for solid waste management and open defecation-free status.
It gave 30 per cent marks to citizen feedback and 25 per cent to independent observation.
The Quality Council of India conducted the survey by deploying 421 assessors for assessment of 17,500 locations.
Officials said the survey covered towns and cities with over one lakh population and effort would be to conduct survey in all the 4,041 statutory towns and cities. They said West Bengal did not take part in the survey.