Hectic campaigning is on for the October 11 Vengara Assembly by-election, with the Indian Union Muslim League (IUML) looking favourites to win the seat that was vacated by party leader P.K. Kunhalikutty after he was elected to the Malappuram Lok Sabha constituency in April….reports Asian Lite News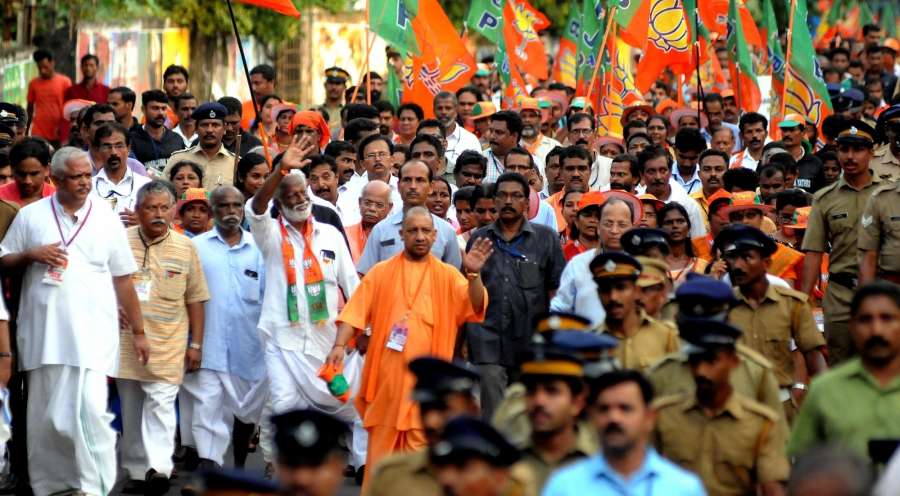 IUML – the second biggest ally of the Congress-led UDF, has fielded two-time former legislator K.N.A. Khader.
Considered as one of the strongest constituencies of the IUML, Kunhalikutty won the 2016 assembly election from Vengara with a record margin of 38,057 votes, one of the highest margins in the state.
However, the CPI-M is expecting its candidate P.P. Basheer, who lost to Kunhalikutty in 2016, to come back strongly this time.
The BJP has fielded K. Janachandran Master.
With the ground reality favouring the IUML, the CPI-M state secretary Kodiyeri Balakrishnan said that the poll outcome was not going to be a verdict on the 18-month-old Pinarayi Vijayan government. He instead threw a challenge to Leader of Opposition Ramesh Chennithala to resign his assembly seat and contest again, which he said would be a poll where the result could be seen as a verdict for or against the Left government.
The BJP, which managed around 7,000 votes last time, is hoping to take its tally beyond 10,000 this time. They are hoping that the 'Jan Raksha Yatra' flagged off by party president Amit Shah from Kannur district on October 3, and to pass through this district, could give them an unexpected boost.
Former Chief Minister Oommen Chandy who was in the constituency taking part in family and public meetings said that the outcome is a foregone conclusion and they expect the margin of victory to be better.
Chandy said he expects the Vengara electorate, which gave Kunhalikutty a margin of over 38,000 votes in 2016, will do so for IUML candidate Khader this time too.
CPI-M's Basheer is confident of victory with Vijayan completing one round of campaigning and star campaigner veteran V.S. Achuthanandan to also campaign.
"I can see that there is a perceptible change and that change is going to be in my favour," said a beaming Basheer.
However, Khader says there is nothing that will prevent his winning margin to go higher than Kunhalikutty's.
The votes will be counted on October 15.