Spotlight to shine on inspiring individuals at 36th Maharana Mewar Foundation Annual Awards. Organised each spring by the Maharana of Mewar Charitable Foundation (MMCF), the ceremony recognises those who have excelled in their field and made a notable contribution to society….reports Asian Lite News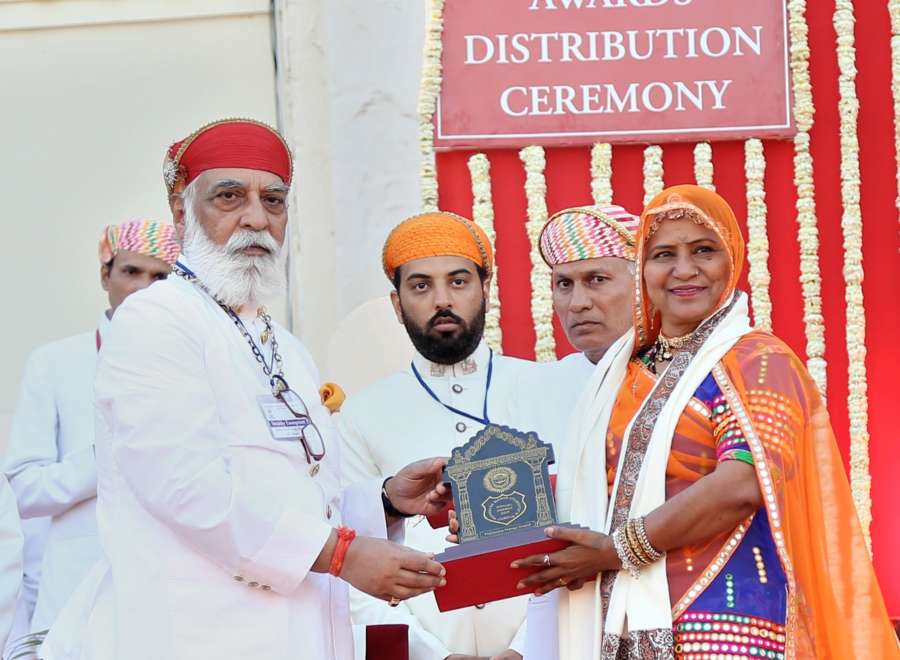 Inspiring personalities from the worlds of education, the media, the environment, sport and the arts are set to gather in the Indian city of Udaipur, Rajasthan to be honoured as part of the 36th Maharana Mewar Foundation Annual Awards.
Organised each spring by the Maharana of Mewar Charitable Foundation (MMCF), the ceremony recognises those who have excelled in their field and made a notable contribution to society. Past recipients include established academics, artists, athletes and social reformers, as well as exceptional individuals who have overcome adversity in order to support others and positively impact their community.
This year's event will take place on Sunday, March 11, at The Manek Chowk within Udaipur's City Palace. Close to 2,000 people from across the globe are expected to attend.
Proceedings will begin with the presentation of certificates to students from schools and universities across Rajasthan. Shriji Arvind Singh Mewar of Udaipur, the 76th Custodian of the House of Mewar and the Chairman and Managing Trustee of MMCF will then present state, national and international awards as part of the main distribution ceremony. Each award carries a cash prize, a certificate, a trophy or a medal and a ceremonial shawl.
"It is always a pleasure to celebrate outstanding achievement and an honour to meet individuals who have contributed to society through their actions," said Shriji. "The 36th Maharana Mewar Foundation Annual Awards will no doubt provide us once again with countless examples of dedication, courage, self-sacrifice and hard work".
"In March we will gather to shine a light on these stories, celebrate remarkable accomplishments and hopefully inspire others to strive for excellence in a bid to better themselves and their communities."
The awards were established in 1980 by His late Highness Maharana Bhagwat Singh Mewar of Udaipur to recognise the academic and sporting achievements of local school and college students. The annual ceremony remains a central part of MMCF's activities, while the scope of the awards continues to widen, now celebrating the successes of individuals across India and the world.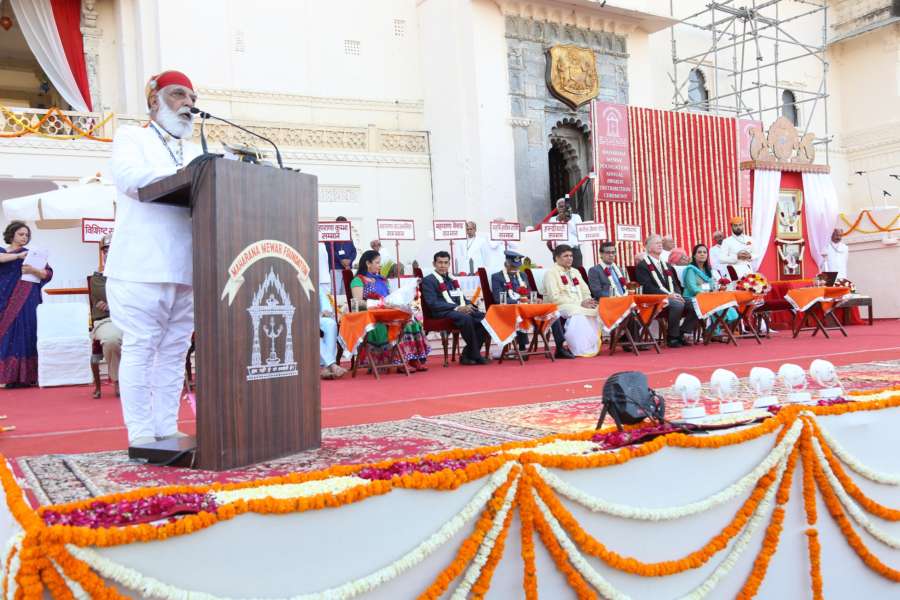 Celebrating women of substance
More than 1,800 people from countries across the globe gathered at the City Palace for the 2017 awards ceremony, with female achievers and the celebration of outstanding women a central theme.
Infanticide survivor Gulabi Sapera, winner of the Maharana Mewar Award, was recognised for her work performing and promoting Kalbelia – a Rajasthani dance style with steps that mimic the movements of a snake. Born into a nomadic serpent hunting tribe, Ms. Sapera was buried alive by elders immediately after birth before being rescued by her aunt. She went on to develop her natural talent for dance and has now performed in 165 countries. In 2010, Kalbelia was added to UNESCO's Representative List of the Intangible Cultural Heritage of Humanity.
Other awardees in 2017 included Captain Radhika Menon, the Indian Merchant Navy's first woman ship-captain, who went beyond the call of duty in helping to save the lives of seven fishermen after their boat sank in rough seas in the Bay of Bengal.
Moti Meena refused to follow the traditional custom of remaining housebound when she was widowed at the age of 28 with three sons to provide for. Despite losing the support of her parents-in-law, Ms Meena spent the next nine years establishing herself as an independent woman and health worker running three health clinics in remote villages around Salumber Block in Udaipur.
Each year a foreign national is also honoured during the ceremony by way of the Colonel James Tod Award, presented to an individual who has "contributed through their work of permanent value an understanding of the spirit and values of Mewar". British officer Colonel Tod spent 22 years in India at the turn of the 19th century, four of those in Udaipur helping to develop a productive relationship between the British East India Company and Mewar.
Past winners of the Colonel James Tod Award include British actor and director Lord Richard Attenborough, French author Dominique Lapierre, British novelist and essayist Sir V. S. Naipaul, and 2017's recipient, British American academic Professor Sir Angus Deaton.

Packed programme of events
The Maharana Mewar Foundation Annual Awards ceremony is once again at the centre of a packed calendar of events scheduled to take place throughout the year at Udaipur's spectacular 450-year-old palace complex. The events are open to the public and tourists to attend.
Confirmed highlights for 2018 include events to celebrate the festival of Holika Dahan Ceremony on March 1, Rajasthan Day on March 30 and International Museum Day on May 18. A special exhibition marking 200 years since Mewar signed a treaty with Britain, brought to Udaipur by newly appointed British political agent Lieutenant Colonel James Tod, launched at the City Palace Museum on January 13. The popular World Living Heritage Festival will commence the City Palace from 17th October 2018 with Ashwa Pooja.
Digital technology, mobile apps and audio guides have all been harnessed to help to create a memorable and visitor-friendly experience. A record-breaking one million visitors passed through the museum's gates in 2017 viewing its exceptional collections of paintings, photography, silver, armoury and textiles.
---