First woman ever to complete a solo car drive from Lands End to John O Groats in one day ….reports Asian Lite News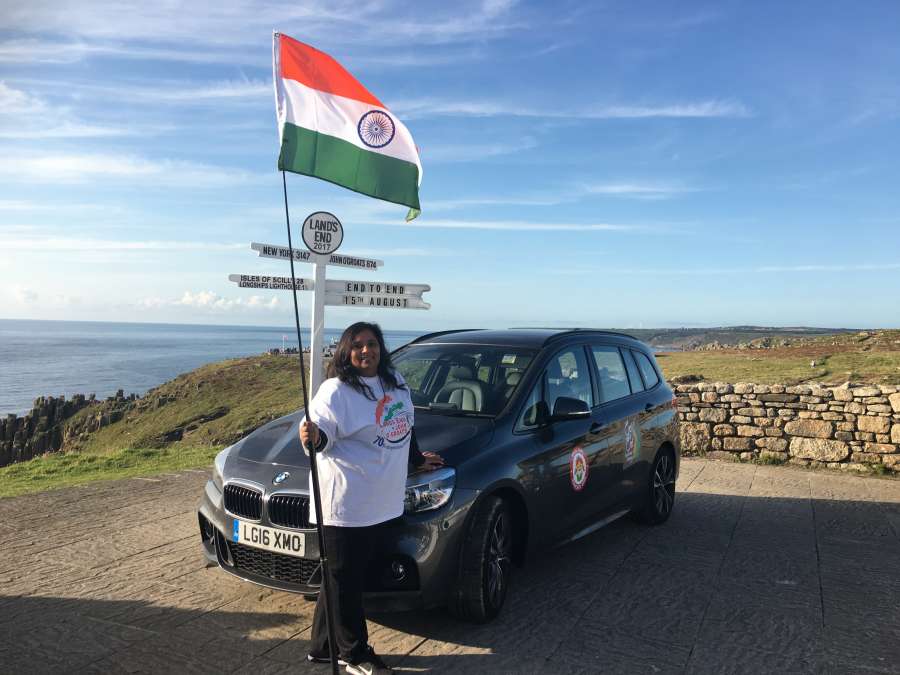 Bharulata Kamble, set a record as the first woman ever to drive solo in one day from (southwest of UK to Northeast) and first ever Indian to undertake such challenge. She was the first Indian to hoist the flag of India in the Arctic Circle in 2016 and she is the first Indian to hoist the flag of India at two extremities of the Great Britain between two (the southwest, Lands End and northeast John O' Groats, prominent national monuments of UK) to commemorate 70th Independent Anniversary of India. She took on epic over 3300 kilometres driving challenge across the UK. Bharulata, is a British woman of the Indian origin and she reflects her patriotism through her actions.
Determination, fearless, tough, strong will power- that's Bharulata for you. She dreams big and achieve it. And she returns after successful completion of her end to end solo in one-day driving challenge. She write a new chapter in the chronicle of astounding human achievements in which women are no less in any field including in adventure.
First time in history Indian flag was hoisted at two most prestigious and major landmarks of The Great Britain, the Lands End and The John O' Groats. Bharulata, known for her excellent negation and convincing skills was successful in hoisting the flag these most famous landmarks of UK. It was certainly not  an easy task to convince white British authorities governing these landmarks to allow the flag hoisting of India's flag but was not impossible. First time in history the Indian flag was hoisted at Lands End and John O'Groats.
Land's End to John o' Groats is the traversal of the whole length of the island of Great Britain between two extremities; in the southwest and northeast. The traditional distance by road is 874 miles (1,407 km between the two extremities).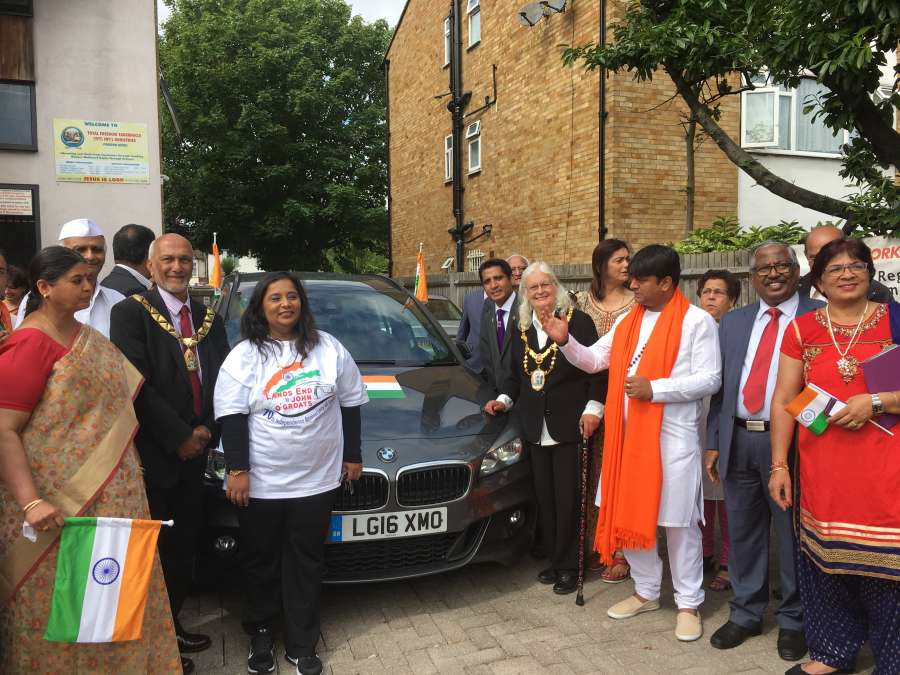 Many of Lands End to John O Groats journeys are completed but none undertaken by a solo female in one day and certainly not by an Indian female. The journey considered so difficult for a solo woman to complete in one day, it had not been attempted by any other females. She has successfully completed the drive from Lands End to John O' Groats in one day and become the first woman ever to complete this one-day driving challenge solo and first ever Indian to do so.
She started from her home town Luton to London. The flag off ceremony took place from Brent Indian Association (BIA), London. She drove to Land's End, covering the distance of nearly 550 kilometres same day and hoisted the flag of India at the Southernmost point of UK, creating a history of Indian flag being hoisted at Lands End for the first time (the southernmost point of UK). She departed from Land's End at 8.35am to John O' Groats, covering the distance of approximately 1410 kilometres non-stop in one day in just 14 hours 33 minutes reaching at 11.08pm. First time in history of UK, she hoisted the Flag of India at John O' Groats next morning, creating a history of Indian flag being hoisted at John O' Groats (north most point of UK). She proceeded to Durness toward the north west extending her trip slightly and returned back safely cover total driving distance of over 3300 kilometres in just 4 days.
Driving from Land's End to John O'Groats, the furthest possible distance in the British Isles, is a classic challenge that many dream of but only some can achieve it. Starting at Land's End on the south-westerly tip of England, Bharulata drove her way through Cornwall, over Dartmoor and north along the Welsh border, skirting the Lake District into Scotland, via lochs and the Highlands to the North Coast and John O'Groats, passing through some of the most stunning and remote countryside in the British Isles. This was a tough challenge which became worst by over four hours of driving in heavy rain and a windy condition during her non-stop drive to John O'Groats.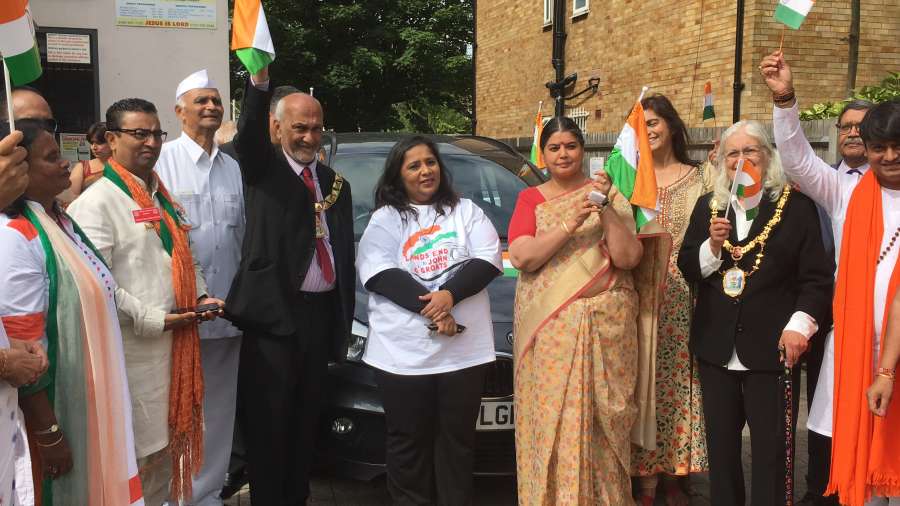 The direct route is a fascinating drive. There is plenty of great scenery along the way. Growing from a narrow lane winding through the village of Sennen to a wide dual carriageway hurtling down from Dartmoor, with views of the Exeter Valley below. The first 192 kilometres and last 400 kilometres are narrow country road driving. The route through Cornwall and Devon is challenging with plenty of short steep hills.
The last 400 kilometres from Perth in Scotland northwards is considered challenging roads. The route through Scotland has some long climbs. The route passes through plenty of small towns and villages. Sweeping bends and the undulations of the part of Scotland make it driving a real challenge. There are number of the twist and turns.
The coast roads are proved a breeze for the car but she confidently manged to keep the car steady under the battering side-winds. She drove on some of the narrowest tree-lined roads imaginable, complete with violent turns and extreme undulations. At times the road will only just wide enough for one car, the restrictions not being walls and hedges but rock face on one side and a sheer and extreme drop to the other. Passing places are plenty but even these require patience and a certain amount of nerve and good judgement. This drive was certainly test of her driving skills.
Whilst, for most people the purpose of this road trip is not to see sights, but to complete the longest journey in the UK, Bharulata made this trip to commemorate 70th Independent anniversary of India and raising awareness "Save Girls, Educate Girls" campaign. The drive aimed to mobilize Non-Resident Indians (NRIs) to act as brand ambassadors for the cause and influence their natives in India and elsewhere to support girl children and their education," and inspire and encourage other Indians specially females to take part in adventure activities.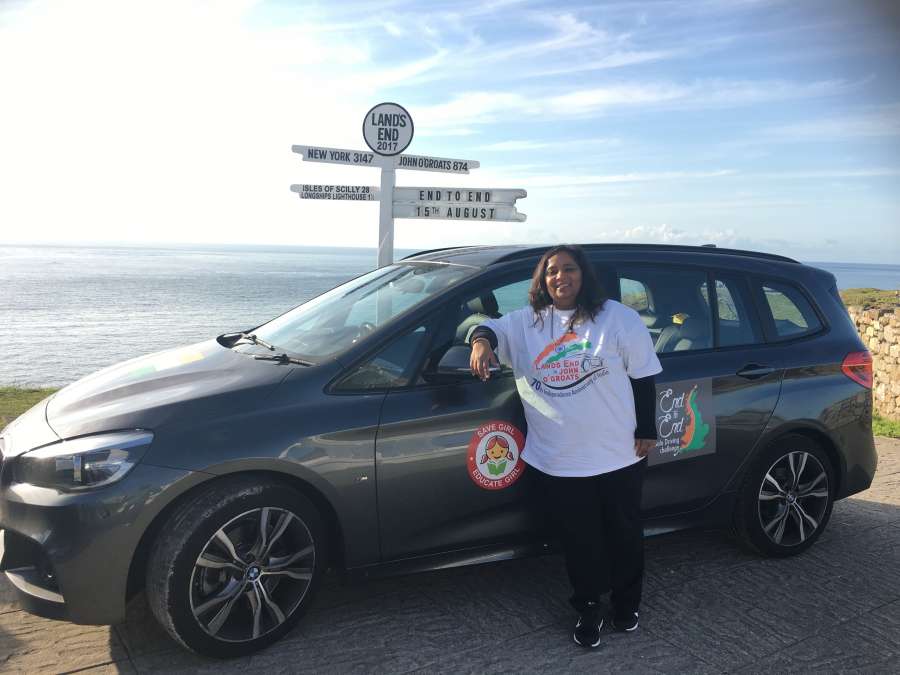 Bharulata Kamble, born in Navsari district of Gujrat state in a Gujarati family and married to a Maharashtrian Surgeon (Urologist). She is trained in law, formal civil servant of the Central Government, UK. She is a mother of two sons. In 2007 Bharulata had suffered devastating and life changing injuries in a road traffic accident resulting in becoming indoor for number of years. She is left with residual of physical disabilities restricting her ability to perform various task.
Not allowing her physical disabilities to take over her life, in 2016 Bharulata drove solo through the Arctic circle and 32 countries setting a world record attributed the feat to her willpower. Bharulata treaded across nine mountain ranges, including the super lonely Arctic Circle, three deserts, nine time zones and 12 states of India.
There are plenty of people who have undertaken epic self-drive journeys across continents while passing through different countries. However, not many of them can claim to pull it off without a support team and backup vehicle. Also, in all probability, there is only one woman of Indian-origin who can claim to have done both. During the expedition, Bharulata would check all mechanical bits once a week and top-up the engine oil and coolant if necessary. She had even completed a mechanic course to analyse and diagnose basic problems.
Bharulata has always been fond of cars and loves driving. She has undertaken many small expeditions in the past and has driven across multiple countries. It's been perceived that Indian women are not active in adventure activities, and she was keen to break that perception through her journey,".
Bharulata is involved in charities that provide free education and support to children from tribal areas in India. Through her work, she has inspired many people to face challenges and strive to do their best. It is not that people are unaware about the potential of women and accepting them to be equal. It is the reluctance of a conservative cultural mindset that has allowed the atrocities of unequal opportunities available to females globally. Bharulata hope that her journey would inspire people globally to work towards equality. Bharulata believe the issue of inequality against women cannot perish till the time women believe in themselves. "Just providing education to girls is not sufficient; they need to have an equal say and decision making opportunities,".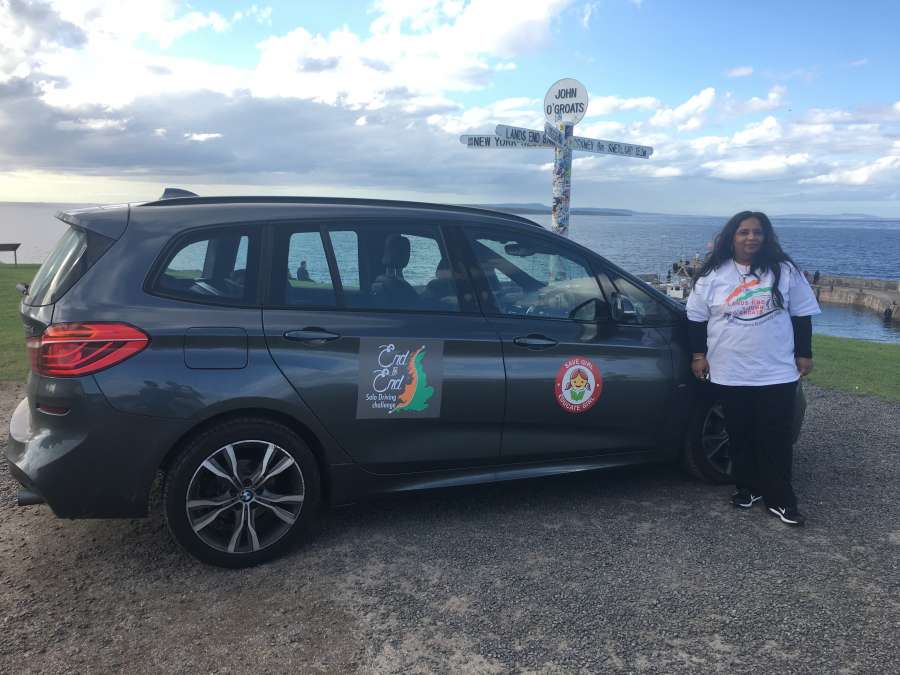 Bharulata believe that the Education is critical to ending child marriage and giving girls and women the confidence and knowledge to take part in the sustainable development of their communities and countries. Bharulata believes that every girl has right to life and should have right to education. Origin of girl child is an origin of mother of next generation.
As always Bharulata, leaves behind a message for all of us; that while looking around finding our passion, our heart is where we should start discovering.
The flag off was organised at the prestigious venue the Brent Indian Association (BIA), Ealing Road, Wembley. Bharulata's supporters and well-wishers assembled in huge number and flag off was attended by many dignitaries. The High Commissioner of India to UK sent his apology for not being able to attend on the day but sent his representative Mrs Vibha Mehdiretta, the deputy director of Nehru Centre which is the press, art and culture centre of the High Commission of India in London, UK. The flag off ceremony was attended by the Mayor of Brent and the Mayor of Harrow. The former mayor of Harrow and the council officers of Brent were in attendance. Guruji Raj Rajeshwar ji of Sidhashram Harrow attended the flag and performed religious ceremony. Ms Krishna Poojara, Chief of All Ladies League, UK and chief executive of saheli also attended the flag off with number of community leaders were in attendance. We are grateful to Ms Anita Ruparelia, the president of Brent Indian association for arranging the flag off at short notice and making in memorable including anchoring the event.
Bharulata spoke about her mission and the huge challenges that she was about to face after flag off. Bharulata also thanked all those who helped her, particularly Mrs Vibha Mehdiretta who was the first person to light a lamp when Bharulata launched her project of solo drive thorough the Arctic Circle and 32 countries. Mrs Vibha Mehdiretta delivered a speech in praise of Bharulata's determination and will power. Guruji, Raj Rajeshwar ji also delivered a speech in support of Bharulata. Anitaben Ruparelia highlighted Bharulata's achievements and demonstrated her immense support to Bharulata. Bharulata was very thankful to all the dignitaries, well- wishers and numerous supporters who came to support the Flag off.
The Flag-off ceremony commenced with traditional mantra performed by Guru ji Raj Rajeshwar ji of the Sidhashram, Harrow, London. Finally, with the waving of the Indian by Mrs Vibha Mehdiretta, the Mayor of Brent and the Mayor of Harrow including the former Mayor of Harrow and all dignitaries present, she embarked on my mission drive with a royal send off by several dignitaries, community leaders, friends and families. It was indeed an elated moment, filled with lots of excitement, emotions and happiness all together. There were scenes of emotions, excitement and jubilation with people shouting slogans of "Bharat Mata Ki Jai".
Everyone wished Bharulata luck and she slowly drove off from the Brent Indian Association.
Bharulata's husband and children followed her to Land's End to support the flag hoisting. They returned back at night to catch a flight as morning fight to reach John O' Groat welcome Bharulata as she arrived in John O' Groats. The family took part in flag hoisting at John O'Groats.