India and EU are resuming talks on a free trade agreement. The Brexit is opening for new avenues for India's mighty economic sector. The world is closely watching the arrival of European Council President Donald Tusk and European Commission President Jean-Claude Juncker in New Delhi to open a new chapter in Indo-EU relations…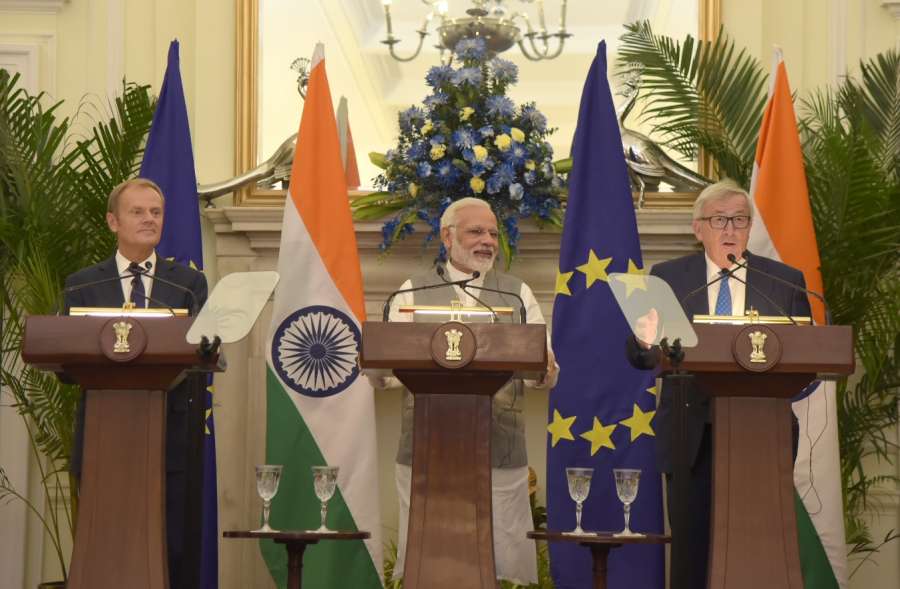 The European Union in a dilemma. Within 24-days they will lose one of their major partners – the United Kingdom. Along with that, they will lose an entry point to welcome the Indian companies. Most of the Indian businesses are considering Britain as the Gateway to EU. Top European leaders are looking for options to attract Indian businesses to their shore. The recent visit of European Council President Donald Tusk and European Commission President Jean-Claude Juncker was part of that strategy.
During the visit, India and the European Union agreed to improve trade relations and cooperate in the fight against terrorism. At the 14th India-EU Summit in New Delhi, both sides also adopted a joint declaration against terrorism. A free trade agreement is also on agenda.
"We have agreed to work together against terrorism and expand security cooperation in this regard," Prime Minister Narendra Modi said in a joint address to the media along with European Council President Donald Tusk and European Commission President Jean-Claude Juncker after delegation-level talks in New Delhi.
"We will not only cooperate on this issue at the bilateral level but also at the global level," he said.
Stating that the EU continues to be India's largest trading partner, the Prime Minister said the 28-nation bloc was also one of the largest investors in India.
"As two of the largest democratic systems, we are both natural partners," he said. "Our relationship is based on democratic values, rule of law, fundamental independence, and multi-culturalism."
Stating that both India and the EU favoured a multi-polar world and a rules-based international order, Modi said both sides found new areas of collaboration in Friday's talks.
"We are in agreement that to make this relationship more extensive and beneficial — based on mutual trust and understanding — we should continue these efforts."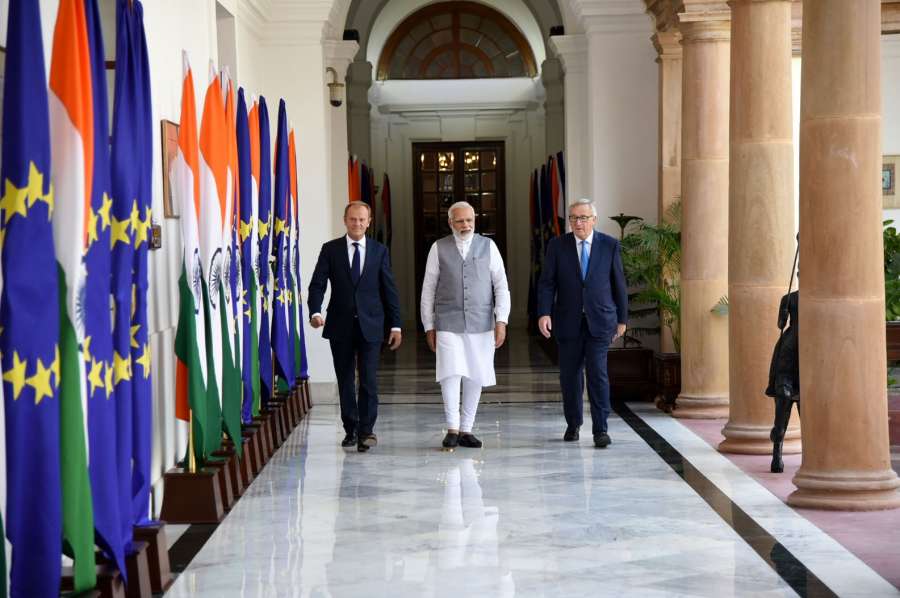 Modi said both sides reviewed the work on Agenda 2020 and other decisions taken at the 13th India-EU Summit in Brussels last year.
On clean energy and climate change, he said both India and the EU are bound by the 2015 Paris Agreement.
"Addressing climate change and promoting secure, affordable and sustainable supplies of energy are our shared priorities," the Prime Minister said.
"We also reaffirmed our commitment to undertaking mutual cooperation for reducing the cost of deployment of renewable energy."
Modi said India would strengthen its cooperation with the EU in developing smart cities and upgrading urban infrastructure.
Stating that the India-EU Horizontal Civil Aviation Agreement has now been operationalised, he said this will enhance air connectivity between the two sides and help to foster people-to-people contact.
He also said that an important aspect of the India-EU relationship is cooperation in science and technology, and in research and innovation. "In this context, I welcome the Agreement concluded today on mobility of young scientists and researchers."
"The signing of loan agreements for development projects in India with the European Investment Bank EIB) is also a welcome step," he said while appreciating the decision of the EIB to fund solar-related projects in member countries of the Indian-initiated International Solar Alliance.
"We are also committed to working with the EU to further deepen our cooperation in strengthening our trade and investment flows," Modi stated.
Tusk said India and the EU were two of the world's largest democracies and both sides had agreed to develop the political dimension of the relationship.
"We adopted a joint declaration on counter-terrorism to deal effectively with the threat posed by foreign terrorist fighters, terror financing and arms supply arms supply," Tusk said. "We agreed to cooperate in security in the Indian Ocean region and beyond."
He said both sides also addressed the Rohingya refugee crisis in Myanmar and called for the full implementation of the recommendations of the Advisory Commission on Rakhine State.
Tusk stressed that a free trade agreement between India and the EU was of importance.
A Broad-based Trade and Investment Agreement (BTIA) between India and the EU has been hanging fire for 11 years now despite 16 rounds of negotiations.
Juncker pointed out that the EU was India's largest trading partner accounting for 13 per cent of India's overall trade.
Stating that it was time for a free trade agreement, he said talks on this would resume once conditions were met.
India and EU also signed three agreements following Friday's talks: between European Commission and the Science and Engineering Research Board (SERB) for Indian researchers hosted by the European Research Council grantees in Europe; finance contract of Bengaluru Metro Rail Project Phase-2-Line R6 for 300 million euros out of total European Investment Bank (EIB) loan of 500 million euros; and a joint declaration between the Interim Secretariat of the ISA and the EIB.