The Supreme Court will hear two appeals that will determine whether Prime Minister Boris Johnson acted lawfully in suspending Parliament for five weeks… reports Asian Lite News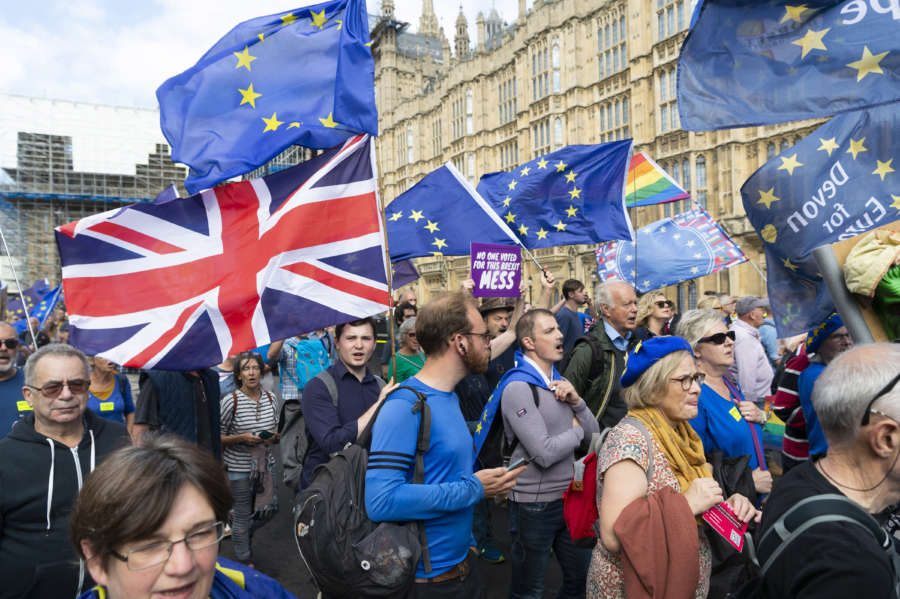 The high drama of Brexit has been shifted to Supreme Court. The apex court will rule on Edinburgh's Court order saying the prorogation was unlawful and the role of Parliament in the Brexit debate.
Meanwhile, Prime Minister Boris Johnson in an interview with BBC said that he will abide the law. He is confident of taking out of Britain on October 31 with or without eal but the Parliament is insisting an exit with a deal.
Mr Johnson has said he will "wait and see what the judges say" before deciding whether to recall Parliament. The 11-member Supreme Court judging panel will start hearing today. It will last till Thursday.
On Monday the prime minister visited Luxembourg for Brexit talks, but the EU said it was yet to see concrete proposals. Mr Johnson pulled out of a joint press conference with Luxembourg Prime Minister Xavier Bettel, blaming noisy protesters, but Mr Bettel went on to criticise Mr Johnson's approach to Brexit.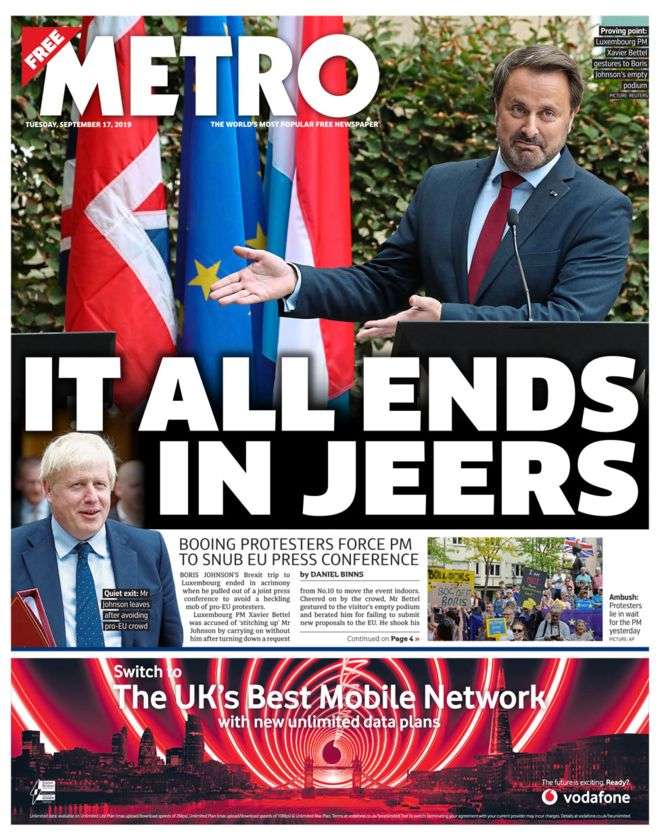 The suspension of Parliament, a process known as proroguing, began a week ago. MPs are not scheduled to return until 14 October, when there will be a Queen's Speech outlining Mr Johnson's legislative plans. The UK is due to leave the EU on 31 October. Opposition parties have called for Parliament to be recalled.
Prime Minister Johnson put himself on a collision course with the European Union and Britain's parliamentarians by saying that he will ignore an instruction to delay Brexit if no deal is reached with Brussels.
Citing a US comic superhero, Johnson told the Mail, a daily newspaper, on Sunday that Britain will break out of its manacles "like the Incredible Hulk" if a Brexit deal can't be struck by the end of next month, Xinhua news agency reported.
He said Britain would emulate Bruce Banner, the mild-mannered scientist who transforms into the Hulk character when he's angry.
In the interview, Johnson said if negotiations break down with Brussels, he will ignore last week's House of Commons vote ordering him to delay Britain's departure from the bloc until January 31, 2020.
"The madder Hulk gets, the stronger Hulk gets," said Johnson.
The Mail reported there has been cautious optimism that negotiations with the EU are edging closer to a breakthrough.
Johnson claimed that there are real signs of movement in Berlin, Paris and Dublin on the issue of the backstop arrangement demanded by the EU to avoid a hard border between Northern Ireland and Ireland.
The refusal by Brussels to withdraw or water down the backstop arrangement was blamed for MPs three times rejecting a Brexit deal brokered by former prime minister Theresa May.
Johnson said in the interview that "I think that we will get there. I will be talking to Jean-Claude (Juncker) about how we're going to do it. I'm very confident."
Johnson said when he moved into 10 Downing Street, everybody was saying there could be absolutely no change to May's Withdrawal Agreement.
"They (the EU) have already moved off that and there's a very, very good conversation going on about how to address the issues of the Northern Irish border. A huge amount of progress is being made," said Johnson, who succeeded May as British PM less than two months ago.
The Mail on Sunday said strategists at No. 10 say they have devised a secret plan, known only to the prime minister and three key advisers, which they claim will allow them to ignore the order without breaking the "no-deal" law.
Despite a roller-coaster ride for Johnson in recent days, the latest opinion poll in the Observer Sunday buoyed his Brexit strategy. The Opinion poll gave Johnson's Conservatives a 37 per cent share, a 2 per cent increase compared with a week earlier.