China and the European Union (EU) agreed to defend the multilateral trading system and rejected unilateral measures imposed by the US… reports Asian Lite News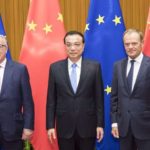 At a summit between the European bloc and the Asian giant , the Chinese and European leaders reiterated their goal of reforming the World Trade Organization so as to improve the multilateral system and avert protectionism, reports Efe news.
Prime Minister Li Keqiang said that the process of opening up the Chinese economy to European investments and exports will continue.
Li added that China will significantly raise access to its markets and reduce tariff rates on products needed by its consumers and businesses.
In addition, Beijing and Brussels exchanged new offers in negotiations for a bilateral investment treaty that have been going on for four years and which, in the words of Li, have entered a "new phase".
European Commission President Jean-Claude Juncker considered that in this respect, the summit has made good progress and stressed that the EU is convinced China should further open up opportunities for foreign firms.
The 20th China-EU annual summit is marked by trade issues, both bilateral and global, especially as a result of the new tariffs that US President Donald Trump has imposed on Beijing.