JEREMY CORBYN: Queen's consent to the prime minister's request to prorogue Parliament deprive the electorate of the opportunity to have their representatives hold the government to account, make any key decisions and ensure that there is a lawful basis for action taken…. A special report by Kaliph Anaz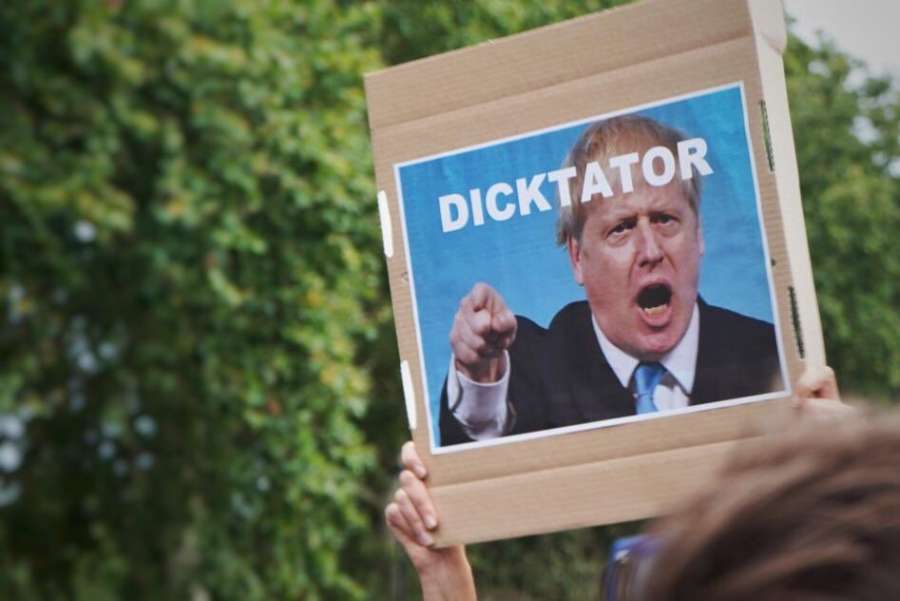 The move to prorogue Parliament will become the poll tax chapter of Boris Johnson's premiership. The issue has already sparked protests across the country and they will assemble in London on Saturday.
The petition to challenge the Boris move has reached 1.2 million. Journalist Paul Mason, entrepreneur Gina Miller and others are spearheading the campaign. Senior politicians are fearing the move will snowball into protests across the country, a general strike and civil service disobedience which will cripple the government. It will be a They are challenging the credibility of the prime minister to take a drastic step. Boris become prime minister after winning 92,000 votes of Tory members.
"Suspending parliament to stop debate is unprecedented," Mr Mason said in a series of Tweets. "Briefing that you will ignore a vote of no confidence is a declaration of war on our democracy. it's that simple. It's a coup against our constitution.
"Protest again… but get ready for events in every town/city this Saturday. If rich people steal our democracy then mass, peaceful civil disobedience is legitimate. They don't know what they've unleashed."
Commons leader Jacob Rees-Mogg, who went to meet Queen at Balmoral Palace, said the outrage was "phoney", and that the move was "constitutional and proper".
"The candyfloss of outrage we've had over the last 24 hours, which I think is almost entirely confected, is from people who never wanted to leave the European Union," he told BBC Radio 4's Today programme. "This is the greatest period of anger for them, or of confected anger, because after 31 October we will have left," he added.
"I know there are Conservative MPs who feel deeply uncomfortable… and who have been struggling for weeks now with the direction that the party is going in… there is still time to act" – Jo Swinson adds the Liberal Democrats are "ready to work with them"@joswinson | #newsnight pic.twitter.com/nRUdvDT8jk

— BBC Newsnight (@BBCNewsnight) August 28, 2019
Meanwhile, Labour leader Jeremy Corbyn said the Monarch was dragged in the Brexit melee by Tories.
Corbyn, a staunch Republican, said the royal prerogative is against the wishes of a majority of the House of Commons".
He said the granting of Johnson's request would "deprive the electorate of the opportunity to have their representatives hold the government to account, make any key decisions and ensure that there is a lawful basis for action taken".
Michael Heseltine, deputy prime minister under Mrs Tahtcher, said that he was appalled by the announcement.
"The government's decision is a constitutional outrage," he said. "A government which is frightened of parliament is frightened of democracy. I hope that every member of parliament, in feeling this humiliation, will use every legal and constitutional weapon to obstruct a government proposing to force on the British people a historic change for which they have long since lost any mandate."
Major newspapers are also condemned Boris' move. They stressed the importance of keeping the parliament at centre of any political debate in this country.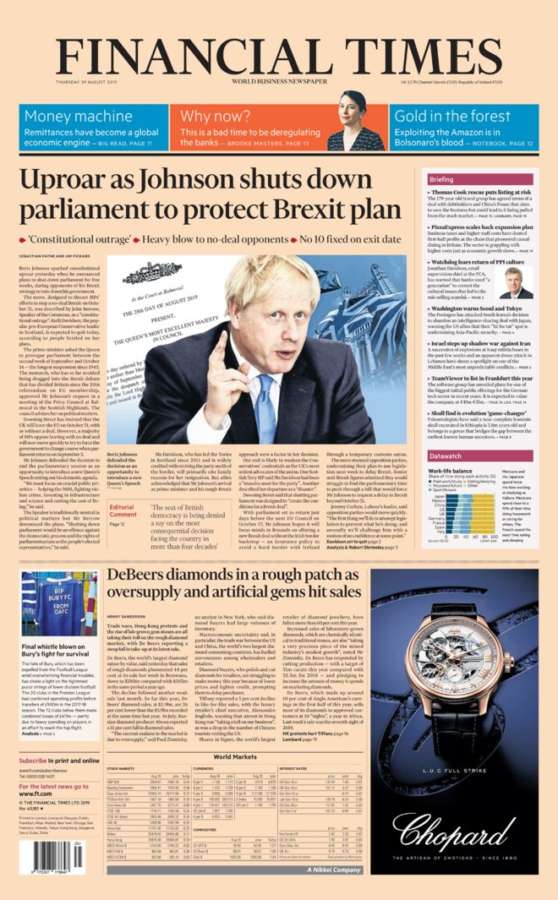 "If Mr Johnson's prorogation ploy succeeds, Britain will forfeit any right to lecture other countries on their democratic shortcomings, the Financial Times said in its editorial. "The UK's constitutional arrangements have long relied on conventions. The danger existed that an unscrupulous leader could trample on such conventions. That has not happened, in the modern era, until now.
"Britain's representative government is an exercise in deliberative democracy which involves discussion, negotiation and inevitable compromises. It vests the power to take decisions on behalf of voters in MPs, and allows them to deliberate on matters of detail — and in the case of Brexit, the most complex demerger in postwar history, detail matters.
"History has shown that charlatans, demagogues and would-be dictators have little time for representative government. They seek ways around parliament before concluding it is an inconvenience. Mr Johnson may not be a tyrant, but he has set a dangerous precedent. He and the cabal around him who have chosen this revolutionary path should be careful what they wish for."
But three pro-Brexit right-wing papers supported Boris's move. The Daily Mail said the protests are the "hysterics of the Remain irreconcilables" and predicted Mr Johnson's tactic will paying off during the negotiations with EU.
The Times urges Mr Johnson to call a snap election and win a "thumping majority". The Labour is 12 point behind the Conservatives.
The Daily Telegraph said the next few weeks will be chaotic but praises the prime minister for acting "boldly".
A snap YouGov poll conducted on Wednesday found 47% of British adults thought the decision was unacceptable, with 27% saying it was acceptable and 27% unsure.
But it found the suspension was supported by 51% of people who voted Leave, with 52% of Conservative voters also approving of the move.
---