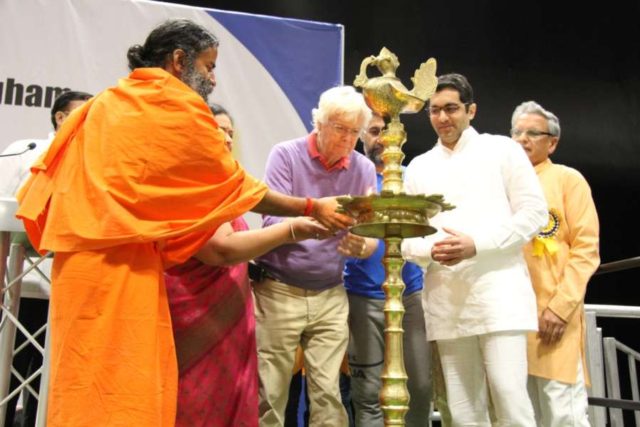 Consulate General of India in Birmingham in association with Patanjali Yog Peeth (UK) Trust successfully hosted the fourth International Day of Yoga on 24th June at the prestigious Ricoh Arena in Coventry…reports Asian Lite News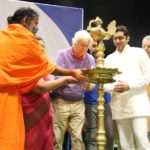 Internationally acclaimed and renowned yoga teacher Yog Guru Swami Ramdev led the mega event. He is one of the leading yoga masters in the world who has pioneered a simple approach to practicing yoga and its revolutionary breathing techniques known as 'Pranayam'.
Over 2,000 Yoga enthusiasts and practitioners from West Midlands and other counties in UK joined the grand celebration which started at 8.30am. The event was graced by the presence of noted personalities from in and around Birmingham. The multi-talented actress, yoga practitioner and motivational speaker Ms Raageshwari Loomba Swaroop compered the event. The traditional ceremony of lighting the lamp was performed by Honourable Consul General of India in Birmingham Dr. Aman Puri, the Chief Guest Yog Guru Swami Ramdev Ji, and other distinguished guests.
This was followed by the screening of Hon'ble Prime Minister of India Shri Narendra Modi's message on the International Day of Yoga 2018. He said that Yoga is one of the most precious gifts given by ancient Indian sages to the world. Prime Minister Shri Modi said that Yoga is not only the exercises we do every day, performing daily activities with due diligence and complete awareness is yoga as well.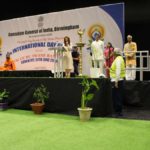 The Consul General of India, Birmingham Dr. Aman Puri in his welcome address acknowledged that it was good to see a crowd of yoga enthusiasts gathered in Coventry, which has recently been declared as UK's City of Culture 2021 to celebrate the International Day of Yoga. He said with continuous efforts its possible that around 100,000 persons would perform yoga along with Swami Ramdev in Coventry during 2021 celebrations. The Consul General appreciated that world has embraced Yoga and the glimpses of that can be seen in the manner International Day of Yoga is celebrated every year worldwide. In fact, Yoga Day has become one of the biggest mass movements in the quest for good health and well-being. He announced the Consulate's latest initiative to organise free yoga classes on a regular basis and training sessions at different Universities and organisations by the Yoga teacher who recently joined the mission in Birmingham. He urged the crowd to build on this momentum in the times to come. Dr. Puri informed that in 2014 Yoga4NHS, a collaboration of UK yoga community leaders and healthcare professionals was established to provide holistic support to the UK healthcare system, to apply yoga in different clinical situations and to study its benefits to NHS employees and patients.
Mr David Burbridge, Chairman of the Coventry City of Culture Trust stated that health and well-being is integrated and that yoga is important. He encouraged people to bring forward ideas as such as yoga which clearly have huge following among various communities and was hopeful that yoga can be a part of celebrations during the UK City of Culture 2021 in Coventry. Baroness Sandip Verma, Chairperson of European External Affairs Committee (former Minister of Energy and Climate Change and International Development) quoted Prime Minister Shri Modi that through yoga one can go from "ME to WE" and can bind people together again. Mrs. Sunita Poddar, CEO- Oakminster Healthcare Ltd and Trustee of Patanjali Yog Peeth UK Trust highlighted Swami Ramdev's achievements in the field of yoga. She stated that regular practice of yoga helps to overcome mood swings and health issues. Mr Nikhil Nanda, Managing Director JHS Svendgaard Laboratories, stated that yoga is important for everyone and should be done by each one in the same spirit and incorporated in one's daily life. Dr Ashok, a doctor of Ayurveda, wished everyone good health and encouraged the gathering to take a positive energy back home.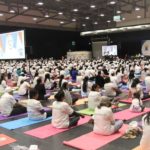 Yoga demonstrations were performed by Yog Guru Swami Randev for the benefit of those attending along with a discourse on its benefits. He also gave tips for healthy living. The master also performed breathing exercises known as "pranayama". He said that a regular practice can offer health benefits for both mind and body. Swami ji conducted yoga demonstrations in a very friendly and jovial atmosphere, he even encouraged children to join him on stage to perform yoga asanas. He was impressed to hear British children fluently recite the Gayatri Mantra during the event.
Concluding the event, Consul General Dr Aman Puri expressed his gratitude to all the distinguished guests who graced the occasion and the event partners JHS Svendgaard Laboratories, State Bank of India,  Incredible India,  Mahirs Experience and VFS Global Services UK Ltd. He also acknowledged that this grand event would not have been a success without the support of Patanjali Yog Peeth Trust UK. The Consul General presented Swami Ramdev his self-potrait as a token of appreciation. A memento was also presented to Ms. Raageshwari Loomba Swaroop for being an outstanding Master of Ceremonies.
Each participant took home a valuable lesson in how Yoga can improve their lives. The session ended with a hope that these same persons will act as brand ambassadors for yoga and help to further propagate yoga and its benefits to the masses.
---