A Northamptonshire cricket team are showing their support for their captain, whose son has a rare liver disease….reports Asian Lite News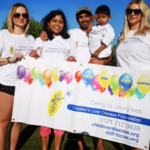 A Northamptonshire cricket team are showing their support for their captain, whose son has a rare liver disease, by organising a national cricket tournament next weekend (Sunday July 22) to raise funds for Children's Liver Disease Foundation (CLDF).
Dawn Paulose from Northampton is one of the founders and captain of Phoenix Northampton Cricket Club. His three-year-old son, Ronav, was diagnosed with the rare liver disease, biliary atresia, when he was just a few weeks old. Early surgery was unsuccessful and in March 2016 he received a life-saving transplant when Dawn gave him part of his own liver. Although Ronav is now making progress, he still requires night feeding through an NG tube and will take lifelong medication.
It was Dawn's fellow cricketers who decided they wanted to support the charity who have provided information and support to the family ever since Ronav was diagnosed.
"It's been a difficult few years for Dawn and his wife Tina," says team manager, Rosbin Rajan. "We know how they value the service which CLDF provides, particularly the events which enable families to get together with others who are facing the same problems. We want to know that the charity will continue to be there for the family as Ronav grows up.
"We know that coming to play cricket has helped Dawn and Tina through some tough times lately. Most of his family are in India so as his 'cricket family' we wanted to do something constructive for the charity which means so much to him."
The School of Business London Phoenix Northampton All UK cricket tournament 2018 will take place on Sunday July 22 at Wellingborough Old Grammarians Memorial Sports Field. As well as all of Phoenix Northampton club members, teams from around the country, local community leader Suresh Kumar and the members will be taking part, some of whom will be bringing IPL and first-class cricketers.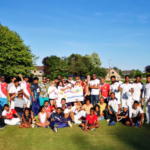 The organisers have received tremendous support from the local community with sponsorship and donations coming from Global Study Link, Legends Solicitors, Afsal Solicitors, CCRB, Holborn Notary, Midlands Financial Services Ltd, Wellingborough Old Grammarians Association, Bee One, Wellingborough Indians, Malayalam UK, Elysium Night Club Northampton and Wise Legal Solicitors Northampton.
"Everything is organised – even the weather looks good!" continues Rosbin. "We have also arranged all day entertainment. tasty food, licensed bar, live music and DJ, bouncy castle, competitions, dancers and a party with the winners after the final. Now we just want as many people as possible to come along, enjoy a great afternoon's cricket in support of a fantastic cause."
"CLDF is the only UK charity dedicated to fighting all childhood liver diseases, by providing information and emotional support, funds for research and a voice for all those affected. In order to do this however, we rely almost entirely on voluntary donations, so we are delighted that Phoenix Northampton are putting on this tournament to raise funds for us. What a way to show their support for Ronav and his family. It's a brilliant idea and we hope they have a fantastic day."Alison Taylor, Chief Executive of Children's Liver Disease Foundation commented.
The cricket tournament is free to attend although guests are welcome to buy a ticket for the prize draw with prizes sponsored by Hillon Resorts India. For further information about the event contact Rosbin Rajan on 0742 857 1013.
Anyone who is unable to attend the event but would like to support the cause can do so by going to  https://www.justgiving.com/crowdfunding/rossbin-rajan-1?utm_term=WkpkadXV5 .
A percentage of the funds raised will go to Sathkarma, a charity which supports tribal communities in Asia. For further information go to www.sathkarma.org.
For more information on CLDF visit childliverdisease.org.