Advertisements


Beto O'Rourke, former Democratic congressman from the US state of Texas, has announced that he will run for president in the 2020 election…reports Asian Lite News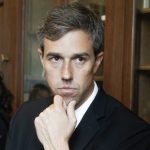 "I am running to serve you as the next president," O'Rourke wrote in a tweet on Thursday, adding that the challenges faced by the US "are the greatest in living memory."
In a video embedded in the tweet, the 46-year-old said while his wife sat beside him that he will run a "positive campaign that seeks to bring out the very best from every single one of us, that seeks to unite a very divided country."
Having served as a member of the city council of El Paso, a Texas town that borders Mexico, O'Rourke said he will work to ensure that all Americans, irrespective of where they are, "can acknowledge that if immigration is a problem, it's the best possible problem this country can have."
"And we should ensure that there are lawful paths to work, to be with family and to flee persecution," said O'Rourke, who was narrowly defeated when trying to replace Republican Senator Ted Cruz in the November mid-term elections.
El Paso, where two Central American migrant children died in December while trying to enter the US, has been the frontline in a partisan fight over how border security should be tackled.
US President Donald Trump travelled to the town on Feb. 11 to justify his claim that there is a crisis on the US-Mexico border and to pitch for his promised border wall.
In his announcement video made inside his El Paso home, O'Rourke also pledged to lift up the country's rural areas, "work on real justice reform and confront the hard truth of slavery and segregation and suppression," as well as "squarely confront the challenge of climate change before it's too late."
The presidential contender said he will travel the country over the coming days to solicit opinions from the public as to how the challenges he mentioned above should be dealt with. He will launch his kick-off rally in El Paso on March 30.
According to a CNN/Des Moines Register/Mediacom Iowa poll in December, 28 per cent of the responders had a "very favourable" view of O'Rourke, the CNN reported Thursday. A new poll this month found that number had decreased to 19 per cent, the report said.
O'Rourke, father of three, was a representative in the House from 2013 to 2019, representing Texas's 16th district.