Although England lost the semi-final to Croatia in the FIFA World Cup, "the whole thing is beyond where we thought we might go", coach Gareth Southgate has said… reports Asian Lite News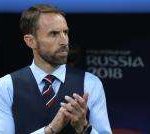 A superb Kieran Trippier free kick gave England an early lead in their semifinal against Croatia on Wednesday before Ivan Perisic equalised with a 68th minute volley.
Mario Mandzukic then secured his team a place in Sunday's final against France by netting in the 19th minute of extra time, reports Xinhua news agency.
"We've come an incredibly long way in a short space of time," Southgate said after the match.
"The whole thing is beyond where we thought we might go. Tonight we weren't quite there. But the team will be stronger for it.
"We want to be a team who are hitting quarter-finals, semi-finals and finals. That's what we aimed to do in the long-term. We've proved to ourselves and our country that is possible.
"Now we have a new benchmark, a new level of expectation, a new scenario. But many of these players have come of age on an international stage. I couldn't be prouder with what they've done.
"For everybody in our party, I wanted them to create memories that are with them forever, for them and for others. If we've brought joy back home, which I know we have, then that's been worthwhile. We should be proud of that.
"We're hugely disappointed not to take the country one step further and give them everything they hoped for. But, in time, I'm sure we'll reflect upon the progress we've made," he added.
Southgate admitted that Croatia deserved to win, having dominated for long periods of the match after Trippier's goal.
"Croatia are an excellent team with some outstanding players," he said. "A lot of them have been involved in important matches. We knew they would fight for everything. We had to withstand a very difficult onslaught in the second half.
"We managed to get through that and regain our composure. But great credit to them they created the moments that won them the game. They got through three consecutive matches that went to extra time to get to the final. That tells you about the qualities they have."