Indians in Britain celebrate the 70th anniversary of Independence in a unique way. A midnight run. High Commissioner YK Sinha along with senior diplomats and community leaders lead the festivities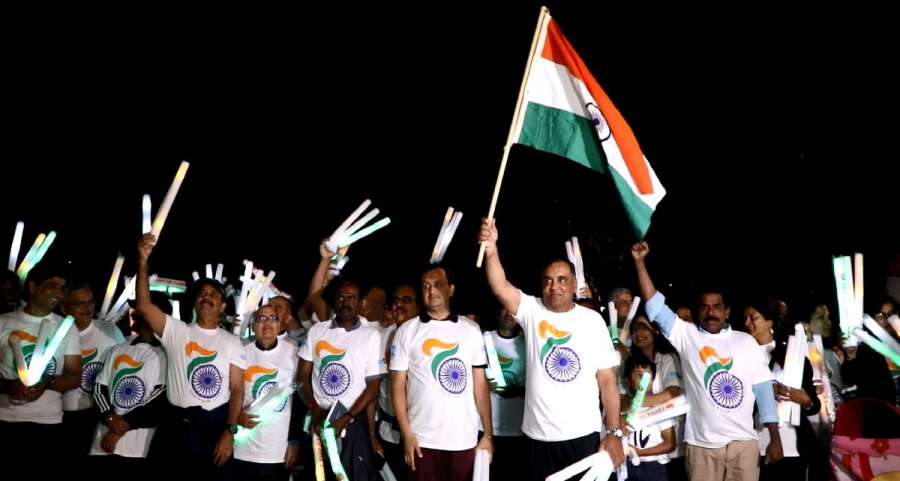 The Freedom Run commenced from the statue of the Father of the Nation in Parliament Square, passing through iconic locations like British Parliament, Big Ben, London Eye, Westminster and Millennium Bridges, Scotland Yard, Strand, etc, and concluded at India Place, which was lighted-up with colours of the National Flag for this special occasion.
This event was full of colour and joy with all the runners displaying India@70 logo on their chests and carrying tricolour beacons whit great enthusiasm.  Over 500 runners participated in this historic Run that was flagged off by the High Commissioner Mr. Y. K. Sinha.
This Freedom Run was not only to celebrate India's freedom achieved 70 years back but also to take forward Prime Minister Modi's pledge to the nation to achieve freedom from poverty, corruption, terrorism, communalism and squalor and achieve all this by the year 2022.  It is also a matter of pride for the Indian community in UK which welcomed this Freedom Run with great enthusiasm.
On their arrival at India Place, the Runners were welcomed by the High Commissioner Mr. Y. K. Sinha who wished all Indians in the UK, Independence Day.  He thanked all participants for joining in the Freedom Run at the stroke of midnight beginning at the statue of Mahatma Gandhi and ending at Indian Place.  He spoke of the great strides India has made over the past seven decades.  This is a unique occasion as it was supported not only by the High Commission of India and the Indian community organisations, but also by the office of Mayor of London and India Tourism Office, London.