Ace Hindustani classical and semi classical vocalist Hema Upasani from Maharashtra,India performed with her Manchester disciple Dr Mrinal Shah in Manchester and enthralled audience….reports Rahul Laud  for Asian Lite News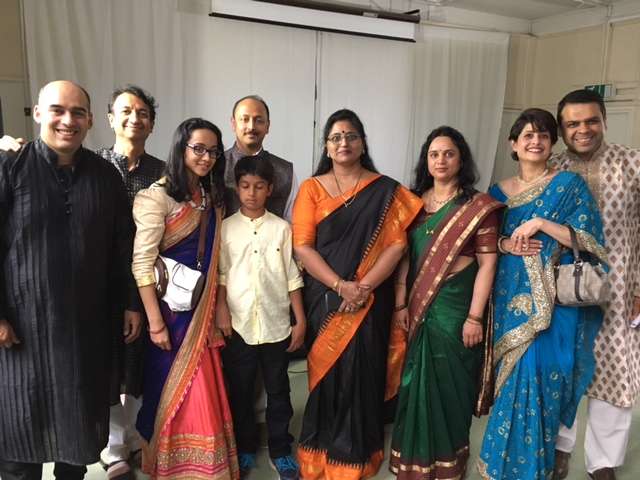 Mancunians were in for a treat. Vocalist of repute Hema Upasani presented her debut making concert in UK at the Jubilee Centre, at Bowdon in Altrincham, Manchester. To a packed hall with her sonorous voice groomed with indefatigable Riyaz (practise), Hema enthralled the audience with her classical singing which had the power to touch the soul of the listeners.
With her ghazal in Marathi and the popular Mehendi Hasan's Renjishi sahi, Hema displayed her prowess in this genre and her fluency with Urdu and the art of Ghazal singing.
It is reported that she has an aesthetic innovation in each concert which is her forte and that was truly seen at her Manchester concert.  She carved a place for herself by singing Meera and Kabir Bhajans which had a subtle shade of Nirguna bhajans and reminded one of Kumar Gandharva.
Raag Yaman ruled roost that evening. This light evening raga kept the atmosphere and the audience cheerful with melodies and shades of romance and energy.
A master at ghazals, light, popular, bhajans and Sufi singing, Hema displayed her talent which is deep rooted in the classical form of Indian vocal music.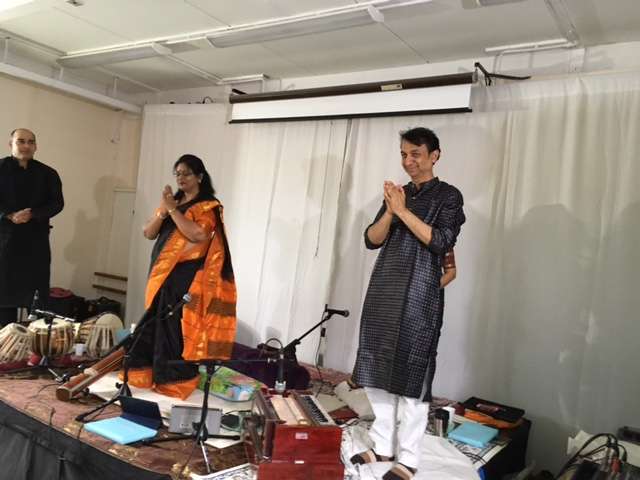 Hema's disciple Dr Mrinal Shah trained Semi-Classical and Light Music provided able vocal support. Her solo performance also showed her talent as an artiste to reckon with.  In her mellifluous voice Mrinal presented Hindi songs.
Hema was accompanied by local talent on tabla by Hamit Walia and the renowned medico musician Dr Mukul Acharya on harmonium.
On the occasion to the audience surprise a young school going Soham Shah son of Mrinal and Nikhil performed on drums presenting his rhythm skill and his sister Tanvi sang a latest popular music director Anu Malik composition Moh Moh ke dhaage. Both the kids demonstrated their passion and interest in music like their mother.
To the audience delight and equally surprising were two NHS doctors – Dr Trupti Kulkarni and Dr Rohit Aurora who compered the event with absolute elegance and charm. While retaining the sanctity of the music form, they both kept the atmosphere light and shared interesting couplets of Kabir and introduced all artistes with grace and dignity.
Introducing the lead artiste it was learnt Hema Neralkar Upasani is the daughter of renowned Pt. Nath Neralkar who is one of the popular Hindustani Classical vocalist from Maharashtra.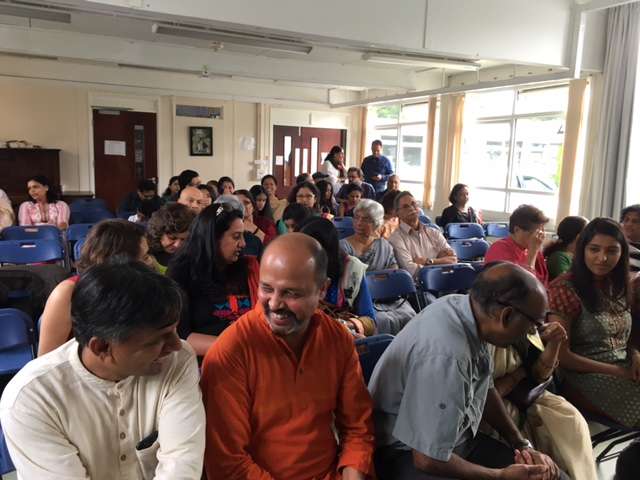 Hema with her light wit and humour introduced her music and every item she presented to the ease of all present –discerning as well as novice.
She also shared information of her modern 'gurukul' the education she imparts to her students through Skype globally. She said her Sopranos School of Music and Recording Studio in Mumbai imparts musical training and allows different events and shows held there to record them in the best studio atmosphere.
Hema has done her M.A.music from S.N.D.T University in PUNE. With rare distinction of having secured 5 prizes of the S.N.D.T University in different aspects of music, she is known and famous for her versatile performances.
Among the many accolades and achievements she has won are: A sangeet visharad & sangeet Alankar of Akhil Bhartiya Ghandharva Mahavidhayala and the coveted GAANHEERA award from S.N.D.T University.
Hema was invited by the MAHARASHTRA TOURISM DEVLOPMENT CORPORATION to give a performance at the ELLORA FESTIVAL for Hindustani Classical and Urdu Ghazals. She has sung at All INDIA NAVRAS SANGEET, SAMMELAN, NAGPUR. She has also won the SAGEET RATNA AWARD IN 2003.