Advertisements


To help the charity initiative by IAHV (International Association for Human Values), and to support the Read Library project for underprivileged children in India, Harrow based Hakkaland restaurant joined hands with IAHV Activity to organise " Rendezvous with Nature" – An illustrated talk by internationally renowned wildlife photographer Saleel Tambe.   Rahul Laud who was one of the coordinators of the event gives a first- hand report for Asian Lite news.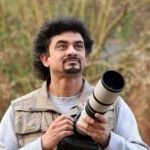 The talk session that enthralled the audience witnessed some of the most breath-taking wildlife pictures and exciting stories based on Saleel's first-hand experiences while capturing the wilderness through his lens. This one-of-a-kind event saw audience from all age groups come and gave an opportunity to re-connect with nature.  Children were particularly enthralled buzzing with questions and taking notes adding to the high energy of the evening.
Introducing Saleel at the event, Rahul Laud, said, ''Apart from being an IT professional, Saleel Tambe has a deep- rooted passion for capturing the finer nuances and the beauty of nature.'' He said, Saleel has always been fascinated seeing divinity in nature thus he has constantly explored the flora fauna and nature using his camera.
Speaking on the occasion, Saleel said, '' I always get immense satisfaction if my wildlife photography that can contribute to a social cause and bring some joy to the children who are deprived of some of the basic amenities like books.''
London based Information Technology specialist, Saleel told Asian Lite, 'Narrating my experiences from the wilderness and walking through my images is always a passionate pleasure for me.''
Local Councillor, Krishna Suresh who was present with his wife assured the large audience that his Borough would also encourage students to learn photography and kindle interest among them towards wildlife and nature.
Shailen Mittal, Core Management team member of the IAHV gave an overview of the Read Library project and said,''IAHV was successful in executing 102 libraries in India and more were in the pipeline.'' ''We, at Read Library, (RL) believe that it is of utmost important to nourish a child's curiosity during the formative years.   And, this is where access to books right from the beginning goes a long way,'' said Shailen. He also spoke about several other humanitarian projects lead by IAHV.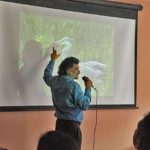 Renowned Indo-Chinese food Chef Stephen Lee and Amit Kadam owners of Hakkaland were present during the session. They assured that their restaurant would be more than glad to render support towards such noble and charitable cause.
Harrow event co- coordinator Darshana Shah welcomed guests and proposed vote of thanks.
Other volunteers present on the occasion were Dr Hajra Basit, Trustee at IAHV UK ; project manager Ashish Monga, Read Library;  Finance and Accounts Head Ajay Aggarwal , IAHV UK, and volunteers Deepa Tambe (Saleel's wife) , Arun Mohandas, Abhishek Choubey among others.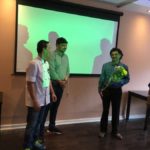 Read Library Project s an IAHV- UK project with the goal of fostering the global human value of education. Read Library helps in setting up new libraries in schools that do not have adequate resources. It has so far, touched the lives of 24000+ children, established 102 Libraries across schools in over 20 States across India donated 30,000+ books through the initiative.
The International Association for Human Values (IAHV), a   sister organisation of The Art of Living Foundation,  is a worldwide organisation with a mission to make the world a better place by fostering globally the values that unites people as a human community.
For further information about IAHV and RL projects visit:
https://www.facebook.com/Readlibrary/