Abdul Rauf  of Sussex Street, Rochdale has been jailed for 1 year and 5 months after pleading guilty to a section 47 and a section 39 assault against two boys aged 10 and 12 and a further 19 section 39 assaults on unidentified children… reports Asian Lite News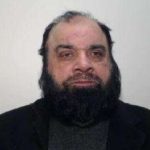 On 3 October 2018, police received a report that two boys had been assaulted at a teaching centre affiliated to a Mosque on Crawford Street in Rochdale by their Imam, Abdul Rauf. Police launched an investigation and seized CCTV from inside the teaching centre.
Whilst viewing the CCTV, police viewed Rauf assaulting many children whilst they were in his study class.
The assaults were never reported to police, however the CCTV evidence enabled police to charge Rauf for the offences which had not been reported.
"Abdul Rauf is a nasty, bully of a man who beat the children in his classes until it became normalised."The children were left cowering and holding onto their ears, their arms and their legs after he repeatedly used violence as a punishment. Inspector Phil Key from GMP's Rochdale borough said.
"The parents of the children had no idea that they were leaving their children in the care of a man who would leave them writhing in pain and covered in marks and bruises.
"Rauf left the children intimidated and afraid to tell their parents about his bullying tactics.
"I dread to think how many children's lives he has affected over the years, we are doing all we can to support those children and their families that we know about.
"We are working with Rochdale Council, the Council of Mosques and other partners to ensure that this type of behaviour is never repeated and our children are safe with those that we put our children in the care of.
"I would like to commend the bravery of those who came forward and spoke to police, I understand how difficult that must have been. Rauf will never be able to hurt another child in his care, and that is all thanks to those who spoke out against him.
Anyone who has been affected, should contact police with any concerns."
Gail Hopper, Director of Children's Services at Rochdale Council, said: "The prosecution and today's sentencing of Abdul Rauf resulted from the council working with police to investigate concerns about his reprehensible behaviour towards children. Alongside that the council has been working with many unregulated groups to inform them of their safeguarding responsibilities. We have also helped a number of groups establish effective safeguarding procedures and held information sessions as part of our 'Safe After School' campaign.
"The crimes that Rauf has been found guilty of show he is a coward and a bully who should never have been entrusted with the care of young children. We applaud the actions of those who bravely reported his crimes.
"We are asking parents and other adults to remain vigilant, ask the right questions and importantly, to listen and support children who tell them about things that have happened that shouldn't. We all share responsibility to take action that effectively protects all children. If we fail to listen to children and address their concerns, they are likely to stop telling us when such things happen.
We ask anyone with such concerns to contact us to seek advice and enable the council and police to look in to the issue. Contact lado@rochdale.gov.uk or 0300 3030350 or phone the police on 101."