India and Britain have signed a memorandum of understanding (MoU) on cooperation in the areas of law and justice… reports Asian Lite News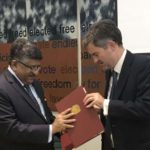 Even as India is seeking the extradition of liquor baron Vijay Mallya, former Indian Premier League (IPL) chief executive Lalit Modi and diamentiare Nirav Modi for financial frauds,According to a statement issued by the British High Commission  Law and Justice Minister Ravi Shankar Prasad and British Justice Secretary David Gauke met in London this week to further strengthen bilateral working.
"The MoU will enhance engagement between the two countries and pave the way for greater collaboration and exchange of expertise across areas including Rule of Law, dispute resolution, training, and legal services regulation," the statement said.
"Both sides also agreed to closer cooperation between the members of legal professionals of the two countries and the formation of a joint consultative committee."
The statement cited a British Justice Ministry spokesman as saying: "With our shared Common Law heritage, values, and close links between legal professions, there is huge potential for further UK-India collaboration across a wide range of areas."
The spokesperson said that both sides looked forward "to sharing expertise between our two countries, working together to develop shared approaches to future challenges and opportunities, and to helping to develop opportunities for exchange between legal professionals in the UK and India".
Last month, Britain assured India to fully cooperate in the extradition process of fugitive diamantaire Modi and Mallya who are accused in separate multi-crore bank loan defraud cases.
Lalit Modi is also in Britain following charges of financial irregularities against him.
At a counter terrorism dialogue held here recently, British Minister for Counter Terrorism Baroness William guaranteed Minister of State for Home Kiren Rijiju of her country's support in the process to extradite such fugitives.