UK hosts Inspiring Indian Women event arranged by Indian High Commission. The seminar saw representation by socially active women members of the diaspora … reports Asian Lite News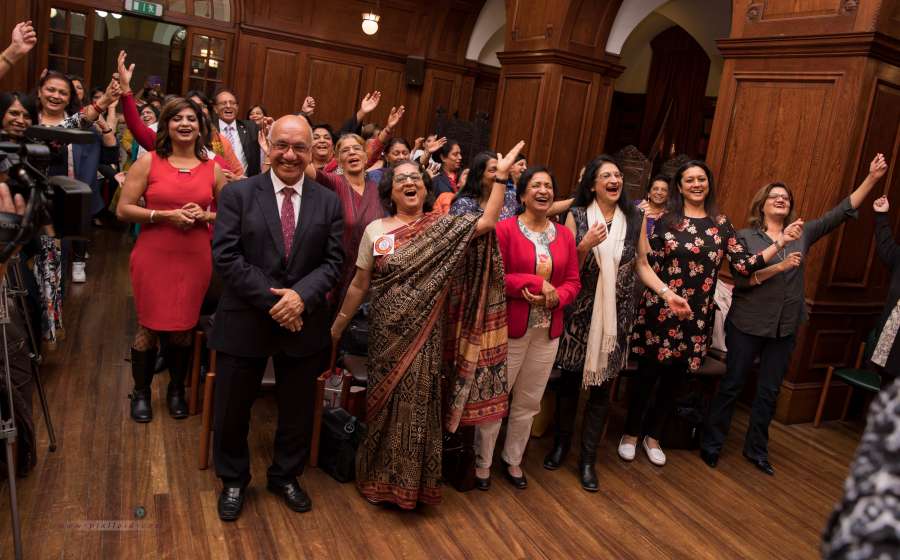 The High Commission of India in UK with the support of IIW (Inspiring Indian Women) organised a seminar on the topic of Women and Well being for the first time on 16th November 2017. It was an effort to bring all related, including Psychiatrist, Healers, Spiritual speakers, Doctors, Fitness Experts, Silent sufferers, Activists, Charities to one platform and an initiative to assert all to 'Speak out'!
The seminar saw representation by socially active women members of the diaspora. This event created a huge buzz and had almost 100 attendees on a working day and just within a week of its announcement.
Chief Guest of the day was Honourable Mr Virendra Sharma. Guest of Honour- Respected Mr A. S Rajan Minister of Co ordination from High Commission and Mrs Sasirekha
Special Guests- Ms Trupti Patel, Ms Krishna Pujara, Ms Anju Wadhwa Narang ( Punjabi Society of British Isles ) , Tara Patel (Mandhata Samaj President), Dr Harsha Jani ( President Param Shakti Peeth UK ), Mrs. Devinder K Shastri (Communication officer – National Council of Hindu Temples UK), Anita Ruparella NCGO National Congress Of Gujarati Organisation) , Vandana yogen Joshi Hon.Trustee (BSNL) Brahmin Society North London, Dr Laksmi Vyas President Hindu Forum Europe , Mr Satya Minhas President Hindu Council Met Police, Mr Prabhakar Kaza, Purnima Raval Vyas MET Police, Neena Bedi from Asian Bereavement Service.
Hosts for the day were Ms Bhanu Sistla and Ms Simi Arora . The programme started with the song Yeh Hounsla by Ms Shweta Dhall thus setting the right tone for the seminar. The entire seminar was divided into three sections Problems, Who to contact and Solutions.
In the awareness category, Shuba Rao who was a committee member of the Psychology of Women's Section of the British Psychological society and former Tutor in Psychotherapy & Counselling at Regents College spoke about steps to minimise everyday anxiety, Ms Monica Mendiratta Chartered Business Psychologist, Fulbright Scholar and Research Fellow at the Harvard Kennedy School discussed well being of Women in the workplace and issues that arise at work and Dr Chandni Pujara Psychiatrist spoke about various ways depression can be looked into from medical point of view and that old age depression requires a completely different speciality of trained doctors to treat. Ms Kiran Anil All Ladies League- Chair Person Buckinghamshire, worked closely with autistic children and MIND – the mental health charity spoke about teenage depression Social media affects and peer pressure and how the organisation MIND helps and intervenes.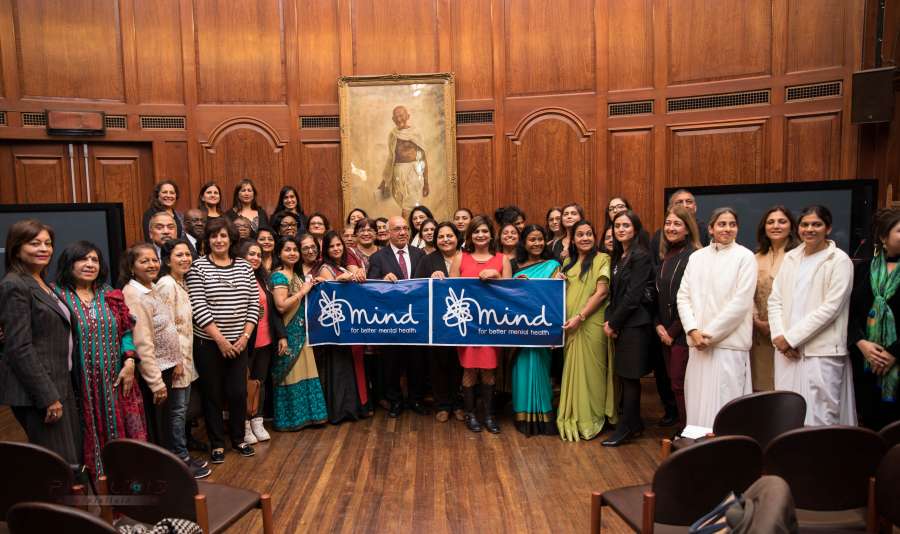 In the Who to contact category were eminent speakers like Lade Hephzibah Olugbemi Ceo and Convener Nous Organisation Raising awareness among the Bame Community regarding mental health issues in the Black Asian and Minority Ethnic communities, her experience in helping the ethnic minority community in fighting out the social stigma was like a cherry on the cake. Others on the panel were Ms Riddhi Vyas well acclaimed Lawyer and a silent sufferer , Ms Shahla Khan – Founder Da Vinci Project and author, speaker, blogger and PhD Fellow, she often speaks on radio about depression, anxiety, self harm and healing, Ms Krishna Pujara who has worked with diverse communities for the past 21yrs in various roles one being the CEO of Saheli UK and Chairperson for Operational Forum – Domestic Abuse for Violence Against Women & Girls for London Borough of Enfield and Ms Kirti Soni ( Psychotherapist and Eminent social worker)
During break, the audience split into rib tickling laughter with Ms Kalpana Doshi's Laughter yoga.
In the solutions section, the speakers were Mayura Patel- Chairperson, Croydon Hindu Council Hindu Representative on Faiths Together in Croydon & SACRE Committees in Croydon. She spoke on the spiritual healing, the chanting of Mantras. Prominent among others were Trupti Patel- President Hindu Forum of Britain and a pioneer in setting standards to empower women answered questions on Emotional wellbeing, Lakshmi Vyas , an expert in anger management and Iyengar yoga shared her experience of . Rachna Sharma Sirtaj -Counsellor, accredited Clinical Hypnotherapist trained in Uk and a Regression Therapist trained in USA. She has been in the field of counselling, training and therapy for over 16 years and conducts trainings and workshops for empowering individuals and Renu Verma from academic background, trained in educational psychology, involved in media and presently freelance Life Coach.
Finally the highlight of the eye opening event was a speech session on meditation and its techniques 'Heart-fullness' by Ms Sasirekha, as meditation is the main healer to assist in maintaining good mental health and wealth being. The hall was completely engaged in rapt attention, breathing in and breathing out.
The seminar was successful in initiating a thought process that; depression is not a stigma, one must look after self, love thy self, not be a silent sufferer, to speak to someone- family or online counsellors or helpline available, never harm self is itself a beginning of a long journey. Another very important outcome was to connect ladies from different backgrounds and expertise to each other.
There is already a demand to have a next session only on solutions and various other family issues in this fast paced life.
IIW (Inspiring Indian Women Group), a not for profit organisation was started with the vision to reach out and inspire each other with their success stories. It not only aims to help and promote Indian culture across the globe but also provide a healthy platform for our Indian women to motivate and support others.
---