On Sunday 10th November, HM the Queen led the National Remembrance Ceremony at the Cenotaph in Whitehall, London to coincide with the date marking the end of hostilities of the First World War. For the second year running, there was a member of the Jain community standing alongside the Royal family, the armed forces, political leaders and other major faiths.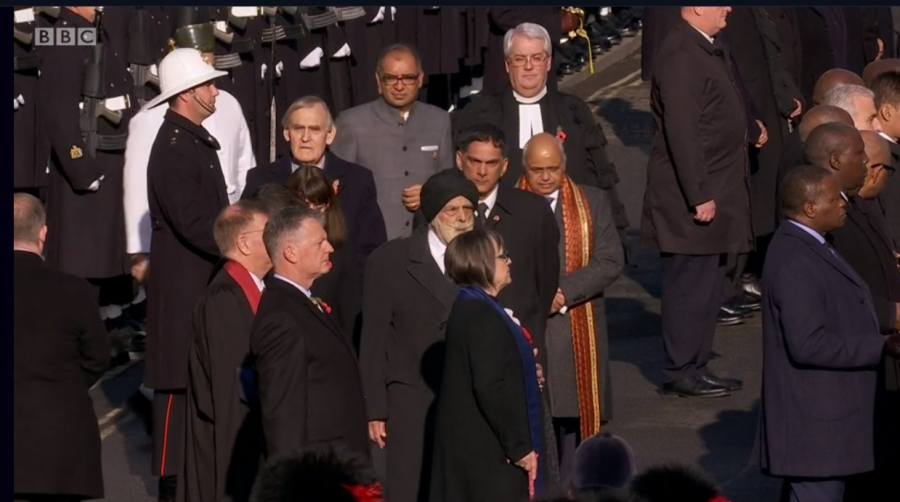 "We enjoy many freedoms, live in a democracy and by the rule of law, all of which have come as a result of the many millions who have made the ultimate sacrifice so that we may live in peace. We have a duty to remember them, and their pain and suffering during times of war, as we pay our respects. I am proud that the Jain faith is represented here today", said Dr Mehool Sanghrajka MBE, Managing Trustee of the Institute of Jainology (IOJ), and the Jain representative at the ceremony.
The Jain community, united under the 'OneJAIN' banner, was also represented at various local Remembrance Day events. It actively campaigns for all faiths to live together in today's Britain in harmony and tolerance, respecting British values.
A ceremony was also held outside Harrow Civic Centre where The Mayor and over 1000 other dignitaries took part. Dr. Vinod Kapashi and Mrs Sudha Kapashi laid a wreath on behalf of OneJAIN and the Institute of Jainology.