Advertisement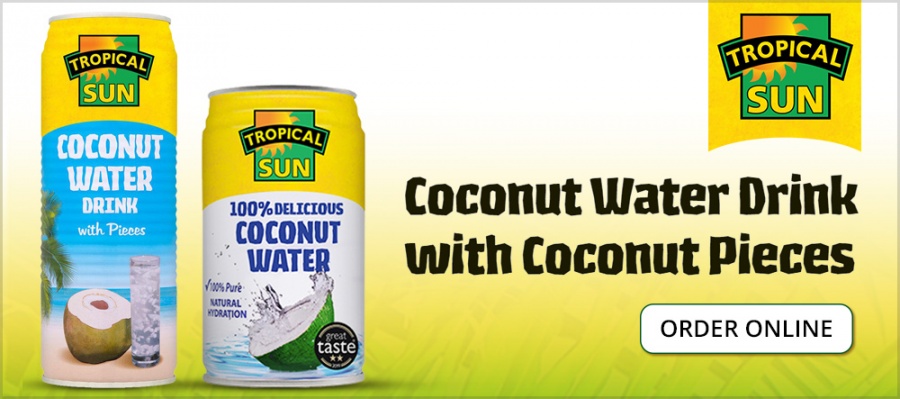 Kolkata Girl and International Author, Motivational Speaker & Philanthropist Jillian Haslam Wins the XX Mother Teresa Memorial International Award for social & humanitarianism works….reports Asian Lite News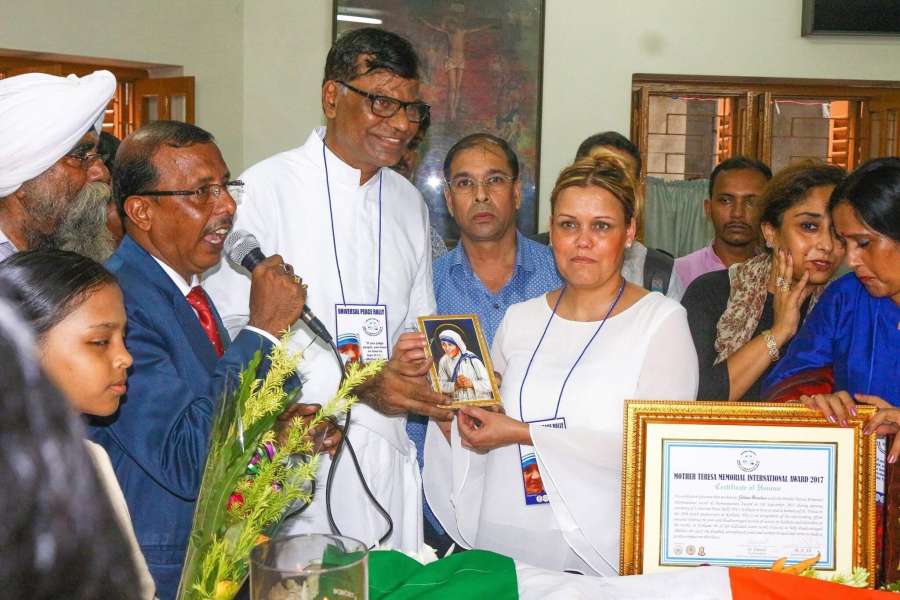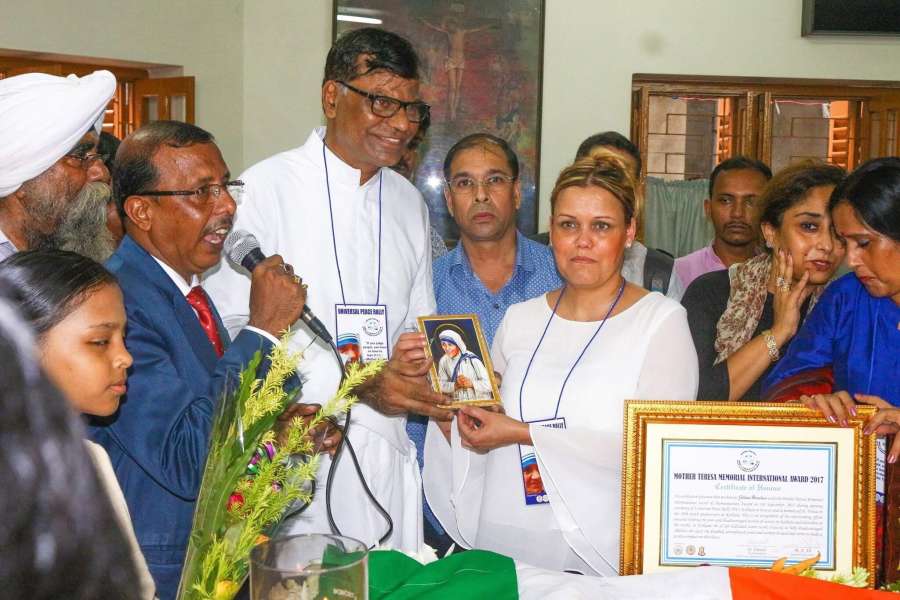 In what may be described as life coming full circle, Kolkata girl Jillian Haslam who grew up on the mean streets and slums of the city and rose to international prominence as a banker, motivational speaker and philanthropist was honoured with the XX Mother Teresa Memorial Award for social work. This was in recognition of her tremendous contributions towards the betterment of the poor and marginalized sections of people in Calcutta and elsewhere in the world.
In Kolkata she & her dedicated teams work with children (she has 5 study centres); the aged (she has 3 food-banks); for the disabled (children who are blind, suffering with Thalassemia, Autism or Cerebral Palsy); with the youth & women  in  need. Visit www.remediatrust.org or  www.indianenglishthebook.com  for  more information.
Jillian Haslam was born to an Anglo-Indian family that fell on difficult times, which led to their facing heart wrenching poverty and personal tragedy, that Jillian described in detail in her internationally acclaimed autobiography, Indian-English-A Memoir, which is soon going to be the subject of an international movie. In her tough and often bleak childhood, it was often the assistance provided by Mother Teresa's Sisters of Missionaries of Charity that provided the Haslam family with much needed sustenance.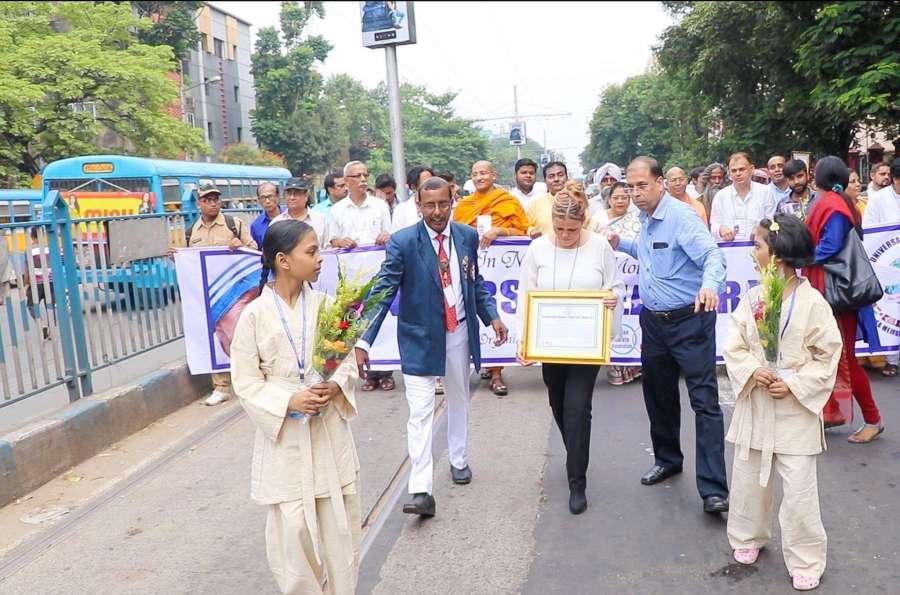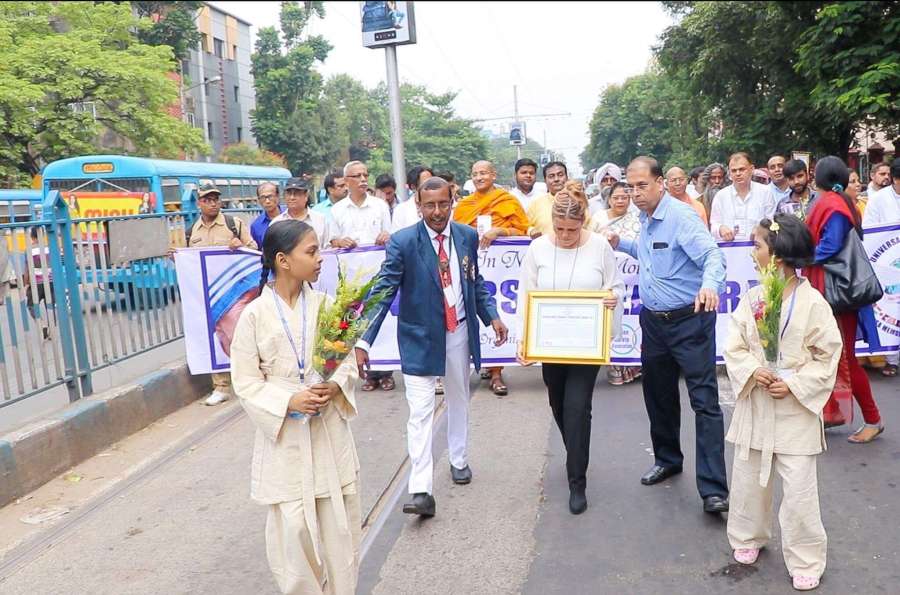 Through her inspirational rise in life which saw her relocate to the UK, Jillian has not forgotten or as is often the case turned her back on the city she was born and grew up in. Through her Remedia Trust she has organized a large number of welfare initiatives for the desperately poor and needy. She remembers to this day, what it is like to be that poor and helpless.
In her own words, "What would your life be like if you had to sleep every night a few steps from a public water spout? This is where poor street people come to bathe and wash dishes & even use as a toilet. Or what if you lived near a sewer hole?"
Jillian was the Guest of Honour at the Awards Function, which saw the presence of the who's who of Kolkata  in  attendance.  The  award  ceremony  was  preceded  by  a  peace  rally  that  commenced  from  St. Teresa's of Avila Church and concluded at Mother House with an open prayer by the representatives of all the major faiths.