Manchester City Council is calling on the government to provide more support for the victims of modern slavery as it believes the support available is not sufficient and needs to go beyond what is currently offered… reports Asian Lite News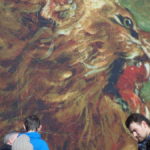 A 'Charter against modern slavery' was  approved unanimously at a council meeting to raise awareness of modern slavery, firmly placing it at the heart of its agenda on vulnerable people.
As part of the Greater Manchester week of action against modern slavery, the council has pledged to take measures to ensure its own procurement processes don't contribute to modern slavery and exploitation.
It has committed to better staff training, ensuring all its contractors and suppliers are fully signed up to the Modern Slavery Act and has promised to take firm action to any contractors that don't comply to this. It has pledged to publicise a  robust whistle-blowing system for staff who suspect modern slavery and require its contractors to do the same.
"Modern slavery is the scourge of modern society.  More vulnerable people than ever before are falling victims to exploitation with the numbers increasing year on year.  The exploitation of vulnerable people is unacceptable and  we will play our part in trying to protect people from a life of abuse, exploitation and inhuman treatment and ensure that the organisations we work with play their part as well." Councillor Carl Ollerhead, executive member for finance said.
The council will report annually on the modern slavery policy.
Manchester City Council will: 
Ensure its corporate procurement team is trained to understand modern slavery through the Chartered Institute of Procurement and Supply's (CIPS) online course on Ethical Procurement and Supply.
Require its contractors to comply fully with the Modern Slavery Act 2015, wherever it applies with contract termination as a potential sanction for non-compliance.
Challenge any abnormally low-cost tenders to ensure they do not rely upon the potential contractor practising modern slavery.
Highlight to its suppliers that contracted workers are free to join a trade union and are not be treated unfairly for belonging to one.
Publicise its whistle-blowing system for staff to blow the whistle on any suspected examples of modern slavery.
Require its tendered contractors to adopt a whistle-blowing policy which enables their staff to blow the whistle on any suspected examples of modern slavery.
Review its contractual spending regularly to identify any potential issues with modern slavery.
Highlight for its suppliers any risks identified concerning modern slavery and refer them to the relevant agencies to be addressed.
Refer for investigation via the National Crime Agency's national referral mechanism any of its contractors identified as a cause for concern regarding modern slavery.
Report publicly on the implementation of this policy annually.