Young and old gathered at Gita Bhavan temple in Manchester to pay condolences to Indian soldiers –martyrs….Rahul Laud who attended the meeting reports for Asian Lite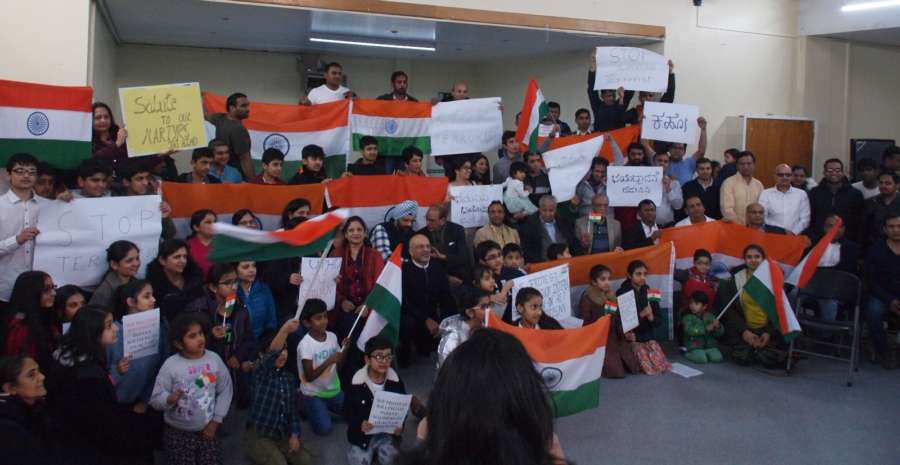 "United we stand " was a clarion call given by all young and old who gathered at the Gita Bhavan temple yesterday evening to pay their condolences to the Indian soldiers who became victims of terror attack at Pulwama .
Paying rich tributes to the martyrs and the Indian army hundreds of Mancunians who gathered to a quick response – message flashed through WhatsApp – voiced a firm opinion that Indians globally will fight for peace against terrorism , particularly against the cowardly attacks from state sponsored Outfits from Pakistan .
Emotions ran high as men, women, children raised slogans of Bharat Mata ki Kai , sang Vande Mataram and the Indian national anthem . Spontaneous response from Mancunians was overwhelming as kids displayed placards against terrorism as the Indian flag fluttered high with pride.
To act locally on UK several suggestions to raise funds for CRPF and paramilitary forces were discussed. With rage volunteers pleaded to boycott purchases from Pakistani convenience and grocery stores. It was suggested that local politicians in UK should be made aware of Pakistan's terrorism connection and strategically Pakistan should be isolated from UK trade and mainstream life.
The organisations participated to pay condolences included volunteers and members of several organisations in Manchester .
NWTS(UK)  North West Telugu Sangam
MDG            Mumbai Desi Group 
UTHO          United Kingdom Telugu Hindu Association
FISI              Friends Of Indian Society
KAHO           Karunadia Anivasi Kannadigara Okkoota
HSS              Hindu Swayamsewak Sangh
Marathi Samaj Of Manchester  
Manchester Tamil People
Jain Samaj Manchester
Indian Association Manchester
Indian Senior Citizens Centre
Gita Bhavan temple premises were made available in suport of the cause of martyrs . The temple management trustee Kaushalji spoke on the occasion and the chief priest Shyam Sunderji also joined the meeting and the protest against terrorism . The slogan  "Sanghatan mein Shakti " ( Strength in United organisation ) was ably demonstrated and echoed in the hall.
---