The Manchester India Partnership (MIP) was created to leverage to forge closer ties with India. To endorse their objective a business summit was recently held to strengthen this tie up. Rahul Laud from Asian Lite news reports on  proceedings and views expressed at the summit.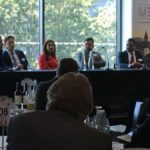 July 3, 2018 appeared a historic day in Manchester. As several cricket and football fans were excited to watch their favourite teams play that evening, Manchester India Partnership teams were all set with a serious agenda for the business summit that was held the same day morning. As the UK explores how it will trade post-Brexit, the summit made it clear that developing strong links with the world's high growth markets is of paramount importance and, with that in mind, India presents a significant opportunity for Manchester. Whether it's forging strong tech cluster partnerships with Karnataka or educational partnerships with Manchester based universities, India has always been viewed as a strategic partner for Greater Manchester. All speakers and panellists echoed this sentiment as the Manchester flag unfurled as the foremost city in the Northern powerhouse to strengthen and forge this Manchester -India relationship.
Since it was launched earlier this year, the MIP has seen Jet Airways announce a direct Manchester-Mumbai flight, Tech Mahindra invest in the region, Hero Cycles present to Prime Ministers Modi and May at the Commonwealth Conference and the MIP receive a special recognition award as the Trade & Investment Promotion Organisation of the Year at the UK-India Awards.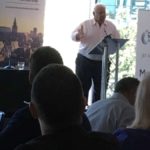 MIP which is designed to build trade, investment, cultural and educational ties, has its heart "Make in India, Innovate with Manchester", building on the economic strategy championed by Prime Minister Modi; leveraging Manchester's innovation and research capabilities in a broad range of sectors ranging from advanced materials to big data in collaboration with Indian industry and research institutes.
MIP Partners include University of Bolton, Confederation of Indian Industry (CII), Deloitte, ICICI Bank, Manchester Airports Group, Manchester City Football Club, University of Salford, Squire Patton Boggs, Greater Manchester Local Enterprise Partnership, Growth Company, Marketing Manchester and MIDAS.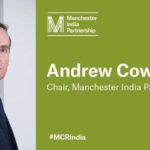 Andrew Cowan, Chair, Manchester India Partnership and Chief Executive of Manchester Airport welcomed the audience at the summit. He said the direct air route to Mumbai from Manchester will make a significant contribution to driving economic, cultural and academic exchange between northern England and India.
Andy Burnham, Mayor of Greater Manchester, said, ''Now is a great time to be having conversations with Greater Manchester. We know where we are going and will work with partners around the world to create a leading global city. "Our focus will be on digitalisation and decarbonisation,'' he assured.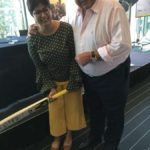 Elaborating on India's perspective on the UK/India relationship and the role of cities and regions Manish Singh, Minister (Economic), High Commission India, in UK said, ''India has caught up with development around the world and provides a platform with relations around the world. India's different sectors are open for direct investment'.
Tim Newns, CEO of MIDAS – Manchester's inward investment agency, said that India continues to be central to Greater Manchester's internationalisation strategy and the cosmopolitan city region is a great place for Indian companies to get a foothold in the British market. He said, "Greater Manchester is growing rapidly which is attracting Indian high-growth companies,''
"The city region also appeals to Indian companies looking to access our academic and innovation capabilities, with the potential to establish R&D operations around our world-renowned institutions," he said.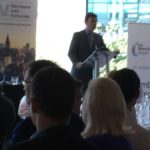 Signing MOU with Ashish Pandey, Head of North, Tech Mahindra at Manchester India Business Summit, and echoing similar views of Andy Burnham, Joanne Purves Pro Vice-Chancellor at Salford University for International and Regional Partnership said,  ''We are looking forward to working with Indian partners to make Manchester fully digital and carbon-free.''
Laxmi Kaul, Head and Representative, Confederation of Indian Industry pointed out that growth in UK regions is the new excitement.
Joanne Ahmed ,   Partner in Global Employer Services practise at Deloitte  and leader of Deloitte mobility team for North England ,  echoed similar sentiment of growth in the North and assured that professional firms like Deloitte and Squire Patton and Boggs with presence in North would offer adequate services to Indian and UK companies who desire to set up businesses in Manchester.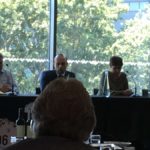 The Power of Trade & Investment Panel Session was moderated by Crispin Simon, British Deputy High Commissioner for Western India and Director General of the Department for International Trade, India. He said Greater Manchester's global reputation as an innovator in technology, life sciences, its expertise in the field of engineering and being home to a sizeable Indian diaspora are some of the qualities that make the city region an attractive destination for investors, students and tourists.  "India can offer Greater Manchester a large and high-growth market with a deep pool of skills and technology. There is so much untapped potential in so many important relationships," he said.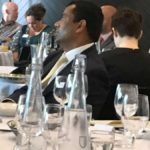 Paul Billington, Commercial Director, The Landing, and other panellists Esha Singh, General Manager, The Hut Group,  Mark Cartwright, Group MD, Cartwright Group, Seth Finegan, CEO, Informed Solutions Ltd, Kaushik Sindhu, Associate Vice President, 42Gears, Praveen Iyer, VP, Commercial Planning and Revenue Management, Jet Airways,  all expressed desire to build a strong bridge between India and Manchester. It was observed that not just the Tier 1 cities attracted attention but Tier2 and Tier 3 cities also shown progress and growth potential in India.
Faroukh Engineer regaled the audience with cricketing trivia and raffled one bat and auctioned the other to raise funds for his  Children without Homes charity.  PS Kang ,  Managing Director , Moresand Group and Laxmi Kaul emerged winners .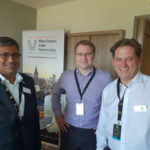 Among those many others prominent among audience at the summit were Dr Param Shah , Director at Federation of Indian Chambers of Commerce and Industry , Dr Prof Kondal Reddy , Pro VC at Bolton University  , Tricia Warwick, Director, Asia Pacific , Middle East & Africa, Visit Britain , Tim Manley , Marketing Manager , Marketing Manchester, PS Kang ,  , Rob Holmes , Director of Business Development , Europe , Asia and Middle East at Squire Patton Boggs UK , Manie Seehra , Director , Skylord Travel, Bhaskar Majumdar , Managing Partner , Unicorn Ascension Fund and Lydia Nazreth , General Manager , UK and Ireland ,  Jet Airways.